Friends of Great Swamp was established in 1999 to provide assistance and support to Great Swamp National Wildlife Refuge through volunteer efforts and the funding of programs and projects to benefit wildlife and refuge visitors. For more than twenty years the group has worked diligently to fulfill this mission. Members construct trails, boardwalks and bird observation platforms for visitors. Recently completed, the Chandler S. Robbins Memorial Viewing Platform, a two-level, eight-foot-high (ADA compliant) platform offers visitors an elevated viewpoint from which to watch a wide variety of waterfowl and catch frequent glimpses of our resident bald eagles. For many years the group has sponsored and led two volunteer teams to remove invasive plant species and restore native habitat for wildlife. Since 2011, Friends has funded an innovative and successful "head-start" research project to reestablish a self-sustaining population of the state-threatened wood turtle on the refuge.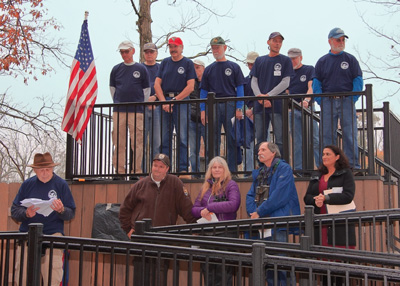 Members provide group tours for community organizations and students of all ages. Volunteers welcome and orient visitors to the refuge at the Helen C. Fenske Visitor Center and at the popular Wildlife Observation Center. Outreach volunteers take the refuge message on the road reaching far out into the community, most recently into urban areas such as Elizabeth, NJ where they have successfully partnered with the non-profit, Groundwork Elizabeth.
In 2010, a small group of Friends got together to discuss the classic book "A Sand County Almanac". This was the beginning of Refuge Readers, an environmental book group which continues to meet every month to discuss a different book selection.
With the Great Swamp NWR staff, the group co-hosts an annual Fall Festival in September which (pre-Covid) drew as many as eight hundred visitors for a day of free family fun. There is also a monthly Second Sunday with different educational programs for the public, as well as a number of other public events during a typical year.
Friends of Great Swamp NWR is an all-volunteer organization, managed by an all-volunteer board of directors. Last year (before the pandemic) volunteers donated over 15,000 hours to benefit Great Swamp National Wildlife Refuge. Memberships are a major source of income and there are currently over four hundred membership units, primarily in New Jersey but also across the country. Private donations and grants are another major source of revenue. Each year, the board meets with refuge management to jointly develop plans for the coming year. Approved funding for this year includes Visitor Center maintenance, replacement of split rail fences, habitat restoration, new interpretive signs, materials to build new wood duck nest boxes, and the development of a mobile educational "app", Agents of Discovery.
In addition to regular trail maintenance, Friends are also involved in expanding and upgrading the trail system at the Visitor Center. Recently, Primrose Brook Preserve, an eighty-eight-acre parcel of land, became part of the Refuge. Friends are working with Great Swamp NWR staff to explore the recreational possibilities on this property.
As a result of the pandemic and people's appreciation in the value of being out-of-doors, visitation to Great Swamp National Wildlife Refuge has increased dramatically over the past year. We anticipate that many of the new visitors will become "regulars", making Great Swamp National Wildlife Refuge an increasingly busy place. The Friends look forward to working with Great Swamp NWR staff to enhance and expand the visitor experience as well as improving habitat for wildlife.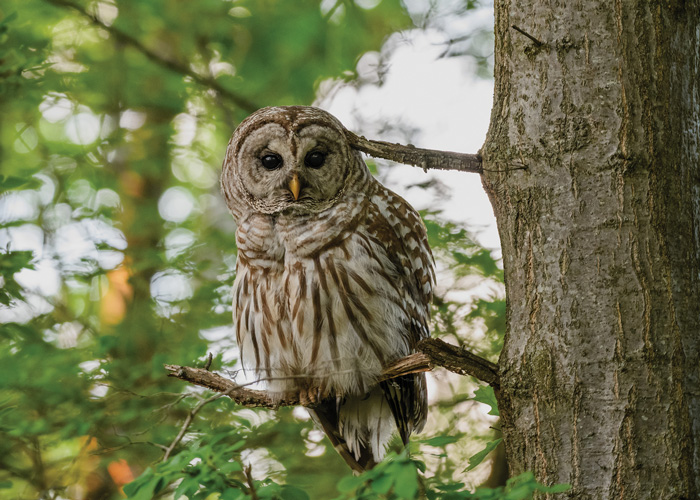 Helen Fenske Visitor Center • 32 Pleasant Plains Rd., Harding Township
Click or call 973–425–9510
Nearby accommodations and attractions
, Denville

The Jacobus Vanderveer house is the only surviving building associated with the Pluckemin encampment.

1 River Rd W, Bedminster 07921, 908/212-7000 x611

The story of one of the Northwestern New Jersey's largest and more improbable natural treasures, a fist shaped swath of land designated in 1987 as the Pyramid Mountain Natural Historic Area, nearly 1,500 acres of wooded terrain dotted with brooks, swamps, glacial deposits, rock outcroppings glens and vistas.

, ,

, Millstone

The mighty splendor of the Rockaway River gorge traces a forgotten industrial past.

, Boonton
This story was first published: Spring, 2021