Philanthropic as the brothers' intentions may have been, the old farm was a massive money pit that required resources difficult to commit within the limits of a municipal budget. Concern for the deteriorating buildings culminated in 2012 when Preservation New Jersey included the Homestead on its Ten Most Endangered Historic Places list.
The Wallisch Homestead, more formally known as Tichenor-Gregory-Goodell-Wallisch Homestead, is one of the last remaining properties that reflects Northern New Jersey's agricultural heritage and West Milford's past. In fact, the original Tichenor house predates both West Milford and Passaic County; one wing of the Dutch Colonial Revival house dates before 1820. Subsequent owners added and refined buildings at the farm, including a Dutch Colonial Revival stone barn and Arts & Crafts-style creamery from 1912, and two wood post-and-beam barns that could date to the 1860s. After Louis Wallisch, Sr. bought the property in 1923 for his family hideaway, he sold off lots for summer cottages while keeping dairy cows and raising hay on the remaining acreage.
Kerry O'Brien, a retired business executive and an avid local historian, founded The Friends of Wallisch Homestead (FOWH) in 2013 to act as steward for raising funds to restore the Homestead. "I've lived in West Milford for twenty years, regularly driving past the Homestead and wondering about it," he explains. "When I learned it was owned by the Township but endangered because of lack of funds and community awareness, I got involved. I presented to the Township Council about starting a Friends group and, with their approval, began spreading the word." Preservation efforts began when a local contractor worked with local realtors and construction crews to donate funds and services to replace the roof of the main house and repair damage to the creamery's roof. Since then, thanks to grants from Passaic County and West Milford Township Open Space funds, fundraising events, and donations from the business community, FOWH has repaired major structural damage that threatened all of the of the main buildings in one form or another: roofs and gutters, foundations and footings, windows, electrical wiring, paint, and trim. Even the spectacular windmill has been restored to working condition and now provides water to support a new community garden on the property. The farm also boasts a three-acre environmental walking trail, bordered by Belcher's Creek which flows into Greenwood Lake, and framed by a scenic vista of Bearfort Mountain rising in the background.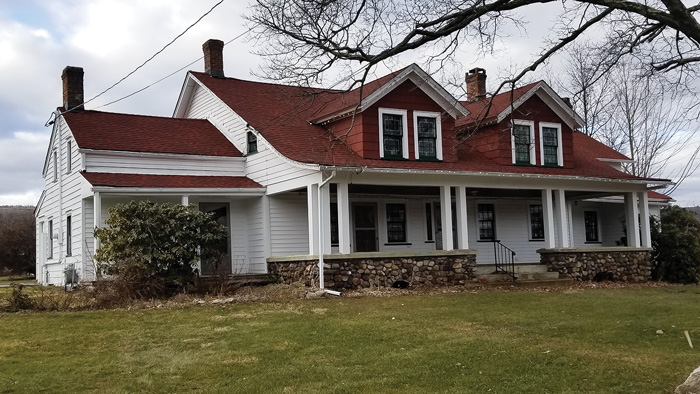 The homestead is located at 65 Lincoln Ave, West Milford. Check the website for more information.
Upcoming Events
As health restrictions loosen, FOWH will resume a lively schedule of activities intended to increase awareness of the Wallisch Homestead's historic and cultural value and to raise funds for the assurance of its future.
Nearby accommodations and attractions
Step Into Earth Science! Mining museum with underground mine tour and over 30 acres of indoor & outdoor displays and historical buildings. Recent additions include expanded fluorescent display at Thomas S. Warren Museum and the Million Dollar display at the Oreck Family Mineral Gallery. Gift shop with a collection of world wide minerals.

30 Plant St., Ogdensburg 07439, 973/209-7212

A mix of historic buildings of varying architectural styles, a walkable downtown, and plentiful eateries surrounded by rural tranquility make Newton a fusion of the then and the now, with great expectations for the to be.

Thousands of photos and artifacts document the lake's long and illustrious history. Open every Sunday through June, 12-4pm, October thru May. Free admission, parking.

323 Lakeside Blvd., Hopatcong State Park, Hopatcong 07843, 973/398-2616

Located in Sussex County near the Kittatinny Mountains the camping resort offers park model, cabin and luxury tent rentals as well as trailer or tent campsites with water, electric and cable TV hookups on 200 scenic acres.

69 Kymer Rd., Branchville 07826, 800/526-2267
This story was first published: Spring, 2021