As a major watershed, wedged between the Appalachian Valley and Ridge to the west and the Highland Ridge System to the east, the Wallkill River provides migratory and nesting habitat for waterfowl, which use the valley as a conduit between eastern Canada and the Atlantic coast and between the Delaware and Hudson rivers. More than 225 species of birds, including 21 species of waterfowl, occur on the refuge.
Congress authorized the eventual purchase, providing funds and willing sellers become available, of 7500 acres of fish and wildlife habitat. 4200 acres are now under management, partially accessible by two major trails and, of course, the river.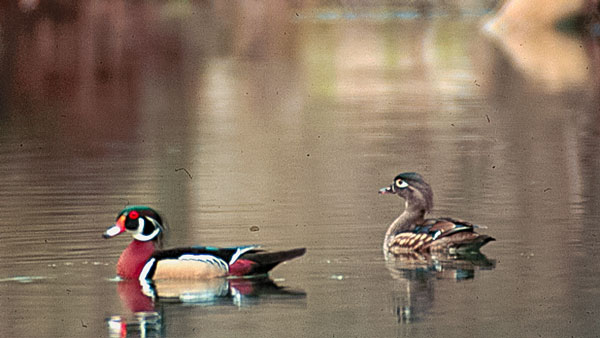 The Wood Duck Nature Trail, accessible from Route 565, a few hundred yards beyond the turnoff from Route 23, runs approximately 2 miles on a former railroad bed ending at the river, and offers a nature photography blind and benches for pause along the way. Another mile or so up Route 565, a recently renovated farmhouse serves as Park headquarters, where visitors can find trail maps and more information about the wildlife that lives in the Refuge.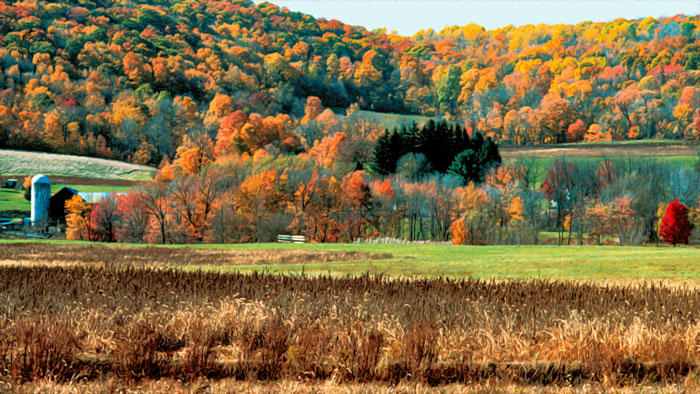 Further north, near the state border and linked with the Appalachian Trail, the Liberty Loop circles wetland and grassland for 2 1/2 miles of prime bird and wildlife watching. Hunting is prohibited in this section, so there is no reason to avoid an autumn walk. With an agricultural history and network of drainage ditches similar to those at the Great Meadows of the Pequest, this area is also known for it's black dirt. No longer farmed, the ditches now teem with insects, frogs, salamanders, turtles and snakes, all tasty morsels for great blue herons and snowy egrets that frequent the area. The small mammals that also feed here attract a population of raptors which includes golden eagles, bald eagles, peregrine falcons, red-tailed hawks, American kestrels and marsh hawks. The trail adopts an old railroad grade leading through the Pochuck Swamp, thickly forested and dotted with red maples, vibrant in autumn and home to dozens more species. The adventurous can hike further along the Appalachian trail.
Because it is a wildlife refuge, human access to the wetlands is restricted, and the best way to see the Wallkill is by canoe. The river is lazy and your trip is effortless save for a few spots where you may have to get out haul your boat over a shallow spot or around a beaver dam. The first of three access points, near the Wood Duck trailhead on Route 565, provides drop-off and pick-up only. The Bassets Bridge Canoe and Fishing Access provides a better place to start your trip with ample parking and an easy walk to the river. A third put-in lies just east of where Oil City Road crosses the river in New York State. Canoeing floats you through beautiful floodplain forests, wet meadows, and under tall rock cliffs, and, if you bring your pole, the river is full of warm water fish, most notably bass and pickerel. The river flow is sluggish enough to allow a comfortable paddle along one way of your journey so you don't have to worry about a second pick-up point.
Wallkill River National Wildlife Refuge
1547 County Route 565, Sussex, New Jersey 07461
Phone: (973) 702-7266

Nearby accommodations and attractions
One day you are likely to find yourself headed to New Jersey's northernmost corner in search of adventure.

Thousands of photos and artifacts document the lake's long and illustrious history. Open every Sunday through June, 12-4pm, October thru May. Free admission, parking.

323 Lakeside Blvd., Hopatcong State Park, Hopatcong 07843, 973/398-2616

, Sussex

Step Into Earth Science! Mining museum with underground mine tour and over 30 acres of indoor & outdoor displays and historical buildings. Recent additions include expanded fluorescent display at Thomas S. Warren Museum and the Million Dollar display at the Oreck Family Mineral Gallery. Gift shop with a collection of world wide minerals.

30 Plant St., Ogdensburg 07439, 973/209-7212
This story was first published: Autumn, 1999