The Delaware Water Gap National Recreation Area is now home to the Appalachian Mountain Club's southernmost facility. The Mohican Outdoor Center is nestled between two ridges of the Appalachian Mountains on the banks of Catfish Pond near Blairstown, with the Appalachian Trail running just east of the camp. Opportunities abound for hiking, biking, swimming, canoeing, rock climbing, and bird-watching, as well as for cross-country skiing, snowshoeing, and ice-skating in winter. Recreational and educational programs are available for both AMC members and non-members, including workshops on birding, backpacking, leadership training, fitness, writing, mushrooms and astronomy. Mohican also provides a base of operations for a wide range of trail work projects carried out by AMC in cooperation with the National Park Service.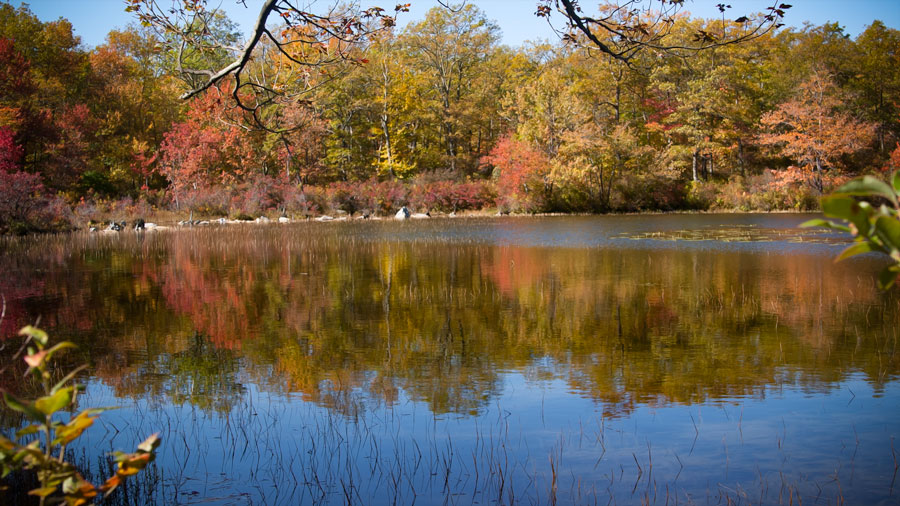 Once a boy-scout camp, the facility currently has several lodges that can accommodate a range of guests from three to sixteen. Cabins and lodges are open year round — some are winterized and include heat and water. Most cabins have bathrooms with flush toilets and showers, and, if cabin or lodge does not have running water, accommodations are in separate buildings nearby. Group space is also available (by reservation) in the boathouse, which looks over a pristine lake as well as the dining hall. Several campsites are located within the camp, including lake view sites, and private tent sites. Bigger groups can use the large group campsite. Reserving the whole camp is a possibility; this includes all cabins, lodges, private camp sites, dining hall, and boathouse. Great for weddings or reunions!
Consider becoming a member of AMC for a number of benefits including discounted rates, and hundreds of local chapter outdoor recreational programs at little or no cost. For reservations please call 603-466-2727. For information about the camp please call 908-362-5670 or check the website.
Upcoming Events
Nearby accommodations and attractions
Local roots!

56 Mine Hill Rd, Washington

, , 908/537-2544

A cooperative gallery featuring fine art, paintings, photography, pottery, stained glass, jewelry, fiber art, wood turned bowls, quilting, painted tiles, dioramas, and more by 35 talented local artists. Gifts and note cards for every occasion. Hours: Monday - Saturday, 10am-5pm; Closed Sundays.

23 Main Street, Blairstown 07825, 908/362-6865

540 Warren Street, Phillipsburg 08865
This story was first published: Spring, 1996