Delaware Water Gap
National Recreation Area
After years of struggle, controversy and benign neglect, ways to offer interpretive looks at the rich history of the Delaware Water Gap National Recreation Area are finally becoming reality.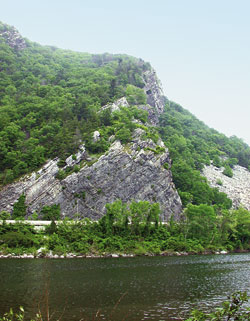 Above: Mt. Tammany. The Delaware Water Gap NRA is the 14th most visted destination in the U.S.
Appropriately, the last exit off Interstate Route 80 in western New Jersey (map) places late model automobiles on the oldest commercial highway in the United States. In fact the Old Mine Road, which winds its way in various present day forms from New England to Philadelphia, follows an aboriginal trail along the Delaware River believed to be 8,000 years old. In American Colonial times dating from 1652, Dutch settlers carried copper ore from rich mines located near the Delaware Water Gap to Kingston, New York along the route. Houses along the road became vital refuges and forts for settlers during the French and Indian War. George Washington's soldiers used the road and John Adams and Ben Franklin were frequent travelers. During the mid 19th Century part of the Old Mine Road became links in the Underground Railroad. The highway's saga before 1850 back to 1612 and before recorded history is an incredibly rich legacy.
Today, visitors entering the Delaware Water Gap National Recreation Area (DWGNRA) on the Old Mine Road pass over a wealth of aboriginal and pre-Colonial archaeological resources. They pass beneath hills containing the remnants of copper mines that were productive during the 1750s, 1860s and the early 1900s. They pass the Abraham Van Campen house, built in 1725 and reputed to be the oldest in Warren County - once used as one of the forts on Ben Franklin's Philadelphia frontier in the French and Indian War. They pass cemeteries from the Revolutionary & Civil Wars overrun by weeds. In fact there are 90 sites in the DWGNRA that are on or eligible for the National Register being stabilized and restored for a wide variety of uses.
But unless they are well versed in local history, most of the 3 million annual visitors know the 70,000 acre Park- the largest recreation area in the eastern U.S.- only as a nice place to fish, hike, camp, or have a picnic. Although the recreational resources are well-known and enjoyed, some might wonder at the paucity of services available. A review of the most recent thirty years of history in this valley- that of the Park's early development- explains why the DWGNRA has remained somewhat of an enigma; and why the Park is now the subject of a $150 million program - the largest recreation area under development in eastern U.S., from a point below the Gap to the New York State border.
The National Recreation Area was originally conceived as an adjunct to "management" of the Delaware River. In 1960 the Army Corps of Engineers set upon a mission to build a dam at Tocks Island, just north of the Water Gap. This dam would control water levels for hydroelectric power generation and create a 37 mile lake for use as a reservoir. A smaller surrounding recreation area, to make a more "cost effective" dam, would be administered by the National Park Service.
Tens of millions of dollars were appropriated and work began to prepare the area for flooding. Three to five thousand dwellings were demolished. Some fifteen thousand people were displaced, many of whom represented 300 years and 13 generations of history and culture in the Upper Delaware Valley. A serene region of farms, hamlets and villages along a free flowing river was systematically dismantled as part of a plan that was eventually shelved. There was passionate opposition from many corners to the government's agenda. Some of the more visible historical homes were temporarily spared only to be destroyed by squatters and arsonists. For 18 years the valley was the site of a bizarre free-for-all with an unpredictable outcome.
Finally, in 1978 the project was deemed economically & environmentally unsound, and the government, instead of selling back the remaining 83 homes to original owners, transferred the properties to the National Park Service. The Delaware River was placed under the protection of the Scenic Rivers Act.
From 1978 to 1983 a series of public hearings were held to decide what to do with the park. Finally the Land Protection Plan was created which evolved into the Park Service's General Management Plan. The plan was finalized from 1983 to 1987, and in 1988 $110 million in capital development funds were appropriated by Congress for developing the Park over the next 10 years. Meanwhile another 25 historic structures had fallen down, all improvement efforts were going towards recreational facilities such as boat launches, and a general aura of mistrust and disgust hampered any attempts to coordinate planning processes between the Park Service and surrounding communities.
Fortunately there were folks who chose to create alternatives and find a way to make certain that a government review after the year 2,000 would not result in a dam. In 1988 a Citizens Advisory Commission began overseeing the implementation of the ten year Federal development plan. Eleven members; one from each of the five counties surrounding the DWGNRA, four appointees by the New Jersey and Pennsylvania Governors and two "at large" Federal appointees; serve on the Commission. So far beaches, roads, boat launches, picnic areas and trails have been improved and cleaned up. The problem of "benign neglect" concerning the remaining historic structures is being addressed; over 113,000 historical and aboriginal artifacts have been catalogued and 1,200 historic sites have been identified within the Park. $400,000 a year has been appropriated and dedicated solely to historical stabilization on the New Jersey side of the National Recreation Area. A measure of good will with surrounding communities has been rekindled and a productive partnership with National Park Service has begun to emerge; one that will have to be emulated in situations all over the country where National Parks face a shortage of money and manpower.
A visit to the DWGNRA may soon be a very different experience than today. Under the Historic Property Leasing Program the Park Service can issue leases on structures in the Park for up to 99 years. Leasees provide capital investment in the structure and are issued special use permits. Uses might include an educational function, private residential use, or commercial use such as a general store. Properly publicized and administrated, this program could have far reaching effects on the Park. It is, however, a very tender balance of all the cultural and historical considerations that must be met. There is a huge amount of work to be done just to sort through the mountains of material that already exist with regard to the area's archaeological and cultural history. And to harmonize stepped-up promotion of the Park with concerns of the surrounding communities about maintenance, rateables, and multitudes of visitors will be a Herculean achievement. But the Delaware Water Gap National Recreation Area deserves as much. Most of the effort will come from dedicated volunteers; people that love the Park as much for what it was as for what it might become.
In And Around The Park
The Delaware Water Gap National Recreation Area is a vista not only of scenery but also of things to do. Here are a few among the dozens of destinations within the Park on the New Jersey side:
Originally built in 1750, the house has undergone a $500,000 restoration and is accessible to the public. The house was a rest stop along the Old Mine Road for the likes of John Adams, a friend of Isaac Van Campen and saw use as a fort in the French and Indian War.
Peters Valley's mission as a non-profit educational organization is to foster an appreciation of traditional and contemporary crafts by providing programming for individuals to study, create and explore new ideas in a supportive environment. June, July and August provide a wide range of opportunities for students and visitors to enjoy workshops, evening lectures, studio tours, the Peters Valley Craft Store and Gallery and the annual Craft Fair.
A re-creation of a late 19th century rural community, Millbrook offers a self-guided walking tour about the buildings and life 100 years ago.

Pahaquarry Copper Mines

Scheduled for a major upgrade and expansion of parking and toilet facilities, visitors can walk to the historical mines at Pahaquarry.

Watergate

Offers an open air concert area, a 50 site picnic area, concession food service and complete parking and comfort facilities.

Van Campens Glen

Picnic area on beautiful babbling brook

Poxono

Boat launch, 6 car/boat trailer parking facility

Blue Mountain Lakes, Crater Lake

Trailhead parking, fishing, spectacular views.
The famous path which runs from Maine to Georgia spends 25 of its miles in the Park.

Delaware River

Lest we forget what all the fuss is really all about, the Delaware River is in great shape. One of the cleanest and prettiest rivers in the East, the 37 miles in the Park is great for swimming, boating and fishing. There are several swimming beaches, boating access points every 8-10 miles. For fishermen the Delaware offers shad, smallmouth bass, walleye, eel, catfish and muskellunge.
Recreation sites in the Park are for day use only and over-night camping access is limited. However several nearby or adjoining private campgrounds offer visitors a variety of amenities with "backyard" access to the park:
Columbia, NJ; 908-496-4333
Hope, NJ; 908-459-4079
When you come to the Park don't forget that there are no gas stations, and complete comfort stations are far between (if you bring kids, bring toilet paper). Visitors are reminded that denigration or removal of artifacts from the DWGNRA is prohibited. Please be considerate of the Park's historical past.
For updated information on the status of park facilities, roads, and trails, call park headquarters on weekdays (570-426-2452). Updated information is also available on the park's website, on Facebook, and Twitter.
Nearby accommodations and attractions
Choose and Cut from thousands of trees! Blue Spruce, Norway Spruce, White Pine, Scotch Pine Fraser Fir, Canaan fir, Douglas Fir. Family run on preserved farmland. Open Nov 27 - Dec 23, 9-4. Closed Mondays and Tuesdays. Easy Access from Routes 78 or 80.

77 Jackson Valley Road, Washington 07882, 908-835-0557

There's always something fun happening at the Sussex County Fairgrounds. Visit our web site for a full year of family fun, right in your own backyard.

27 Plains Road, Augusta 07822, 973/948-5500

The Byram lake is a good kayaking destination.

A mix of historic buildings of varying architectural styles, a walkable downtown, and plentiful eateries surrounded by rural tranquility make Newton a fusion of the then and the now, with great expectations for the to be.
This story was first published: Summer, 1998