Beyond the shade of old sugar maples on its northern shore, Greenwood Lake stretches and waves for six to nine miles, depending on who you talk to. This glassine water body, made for pleasure, supports every water sport a visitor can think of – swimming, diving, fishing, water skiing, jet skiing, and boating by sail, canoe, kayak, paddle, motor, row, and skull.
Greenwood is an important lake in the Skylands region. Historically known as a resort community and playground for celebrities – Cecil B. deMille, Babe Ruth, the Jeter family, and others in sports and the arts – Greenwood Lake still offers adventure, fun, and relaxation for families and singles. It and the surrounding Town of Warwick and nearby Vernon have everything a vacationer could want for a weekend or a week: entertainment, night life, antiquing, a wine trail, outdoor concerts, festivals, boutique shopping, restaurants with lakeside dining, cozy inns, plenty of outdoors activities, and hiking in national and state parks.
A tour around Greenwood Lake reveals where to have some fun. From 17A south, turn right onto East Shore Drive to check out the East Arm of the lake. A boathouse on the right houses the East Arm Rowing Club, an organization that teaches new members, provides skulls, and sponsors a spring regatta on the lake. Along the drive, notice several marinas that rent slips for boats and also rent the boats themselves.
Pass flashy restaurants of various styles. A 1914 castle at water's edge, complete with haunting by ghosts of a past owner's mistress and wife, has waterside dining and live music on the dock, beach volley ball, and for those who prefer indoors, a dining room with colorful murals and a wall of windows to watch the action on the lake.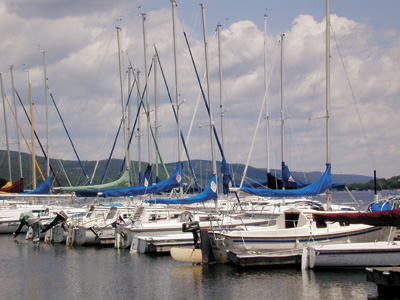 Staying close to the lake, the road rises and runs along a hillside between woodland above and the lake below. The hillside is part of the 15,973-acre Sterling Forest State Park with hiking, fishing, boating, and scheduled guided events (845-351-5907).
Soon a grand home appears on Chapel Island where, years ago, a church accessible only by boat held services until it burned. Now the island is home to a judge and local orchard owner. In this Forest Knolls section of the lake, garages become the most visible structures on the road because the houses are down by the lake. Tree-lined hilly streets, and the lake as backdrop for stone and log houses with well tended gardens, lend a European flair to these private communities with their own beaches. So, if you want to swim, go to the town beach at Morahan Waterfront Park in the Village of Greenwood Lake.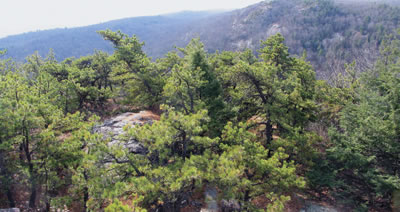 At about half-way down the lake, enter West Milford, New Jersey. Soon you will drive over the Wanaque River, the sole outlet of the lake. The river flows to Monksville Reservoir, then on to Wanaque Reservoir. Here, the Ryerson family dammed the lake in the 1830s, flooding several farms to create the southern half of the lake. (First, Peter Hasenclever, Long Pond ironmaster, dammed the middle of the lake in 1765.) Ryerson's son was involved with the Morris Canal and Banking Company. After that, luxury steamboats plied the new lake, bringing visitors to the new grand hotels and resorts built on its shores. Rob Sparks, GIS Specialist for West Milford's Planning Department, calculates that the current body of Greenwood Lake is 7.6 miles long at 620 feet elevation. By contrast, Upper Greenwood Lake on Bearfort Mountain is entirely a man-made lake at 1,100 feet elevation.
This lengthy lake gets a lot of boating action. It's even perfect for sailing and paddle-boating. Has the thought of learning to sail sailed across your mind? Here's the perfect opportunity. At the T-intersection, turn right onto Greenwood Lake Turnpike. South Shore Marina, on the right, offers doable, inexpensive sailing lessons. They also rent pontoon boats! Want to learn how to fly? Take Airport Road to the left and find Greenwood Lake Airport. Take a ride in a small plane or sit in the Crossroads Café and watch take-offs and landings while you enjoy lunch. Next to the airport, check out what was once "Jungle Habitat," a defunct Warner Brothers drive-thru safari open in 1972 and closed four years later after a wild cat killed a man. The sign and other artifacts remain, as do some interesting plantings of exotic species meant to enhance habitat of exotic animals. Most is overgrown now but it all makes hiking there fun, and some established, marked trails exist. To get maps for them, contact the New York-New Jersey Trail Conference. Another wonderful place to hike is Bearfort Mountain which runs along the western side of Greenwood Lake. The mountain is part of the Abram S. Hewitt State Forest with exciting trails. This New Jersey-style adventure hike has fabulous views, fun rock-climbing, streams to ford, boulders to hop, waterfalls and habitats to explore, and lots of wild plant and animal life to watch for. It's one of the Garden State's best. Get a map from the NY-NJTC. Ringwood State Park and the New Jersey Botanical Garden, New Jersey's official botanical garden, are to the southeast.
In the mid 1960s and early '70s, when the New York drinking age was 18, Greenwood Lake's streets were crowded with teens from New Jersey who came to the 80 plus bars and clubs here, according to locals. Now, most of the village's nightlife is on the lake – and in summer, most bars and restaurants feature live bands outside on docks, where visitors can steer their boat right in.
In town, turn right onto Windermere Avenue that dead ends at the Greenwood Lake Public Beach. In summer, swimming, sunning, and getting married in the gazebo are the beach's major attractions. Evening brings concerts, Saturdays at 7:30. Other festivals of note are Breezy Point Inn Winter Carnival, Annual Boat Parade, the Greenwood Lake Fall Festival, Classic & Wooden Boat Show, sponsored by The Antique & Classic Wood Boat Society in July, and Applefest in Warwick. Approximately 2,000 families live year-round in the Village of Greenwood Lake, one of three villages (and seven hamlets) in the 104 square-mile Town of Warwick.
For an excursion to Vernon, for the day or week, take 17A toward Warwick. Bellvale Creamery on the top of Bearfort Mountain is a "must-stop," even for hikers on the Appalachian Trail, which passes through from New Jersey into Harriman State Park. Their ice cream is beyond fabulous, attests this writer – homemade – with dangerously addictive, yummy flavors, (one with chunks of fudge inside) and the view over Warwick is great.
In Warwick, turn left onto Route 94 and head toward Vernon. But while still in Warwick, another must-stop is Ochs Farm up the hill on the left for home-grown fruits and veggies and their very own peanut butter with honey, the best you will ever taste, bar none. For that alone, it's worth the trip. You can explore the Warwick area for farms, pick-your-owns and wineries – many with live music outdoors.
Nearby accommodations and attractions
Thousands of photos and artifacts document the lake's long and illustrious history. Open every Sunday through June, 12-4pm, October thru May. Free admission, parking.

323 Lakeside Blvd., Hopatcong State Park, Hopatcong 07843, 973/398-2616

One day you are likely to find yourself headed to New Jersey's northernmost corner in search of adventure.

The Byram lake is a good kayaking destination.

This early 19th-century restored village, once bustling port along the Morris Canal, contains a working mill complex with gristmills and sawmills, a general store, blacksmith shop and several historic houses, and a re-created seventeenth century Lenape Indian settlement. On Saturdays, June through September, the canal store, gristmill, visitor's center, Canal Museum, and Highlands Boat Exhibit are open, 10am - 4pm. Summer at Waterloo is a partnership between the Canal Society of New Jersey and the NJ Park Service.

525 Waterloo Rd, Stanhope 07874, 973/347-1835

A mix of historic buildings of varying architectural styles, a walkable downtown, and plentiful eateries surrounded by rural tranquility make Newton a fusion of the then and the now, with great expectations for the to be.
This story was first published: Summer, 2007