Flemington
Flemington personifies "Ideal Town, U.S.A."
by Erica Edwards
Here you sense a special quality of life, enjoy small town friendliness, see beautifully restored and preserved architecture, and take pride in an historic district where 60% of the buildings are on the National Register of Historic Places. It is a borough where people stroll along its streets, where local residents and tourists mingle, exchange smiles and share the Victorian atmosphere of what is still a typical Main Street. Whether the first or last stop on your autumn visit to Hunterdon, don't miss Flemington, the county seat. John Maass, noted writer on the subject of Victorian architecture, has touted Flemington's Main Street as one of the prettiest in America and "a perfect example of a nineteenth century county seat." Tree shaded streets lined with a fascinating mix of Greek Revival and Victorian buildings set the stage for the beauty that is Flemington. Look closer and you will find something for everyone in this quaint yet cosmopolitan small town.
History buffs and students of architecture will marvel at the breadth of Flemington's treasures. Clayton and Whitely's Guide to Flemington notes, "Long before the white man came to New Jersey, Lenape Indians occupied the rolling hills of Hunterdon County, including what is now greater Flemington. They were a peaceful group who settled in this area because of its abundant water, navigable rivers, and protected fertile valley. They hunted, fished, and grew crops, beginning what would be a long tradition of agricultural living [in Hunterdon County]."
In 1738 John Philip Kase bought land that included the area around the Route 12 traffic circle and back through Bonnell Street in the Borough of Flemington. He built his log cabin along Tuccaminjah Creek, now called Mine Brook. Nearby was the Indian encampment of Chief Tuccamirgan with whom Kase developed a lasting friendship. The childless wife of the chief often took care of the Kase children, who were as comfortable at the Indian camp as they were in their own homestead.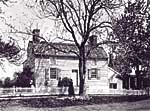 Fleming's Castle, about 1890.
Other settlers soon arrived including Samuel Fleming in 1746. A tavern owner with a need for a new, larger tavern, Fleming built the first "real" house in what would become Flemington. Complete with clapboards it was known as Fleming's Castle.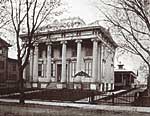 The Readington-Large House,
about 1890.
Flemington is also home to some of the nation's finest examples of Greek Revival architecture, courtesy of designer-builder Mahlon Fisher. A few of his most prominent works include the Southard Building, the office of former Senator Southard, remodeled in 1840, the Doric House which served as Fisher's residence from 1846 and is now the home of the Hunterdon County Historical Society and lastly, but by no means least, the Reading-Large House an impressive home with massive columns built in 1847.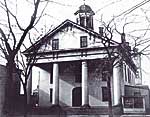 Flemington Courthouse, 1900
Another Greek Revival building is the Historic Hunterdon County Courthouse, the site in 1935 of what is called The Trial of the Century, the trial and conviction of Bruno Hauptman for the kidnapping of the infant son of famed aviator Charles Lindbergh.
Shopping
But Flemington is sure to please others besides history buffs. Numerous restaurants and charming shops make Flemington a premier retail destination. Specialty retailers include the famous Flemington Furs (since 1921) and Pfaltzgraff, successor to the Stangl/Fulper pottery works begun in Flemington in 1814. With one hundred outlet stores located in several outlet shopping centers and free-standing stores throughout the town, Flemington has long been known as a bargain hunter's paradise. These outlet stores are owned and operated by leading designers and manufacturers offering first-quality, in-season merchandise at everyday "factory-direct" savings of 25 to 65 percent.
The largest collection of outlet stores is found at Liberty Village Premium Outlets. In the 1960s and 1970s, Liberty Village was a popular artisan's village where visitors came to observe weavers, cabinet makers, blacksmiths and glassblowers. In 1981, Liberty Village became the country's very first outlet village where many designers and manufacturers opened their first outlet store. Its sixty stores are situated in a Colonial-American styled village. Many of the historic buildings that surround the center's picturesque pond are beautifully restored or adapted architecture. The brands, however, are anything but old-fashioned. A recent stroll through this charming center revealed a "who's who" of today's most popular fashion labels: Polo Ralph Lauren Factory Store, Jones New York, Anne Klein, Ellen Tracy, Dana Buchman, Michael Kors, Calvin Klein, Brooks Brothers Factory Store, Tommy Hilfiger, Cole Haan, Nautica, Timberland, J. Crew, Sunglass Hut, and Liz Claiborne. More shoppers appreciate the savings at Carter's, Jockey, OshKosh B'Gosh and Stride Rite Keds Sperry. Also impressive are the housewares and gift stores which include (Please delete Ralph Lauren Home), Royal Doulton, Samsonite Company Store, Zales Outlet and Fifi Pet Boutique. This spring (2007) the center will welcome Polo Ralph Lauren Children and Gymboree outlets. When you arrive, make sure to stop by the Information Center, located in suite 26, across from Pepperidge Farm, to pick up a center directory, find out about store promotions and pick up information about other Flemington attractions and accommodations.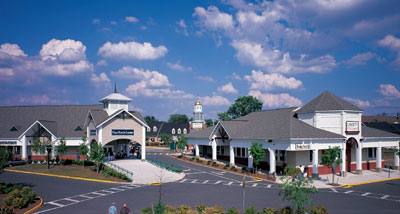 Liberty Village Premium Outlets
Take Route 202 to historic Flemington, New Jersey and follow the signs to Liberty Village. For more information, call (908) 782-8550. Liberty Village is one of forty Chelsea Premium Outlet Centers across the United States. Chelsea centers are known worldwide for having the finest collection of designer and name brand outlets in architecturally distinctive, beautiful settings. Complete information on Liberty Village and all Chelsea centers can be found online.
Events
Finally, Flemington is for the family! Numerous special events designed to delight adult and child alike occur in this charming town. Two of the most notable are Flemington's Autumn Fest and the Hunterdon Holiday Parade, both in the vicinity of Main Street. Autumn Fest includes vintage cars, local vendors, lots of music and food, and a community-wide pumpkin carving and decorating contest. The Hunterdon Holiday Parade is the county's largest and most diverse complete with great music, dancers, unique and antique vehicles and Santa. The festivities also include the ceremonial lighting of Flemington's holiday tree located at the center of town.
with thanks to B. Clayton & K. Whitley's Guide to Flemington
Nearby accommodations and attractions
The Hill and Dale Preserve in Tewksbury is the most recent purchase of the New Jersey Conservation Foundation (NJCF), an organization dedicated to saving and protecting New Jersey's important lands and natural resources for all to enjoy.

, Lebanon

114 Dreahook Road, Stanton 08885, 908/236-2327

Artisanal cheeses, wood fired breads, 100% grass-fed beef, whey fed pork, and suckled veal, 100% grass-fed ice cream, pasta made with Emmer wheat and our own free-range eggs, and pesto made with our own basil! Bread and cheesemaking workshops are held on the working farm as well as weekend tours and occasional concerts.

369 Stamets Road, Milford 08848, 908/86GRASS

Delightful fantasies beyond words! Gold, Platinum & Silver Jewelry, Wildlife Photos, Crystal, Lighthouses. Perfume Bottles, Santas, Witches Balls, Oil Lamps, Paperweights, Chimes, Art Glass, Wishing Stars. Now featuring Pandora Jewelry.

44 Main St., Clinton 08809, 908/735-4244
This story was first published: