Stillwater
by Jane Dobosh
The best known feature of the Stillwater area is probably Swartswood Lake State Park—the 1,774 acre state park, located on the shores of both Swartswood and Little Swartswood Lakes, features many activities all summer, as well as facilities for picnicking and camping. But there are myriad treasures throughout the rolling hills and three villages in that corner of Sussex County.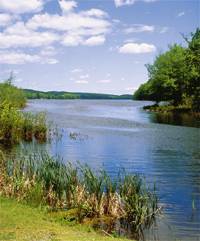 The lake was a major resort in the early 1900s, and weekenders took the train into nearby Blairstown through the 1940s. Although many of the local families took in borders throughout the summer, there were other places to stay. The North Shore Inn, visible across the lake, was once a booming hotel, as was The Casino and The Dove Island Inn, now a private home. Later, weekenders stayed in summer cabins. The Paulinskill River was dammed in the 1920s to create Paulinskill Lake, now primarily a year-round community, but which was for many years a collection of summer residences.
The history of the area started long before it was discovered by Brooklynites looking to escape the city heat. A map and driving tour guide is available at the township municipal building in Middleville and is a must for lovers of old houses. Some of the highlights are the Stillwater Mill and the nearby Casper Shafer house, a stone structure with an ornate porch. Shafer was one of the first three inhabitants of Stillwater. Whitehall, nearer the center of the village, is a large house surrounded by a white fence. It was built by Nathan Armstrong Shafer (son of Casper) and once owned by poet Joyce Kilmer's widow. The Presbyterian Church is the most prominent feature in the village. Opposite the church is the former Stillwater Academy, an old schoolhouse, now the historical society museum, which is open on Sunday afternoons all summer.
Like all communities settled in the 18th Century, Stillwater is the subject of many tales and legends. Grace Van Horn of Fredon, a lifelong area resident, is quick to debunk one of those stories: there is no Hessian cemetery in Stillwater. There is a very small private graveyard on the property owned by the Van Horn family from 1808 to 1965. Tales have circulated that Hessian soldiers are buried there, but the Van Horns know of no such burials. Many of the early settlers were German and there may have been some Hessian prisoners of war held nearby after the battle of Princeton, but there are no records of burials. The cemetery is still private property, Van Horn says. The legendary Ice Cave is also on the former Van Horn property. Roof says there is a cave in the mountain that is so deep there is always ice in it.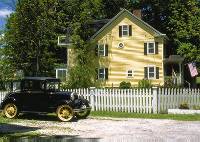 Although Stillwater Township is still a farming community, the village has a number of shops and businesses of interest to the visitor including antiques and collectible shops and galleries, as well as nearby restaurants
Like most farming communities in this region, the Stillwater area was dotted with lime kilns. Most are not accessible from the public roads and many are in disrepair, but you can find a wonderful example of an intact kiln on Millbrook Road a little more than two miles from Stillwater village. Frequently stones have been removed from the kilns for later construction projects or trees have grown up within them. But the Millbrook kiln has escaped both fates, according to Donald Robbins, a local expert on lime kilns. Whether walking through the village or driving through the entire area, the visitor feels that history is still alive in Stillwater Township.
Nearby accommodations and attractions
Join us in creating a safe haven for future generations at this 336-acre rustic oasis on historic preserved farmland. Meet and interact with over 200 rescued animal residents every Saturday and Sunday. Or call to schedule a group or school trip. Coming spring 2020 - interactive goat playground!

141 Clove Road, Montague 07827, 973/293-1064

Buy direct from the grower and save! Large selection of annuals, perennials, herbs, vegetables, hanging baskets, deck planters, succulents, tropicals and more. 10% off annuals for seniors on Tuesdays and everyday for Veterans and Master Gardeners. Fresh eggs daily.

47 Augusta Hill Rd, Augusta 07822, 973/948-0551

Wilbur's is the perfect destination on a drive through the New Jersey countryside. British foods and candy, Yankee candles, wind chimes, pet-themed gifts, preserves, much more. Charming location in barn complex between Newton and Blairstown.

735 Route 94, Newton 07860, 908/362-8833

A mix of historic buildings of varying architectural styles, a walkable downtown, and plentiful eateries surrounded by rural tranquility make Newton a fusion of the then and the now, with great expectations for the to be.
This story was first published: Summer, 1997