On the Edge- Vernon and Warwick
Tale of Two Towns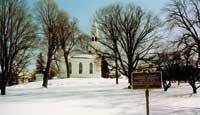 Above: The Old Baptist Meeting House in Warwick's Historic District.
Below: This painting by Joan Ross depicts the Route 94 intersection in Vernon in simpler times.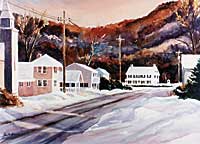 Vernon, a winter resort town, spreads like cream on the face of the Jersey Appalachians and connects to Warwick, New York, a town of villages and hamlets tucked in the rolling hills of the ground-down Shawangunk Mountains, Orange County's Appalachians. The topography, the landscape, is what brings people to these mountains and countryside, and it's these people who created a magical mix of history, country, romance and culture. Some of them grew up here and others moved from nearby megalopoli. Its proximity to the great paved ocean-side beltland lends an air of entering another world, another country, where the daily grind is left behind.
Time seems to wait in the wide flat valleys, surrounded by mountains with names like Adam and Eve, and then catches up again in the cosmopolitan temperament of the Village of Warwick. Here, history is not forgotten and the venerable are treasured-buildings and icons alike. The old farms, once largely dairy, still retain their original mansions and lands, once the homes of families who grew cows and crops, now the homes of five star restaurants, elegant Bed & Breakfasts, art galleries and specialty shops. They've been renovated, redecorated, rejuvenated with the presence of lithe merchants hawking sophisticated wares.
And Vernon, once a tiny village tucked in a crease at the base of a ripple of mountains, has, for decades, defined itself as a four-season resort destination. Playboy jackrabbit, Hugh Heffner, erected one of his famous clubs in Vernon in the early 70s. The location must have drawn him, as it has several resort investments since. The Playboy Club eventually was sold to the American Hotel Chain, then went through a series of owners until today, it is known as Legends Resort and Country Club. Around the same time Heffner jumped to have his exclusive reclusive club in the then sleepy town of Vernon, both Vernon Valley and Great Gorge ski areas were conceived. Eventually Great Gorge was absorbed by Vernon Valley and became known as Vernon Valley/Great Gorge. It is now Mountain Creek, a ski and recreation area owned by the internationally respected resort developer, IntraWest. Great Gorge Country Club is now a Japanese-owned golf course. Condos dot Vernon's landscape amid cottages and farms that look straight out of a storybook, and ski trails claim the slopes.
A visit to the sister towns is just an hour's drive for most people in our metropolitan area, and there's everything a visitor could want for a week or a long weekend-outdoor sports, fine dining, galleries, romantic bed and breakfasts, and quality shops.
Warwick
Michael Newhard, Mayor of Warwick, says that a hot house of perfect conditions helped Warwick develop its upscale, yet open and creative climate. "The town is well known but far enough away from major highways, keeping it protected yet in the public eye. People see it as a safe harbor for freedom of expression." Warwick's tie to Manhattan, first as a choice location for summer homes, drew famous people like actors Gloria de Haver and Richard Kiley, and Hudson River painter, Jasper Cropsey. Its agricultural history fostered wide-open spaces and mansions, and its proximity to New York City allowed the flow of goods along what was once the King's Road during colonial times. It's always been an arts community-it has the right stuff for eccentrics and creative people to live here.
In the 1700s, Francis Baird started it all. A book dealer from Manhattan, he built a stone house with a connecting tavern. Baird had connections in New York City, so he supplied everyone with everything. He sold ironwork to farmers, saddles, leatherwork, plows, teacups, fabric to seamstresses, coats, hats, buttons and false teeth. Doctors got supplies, scalpels, and needles. He did banking, loaned money, and bought the ashes from everyone's fireplaces to make laundry soap to sell. There was nothing he wasn't involved in. He supplied fresh horses for carriages that traveled the King's Road from Philadelphia to Newburgh. Baird was a monopoly-entrepreneur extraordinaire-the only local from the city who was a merchant.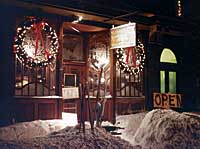 Main Street becomes a Winter Wonderland in Warwick.
A hundred years later, Warwick became a town and is listed as a Historic District on the National Register. There are three villages: Warwick, Greenwood Lake and Florida. They are all finally understanding their diversity. There are five hamlets: Pine Island, Bellvale, Amity, Edenville and New Milford.
Twenty-five years ago, the stores on Main Street served the farm community. Young entrepreneurs in the 80s saw that Warwick was going through a real estate boom and grabbed the opportunity of an urbane market and the rebirth of tourism. The infrastructure was here for a healthy shopping area that absorbed change and re-emerged into special niche stores, far enough away from the malls to survive.
Pine Island
Swing on over to the hamlet of Pine Island, a short jaunt away. This is The Heart of the Black Dirt Region known for onions and mastodons. Scraped and scoured by the last glacier, the wide flat valleys were once a glacial lake, which became a swamp which later dried, leaving its black dirt legacy. Decomposition is slow under the muck without oxygen, so mastodon bones survived to tell a tale. Farmers found the rich organic soil was perfect for onions and the region now grows 25% of the nation's onions. According to local lore, Pine Island is the Onion Capital of the World.
Arts
Artists come to Warwick and Vernon for affordability and proximity to the city, and for the quality of life they offer. Life here is scenic, quaint and quiet. Inspiring. Like the mayor's hot house, the conditions were perfect for the outlying counties, including Orange and Sussex, to be able to sustain artists. "It would be sad if we became suburbanized and artists couldn't afford to live here any more," says Newhard. "The Town and the Village make attempts to keep the process slowed so development happens in the best way. We work very hard to retain agriculture and open space."
Skiing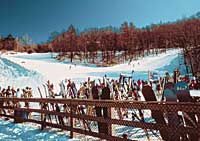 Sussex County, NJ and Orange County, NY offer facilities for anyone looking to slide down a slippery slope. Beginners, experts, kids and adults will love the experience at Sterling Forest, Mt. Peter, Mountain Creek, Hidden Valley and High Point Cross Country Ski Area. Even if there's no snow in your own backyard, you can bet you'll find lots here.
The area's natural endowments-slopes with majestic views and the right conditions to make snow-grabbed the attention of major corporations that established the region as a ski/winter destination. Jack Smith, former president of the Vernon Chamber of Commerce, notes that if the weather cooperates, nearby Eastern seaboard skiing resorts will be booming this year. The current investment of Mountain Creek alone is $50 million. Mountain Creek is huge with 43 trails covering 15 miles and 11 lifts and does downhill skiing, snowboarding, snowtubing, restaurants and shops. Hidden Valley for downhill skiing has numerous trails and a shop and restaurant. For the fastest rentals of everything, zip in and out of McAfee Ski and Snowboard.
Close to Warwick is Sterling Forest Ski Center, a family-oriented downhill ski and snowboard slope in Tuxedo. It's a great place to bring the kids and small enough to know where they are. "A lot of people in the area just drop their teenagers off while the parents go shopping in Warwick," says Mike Motejl, GM. "A lot of seniors ski here. I think it keeps them going." It's close to the city and Jersey-it's even good for a day trip any day of the week. It has a shop, cafeteria, cocktail lounge and a Bunny Hill with a net across padded poles to catch beginners. Mt. Peter in Warwick is nearby.
Vernon
Alternatives to the rigors and challenges of the great outdoors abound around the Vernon/Warwick area. Shopping, viewing art, indulging your hobby, catching a play, and treating the senses are all within a short drive from your favorite Bed and Breakfast.
Spend the weekend or day in Vernon. Stay at a rustic and elegant B&B, then plan some self-indulgence. If skiing's not your game, go riding at Borderland Farm, where the woods are enjoyed on horseback. They ride all year long unless it's icy, and a ride in powder snow is glorious. Dress warm and comfortable; reserve your pony in the morning. If you want to wrap your hands around a hot mug where the locals go to warm up, have lunch at Pochuk Farms. Homemade goodies and soups with a big hunk of cornbread will give you a real taste of country. Dine in this old country store brimming with produce of the season.
For a weekend, week, or just a day, Vernon and Warwick take the blues away. They offer a complete package of shopping, outdoor sports, indoor fun and fantasy, gallery hopping, excellent dining, entertainment and great places to stay.
This story was first published: Winter, 2001