State Route 206 enters Montague just south of Clove Road, and DEWA territory soon after that intersection. The first hint of antiquity arrives quickly on the right at the Nelden-Roberts Stonehouse, built in the early 1800s by an early Montague settler as a schoolhouse. Managed as a museum in agreement with the National Park Service, the building is open only during scheduled events. Still, it's worth a stop if only to peak around the house at the back yard's ancient well pump and privy.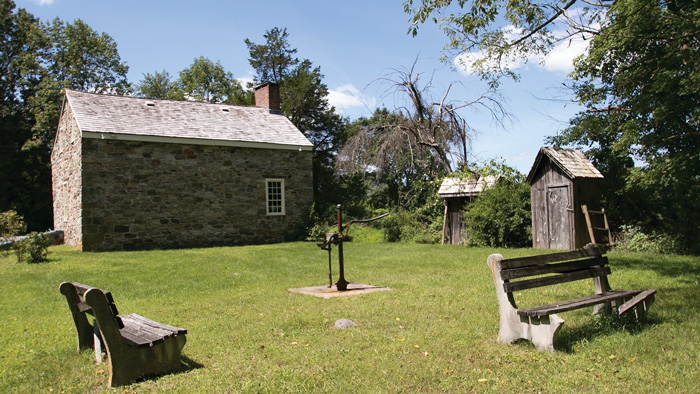 Another mile up the highway, Route 206 approaches the Montague-Milford bridge over the Delaware River, intersecting with Deckertown Turnpike from the east and, from the southwest, the Old Mine Road, which continues north to Port Jervis, NY, from that point as River Road. This is the vicinity of the former central hamlet of Montague, named Brick House for the tavern and stage coach stop built there in the 1700s. Settlers came from Esopus (now Kingston, NY) on the Hudson River along established routes — waterways, Native American trails and the Old Mine Road itself, which had been constructed with great effort in the 1600s by Dutch miners to access copper ore further south near the Delaware Water Gap. As mills, blacksmith shops, tanneries, stores and homes sprouted up, the migrants organized a Dutch Reformed Church in Montague in 1737, one of four Dutch churches in the northern Delaware valley. Now named the Minisink Reformed Church, it is the oldest continuously active congregation in Sussex County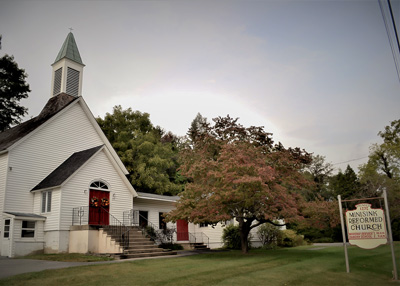 A ferry afforded transport across the river, until the first bridge to Milford, PA, was built around 1830. Construction of a new bridge in the 1950s required an expanded approach for an ever-increasing flow of traffic. The new roadways spelled doom for the old village, as the Brick House was demolished along with thirteen other buildings. The grand old hotel, which had hosted travelers since the age of copper mining and timber rafting down the river, is commemorated by a stone monument along Route 206 where it meets the Old Mine Road.
Montague did not escape the trauma that came soon after in the 1960-70s when more property along the river was condemned in anticipation of the Tocks Island Dam project. The proposed reservoir that would inundate the entire Delaware Valley from here to the Water Gap never came to be, but hundreds of families were displaced, their abandoned homes scattered throughout the newly created National Recreation Area. One of those was the Foster-Armstrong house which was purchased by the National Park Service in 1975 from descendants of the family that had lived there since 1790, when Julius Foster built a wood frame Georgian style house for partial use as a tavern, with a two-story porch and a Dutch gambrel roof. After James Armstrong married Foster's daughter, both families lived there together, with stone-walled quarters added between 1812 and 1820 for the young couple. The house and property, which became an active dairy farm until the 1970s, were rescued from advancing deterioration in the 1980s and are now headquarters for the Montague Association for the Restoration of Community History (MARCH). Founded in 1979 to "educate the public and preserve and display the history of Montague," the 200-member organization is led by a smaller core of active volunteers who maintain and furnish both the Foster-Armstrong and Nelden-Roberts sites, hosting several open houses and special events throughout the year. "We have an agreement with the Park Service, but we run the houses," explains MARCH president, Richard Jones. "Volunteers do all the scheduling and programming. The artifacts that you see displayed in the house belong to us. We insist that they must come from Montague, either current residents or from families that at one point lived here."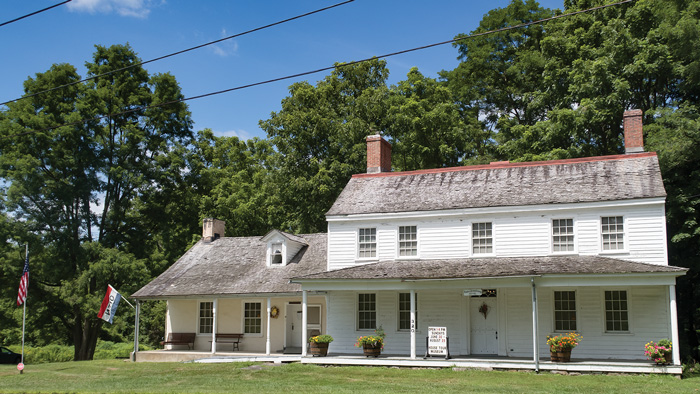 Every room in the Foster-Armstrong house is furnished or used to display historical items: furniture, pictures, papers, cooking utensils, clothing items, and so forth, given by local people who feel this museum is the best place for them. Some pieces go back to the area's pre-colonial history including Native American tools, baskets, hunting spears and arrowheads. One room is filled with military items donated or on loan from local families: uniforms, photos, personal accounts and medals from the Civil War to our more recent activities. Another is stuffed with artifacts from the Victorian era and from hamlets beyond Brick House, such as Millville and Tappentown/Duttonville, that completed the Montague identity. Upstairs, a collection of quilts that date from the nineteenth and twentieth centuries includes one made in 1880 to raise funds to rebuild the Minisink Reformed Church which had burned to the ground. In another room are eighteen models of covered bridges from the East Coast carved and assembled to scale by a former President of MARCH who went to each site to take measurements and photographs to assure the models' accuracy. The old attic is being converted into a special display area. The house also is home to the only public historical resource library, including historic documents, family histories and memorabilia that span to the incorporation of the town in the 1700s.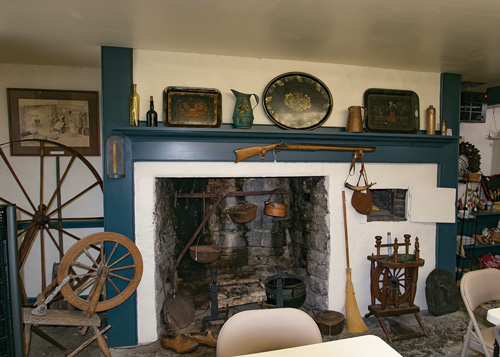 ---
A mile or two north on River Road you will enter the Millville Historic District where the Montague Grange sits near Shimer's Brook, which once powered the grist and sawmills crucial to the local economy. In 2003, when owners were restoring a nearby house on property that originally belonged to the first founding families, they were delighted to find ledgers, schoolbooks, and other documents from previous occupants in the attic. Much of this documentation was donated to MARCH to further their research of the Millville historic district and has proven invaluable not only in detailing information about the home and its past owners, but also about the surrounding community.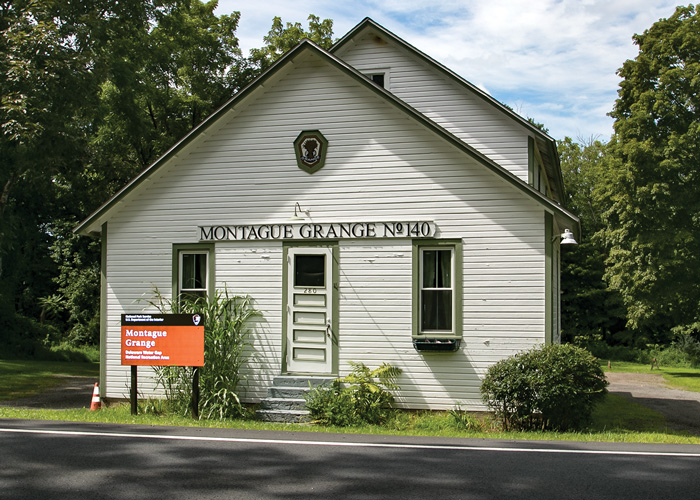 River Road continues past Weider Road on your right, then another two miles or so to New Mashipacong Road. Soon after is the Tamerlaine Farm at 147 River Road, where Peter Nussbaum and Gabrielle Stubbert moved in 2002 to their dream house in the country where they could grow the good food that they loved in a peaceful rural community. In 2013, the couple adopted a pair of neglected roosters, Yuri and Jupiter, who would change their lives. Their attachment to these two birds grew to a serious dedication to farm animal rescue, and they soon found themselves sharing their forty-acre farm with more than two-hundred chickens, ducks, sheep, goats, pigs, turkeys and rabbits.
In 2015, just over the ridge from Tamerlaine, the historic Westfall Farm came up for sale on Clove Road. Easily recognized by lines of white post and rail fence, clipped lawns, bright barns and a low-slung elegant house built in 1774, the 336 acres at Westfall not only create a stunning backdrop, but speak a long and rich agricultural history. Simon Westfall purchased the land a year before the American Revolution broke out and survived the furies of Tory raids in nearby Port Jervis, NY. In the early nineteenth century the farm became a stop on the Underground Railroad for fugitive slaves. Succeeding generations of the Westfall family operated the farm until 1940 when Charles G. Mortimer, Sr. bought the property. Mortimer, who would achieve eminence as President of General Foods Corporation, modernized the farm and kindled a thriving dairy business, while enthusiasm for equine activity also inspired the installation of Morgan horses which gradually took precedence, as fishing ponds and hayfields replaced cow pastures, refining the rough and tumble dairy into a stately horse farm. The Mortimer's' eldest son, Duke, later converted part of a barn into a professional theater where he offered a Dramatic Arts Workshop. Duke's son, Loren, and his wife, Georgene, operated Westfall Winery there from 2001 until Duke passed away in 2015.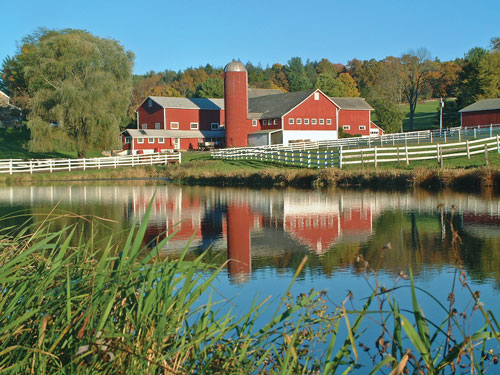 "My wife said 'we have to get this,'" when Westfall went on the market, recalls Peter. "I said 'yeah we do, but we can't afford it.' I'm a lawyer, I have a decent job but we've dedicated our lives to caring for animals and it's very expensive. We have ten employees who take care of the animals, and we are a 501c3 non-profit. But we're the largest donor and there's no way we could have afforded this place. So my wife spent six months reaching out to foundations. She kept trying. Finally, she found a private anonymous foundation, and they've helped us in a way that we were able to do it."
"The property is very vast and there's no way that we're going to fill up all this property with farm animals," explains Gabrielle. "We're going to do a lot of conservation work. We're making habitat for certain animals. We're making a monarch butterfly sanctuary and a pollinator pavilion where kids can come and learn about what kinds of seeds they can plant. For the birders we're going to create trails. The Museum of Natural History is coming up to look at it. We're trying to create an environment for the public, whether they're into the farm animals or the natural environment where they can come together and realize how they are dependent on each other; how the way we grow animals for our food system is affecting the environment." Tamerlaine Sanctuary and Preserve is open for tours on Saturdays and Sundays at 12:30pm, and the Flocktober Fest annual fundraiser at 141 Clove Rd.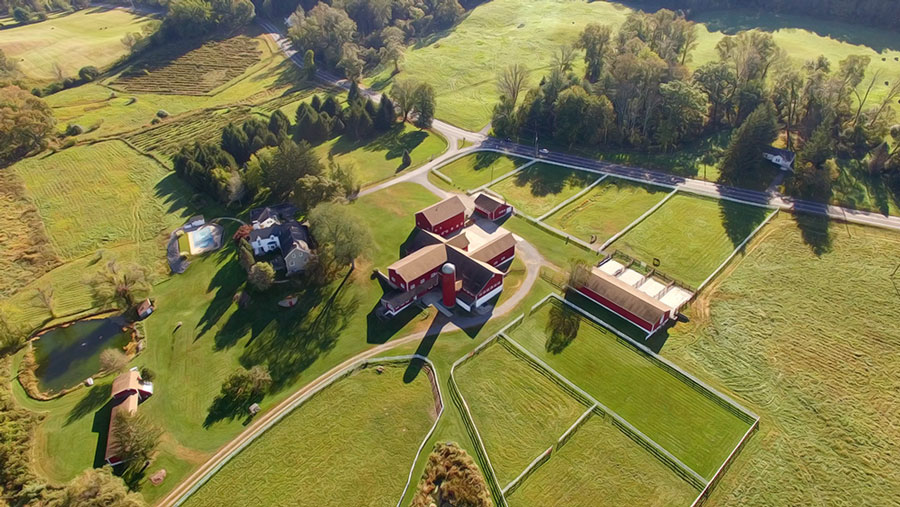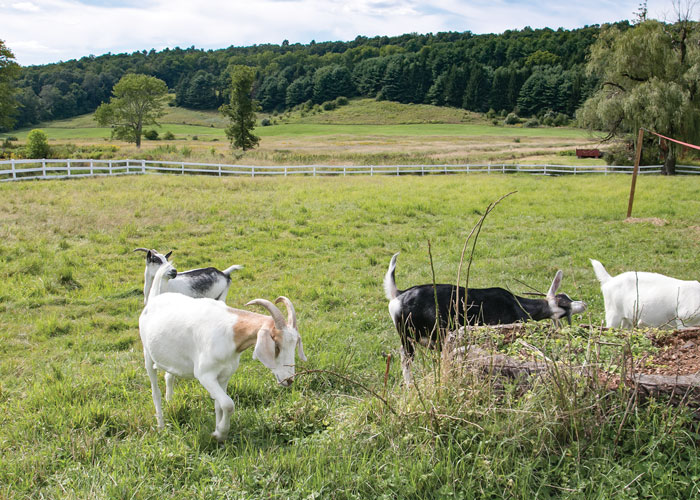 ---
As the Delaware and Hudson Canal and the Erie Railroad shifted the avenues of commerce to Port Jervis, NY, Montague's farming community found itself in company with various tourism ventures. In 1895, five Reinhardt brothers rented their father William's homestead and enlarged the family house at Rock View Farms to accommodate visitors, often attracted by the reputation of Mother Reinhardt's cooking. The farm's commanding setting overlooking the river brought the Rock House eminence among Delaware and Neversink Valley resorts of the early twentieth century.
Among other early ventures into the tourism trade was that of Port Jervis resident, Charles St. John Jr., who in 1890 built the High Point Inn further up the mountain, close to the highest elevation in New Jersey. At first successful, St. John was out of business by 1910, and his inn was purchased along with a large chunk of surrounding land by John and Colonel Anthony Kuser. Anthony eventually took full charge, and with his wife, Susie, went about creating a private country estate. But the couple rarely visited their luxurious home, and, in 1923, donated the mansion and a nearly 11,000-acre parcel that became this state's largest park. In an era that saw the formation of the National Forest Service and the preservation of millions of acres of land as National Parks, Colonel and Mrs. Kuser's donation epitomized the dedication to civic betterment that so characterized the Progressive initiatives of the period.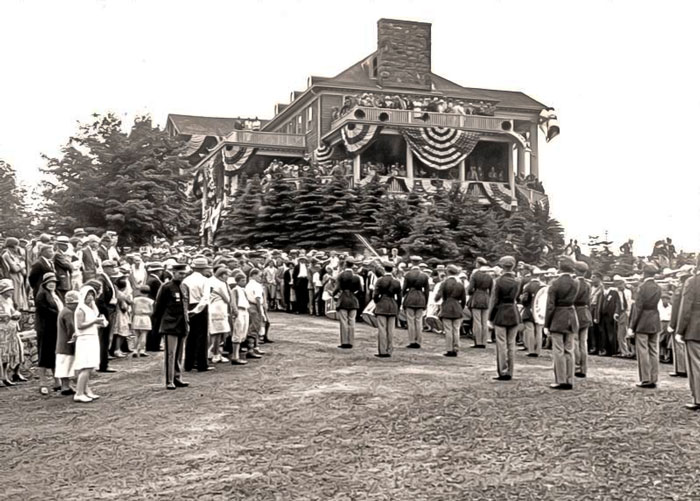 In the winter of 1927, Kuser donated $500,000 and hired an architect to erect a monument on top of High Point. Designed as a lasting tribute to "Glory and Honor and Eternal Memory of New Jersey's Heroes by land, sea, and air in all wars of our country," construction began in 1928. On June 21, 1930, several months after the Colonel's death, a dedication ceremony was held at the monument's base. State Senator Dryden Kuser, the Colonel's son, presented the monument to Governor Morgan Larson. Flowers were dropped from an airplane, and the speeches and music were carried via speaker for all those in the surrounding area to hear. Two-hundred-twenty feet of New Hampshire granite faced with local quartzite stood proudly above the state's largest park, for all its residents to enjoy.
You can approach High Point from Clove Road onto Route 23 through what was once known as Duttonville, then climb three miles towards the park office, Lake Marcia, and the monument trail. Or take a back-roads trip from the park's southern border where Deckertown Turnpike (County 650) meets Sawmill Road (405). This is a favorite for Park Superintendent Rebecca Fitzgerald who spends many of her days-off running along Sawmill and Ridge Road training for marathons or other long-distance running events. Over the years she has observed deer, black bears, barred owls, red tailed hawks, coopers hawks, bald eagles, golden eagles, barred owls, a variety of snakes, turtles, frogs, salamanders, butterflies, moths, birds and even a bobcat!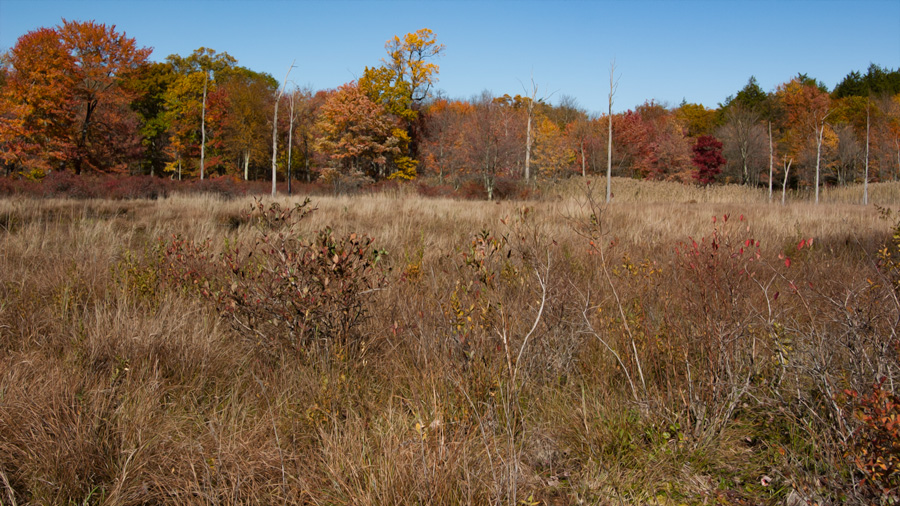 "The complete loop is about ten miles total and is a scenic drive/walk/run/cycle through the forested roads of the park," says Ms. Fitzgerald. "Sawmill Road sees more vehicle activity, especially on weekends, but Park Ridge Road is the road less traveled. There is beauty all year long. The spring is an excellent time for birding, and during the summer months the wildflowers are plentiful, especially through the wildflower management area on Sawmill Road. This area is protected from roadside mowing to allow the flowers to grow and provide critical nectar sources to the bees, butterflies and moths. During the fall months the foliage is breathtaking and should not be missed! During the winter months both roads are closed to vehicle traffic and are left unplowed to provide winter recreational activities such as snowmobiling, cross country skiing and snowshoeing."
Sadly, the Kuser mansion is gone, but the monument still stands tall. And these thousands of acres, this year officially renamed High Point State Park and New Jersey Veterans Memorial, are still refuge for natural wonders and those who love them.
Thanks to Montague town historian Maureen Kamen for assistance with our story. More information please click, call 973/293-3106, or visit the Foster-Armstrong house at 320 River Road, Montague.
Nearby accommodations and attractions
One day you are likely to find yourself headed to New Jersey's northernmost corner in search of adventure.

, Sussex

There's always something fun happening at the Sussex County Fairgrounds. Visit our web site for a full year of family fun, right in your own backyard.

27 Plains Road, Augusta 07822, 973/948-5500

A mix of historic buildings of varying architectural styles, a walkable downtown, and plentiful eateries surrounded by rural tranquility make Newton a fusion of the then and the now, with great expectations for the to be.
This story was first published: Autumn, 2019