Entering Newton from the south on Rt. 206, the Merriam Casa Bella at 131 North Main Street sits high on a slate ridge. The yellow and white mansion, now an independent living facility was built by Henry Merriam in 1883. This gorgeous, asymmetrical home exhibits classic elements of Queen Anne architecture: elaborate porches with carved spindles, asymmetrical building, decorative turrets, projecting bays, dormer windows, fish scales, decorative panels in gables and a vibrant color. The former home for Henry and his wife Frances, this largest house in Newton boasts twenty rooms and lush gardens, though gone are the conservatory and greenhouses. His company, The Merriam Shoe Factory on Newton/Sparta Road, manufactured shoes for the army during the Civil War and, later, women's and children's shoes. Today, the multi-building factory at 69-75 Sparta Avenue is now "Merriam Gateway Apartments."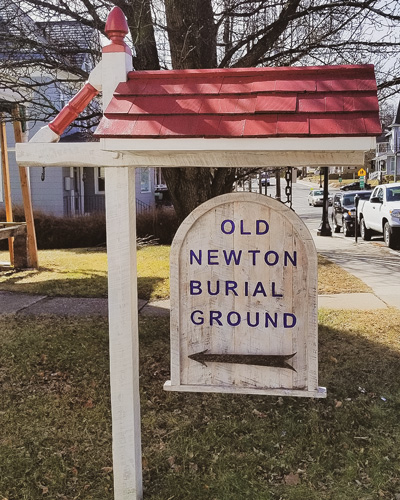 A few blocks down, The Old Newton Burial Ground lies just off Main Street between two historic buildings: the Newton Academy at 75 Main Street and the Tully House at #79. A two-tire dirt right-of-way leads to the cemetery behind Civil War era wrought iron gates. Behind eroding stone walls, gravestones of diverse colors including brownstone, and of varied sizes and shapes, are as old as 1770. Small stones, some perhaps only six inches tall, are now nameless, their etchings worn away long ago. Old oaks and maples surround and seem to protect this ancient burial ground, resting place for forty-five veterans and one female Patriot from the Revolutionary War. Others who span time through the War of 1812 lie here. The trees stand like foreboding Halloween characters but, in the spring sun, their buds are ready to burst. Every Wednesday, Wendy Wyman, Trustee and cemetery and museum committee co-chair of The Hill Memorial Museum, home of Sussex County Historical Society (SCHS) and four others, spend three hours maintaining this treasured and revered ancient burial ground where restoration has begun.
"Since 2017 we have cleaned well over 100 stones and repaired fourteen. John O'Brien, a member of the Association for Gravestone Studies, has taught us how to do the work correctly, so that our stones are not damaged any further," explains Wyman. "He has repaired at least a half dozen more. We have received four new gravestones from the Veteran's Association for American Revolutionary War Veterans, with another application in process."
The Newton Academy is the third oldest building in Newton. Part of the "Newton Town Plot Historical District," the building is listed on both the New Jersey and National Register of Historic Places. Built as a meeting house sometime before 1798 on landowner Jonathan Hampton's "Town Plot," it became Newton's first school, then, after 1820, was home to shops, private residences, the Sussex Register's printing office, a tearoom and a rooming house. The Town Plot, formed in 1762, was the property of Hampton, surveyor, merchant and builder of roads including Routes 10 and 206. Hampton also laid out the grid for the town of Newton. The Newton Town Plot Historic District covers Church and Spring Streets and Park Place between Main and High Streets, and Main and High between Church and Spring Streets (SCHS).
On the corner of Church and Main Streets, Christ Episcopal Church puts on a fine show of Gothic Revival architecture. Built in 1868 of native blue limestone with sandstone trim, Rose window above the entrance, pointed arched windows and buttresses on the tower.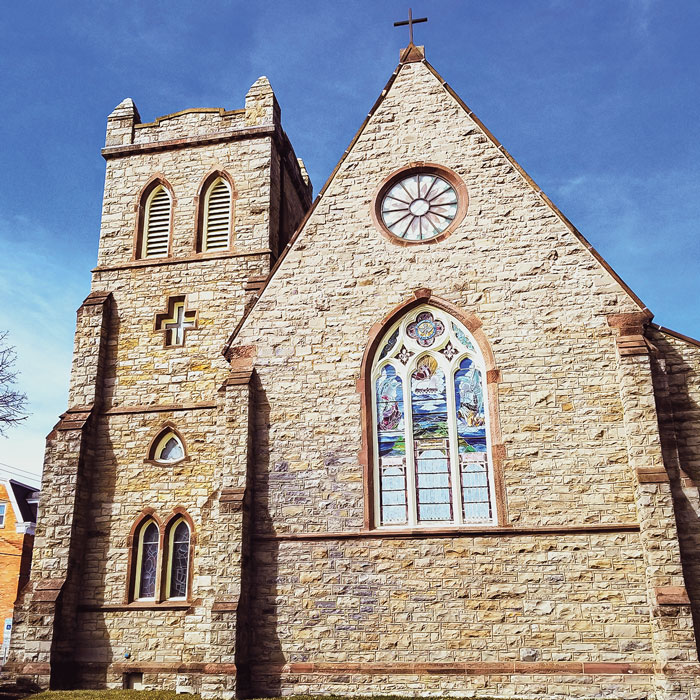 A short walk down Main leads to Spring Street, the hustle and bustle, pedestrian downtown. Straight ahead across the street on Spring, County government, professional offices and a twenty-five-year-old clock store occupy historic 1800s red brick buildings also in the Historic District. To the left, across the Town Square, stands the Sussex County Courthouse, built in 1848, also on the National Register of Historic Places. The Greek Revival courthouse with Roman style columns, replaces the first one built in 1765 that burned. A ninety-ton granite Soldier's and Sailor's Monument occupies the Newton Green and has a curious history in addition to its role in the Civil War. Donated by Hampton in the 1760s, an array of events took place here including "political meetings, corporal punishment, militia training, public entertainments, and a common pasture," says the plaque at the Square.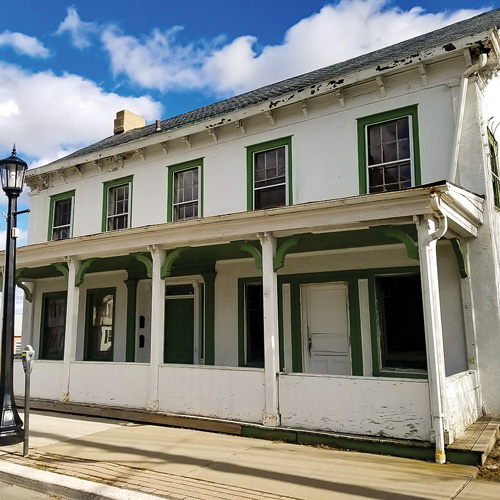 Rounding the corner onto Spring, a squeeze of historic buildings stand attached side by side: restaurants, liquor, empty shops and offices of the law, then knick-knacks and window signs espousing that Newton is ready to grow. The Newton Firehouse Museum at 150 Spring Street houses a lineage of fire trucks ranging from those with hand-pumps and other hand-operated apparatus to steam-powered equipment and a 1948 MACK fire truck. The Newton Firehouse opened in 1891 and housed two active fire companies until the late 1970s when the Newton fire company moved. The building was converted into a museum in 1979. Newton Fire Company is one of the oldest active fire companies in the United States, in continuous operation since 1836.
The Fire Company operated with hand pumps until 1873 when an out-of-control fire consumed buildings around the Town Square. "We started the bucket brigade and hand-pumps, but the fire grew. It was a cold night, and the fire started burning buildings around and up the street," says Dan Finkle, Director of Newton Fire Museum. "Hoboken had a steam pumper and loaded it on the railroad and brought it nonstop to Newton. The fire had already destroyed a number of buildings. It was a huge loss." When they unloaded the steam-pump, they put out the fire. The steam-pump easily replaced a hundred people, says Finkle. A town meeting was called and, since Newton was the growing center of industry in Sussex County, they bought the steam-powered equipment.
Finkle and volunteers met with a Smithsonian curator to look at the Newton firehouse artifacts. The curator said they were amazing. "Once upon a time, you could visit the Fire Museum when entrance fees covered maintenance expenses. About ten years ago during a revitalization of the downtown, the museum was used as an economic catalyst," Finkle says. They fund-raised and opened a few days a week with much success. But now the building has structural issues, with some serviced by the town. "The rest is up to us to restore the building. We've done a lot. Now we have to start from scratch with fundraising plans. I'm hoping, as a fire department, we can regroup our efforts. Store owners love it. It showcases the museum, shares fire education and also contributes to the vibrancy of downtown," says Finkle. "We have a really special collection and I hope to see it re-open for the public to enjoy one day soon."
Next to the Fire Museum, is a fabulous example of Romanesque Revival, the 1896 home of one Miss Margaret Cortelyou. Its large limestone arches easily catch the eye.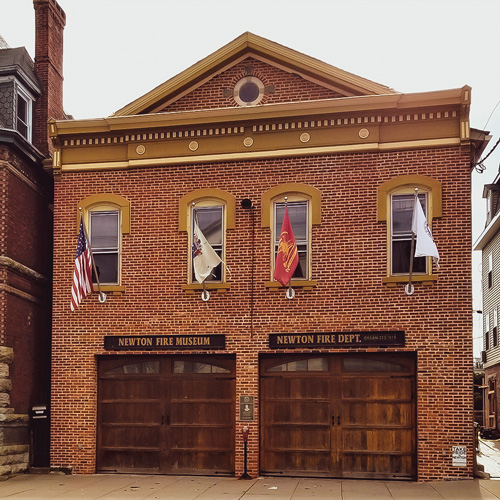 Spring Street is also home to new housing, restaurants and a sports bar with twenty-two TVs, the Sussex County Art & Heritage Council gallery open free to the public, entertainment and a multitude of fun and varied small stores that invite worthy curiosity and offerings. It is old-time "Main" with small shops and second floor apartments. A pleasant surprise: no big box or chains here! You can get your hair done and get a massage or a tattoo. Hungry? Try authentic, traditional Mexican at Mi Rancho Mexican Grill, a cheerful, friendly, family-owned restaurant rich with color, music, and homemade food. What more could you ask for? Or Chinese, or a not-so-Jersey-looking diner, or two family-owned groceries to buy goodies to have your own picnic on the Town Green. Looking for a storefront to rent? Try the historic English Building with Italianate detail.
The Newton Theatre has made Spring Street an established destination for music lovers. There's also a vinyl record shop. There are antiques and vintage stores and a classy place to get a tattoo (woman artist owned) in a beautiful building with original brick interior walls and art. Then, there's Maxwell and Molly's Closet, a pet boutique with "Le Raw Bar", and where you get your dog groomed by a reiki master. How about a flannel shirt for your pup or a pink boa for your cat? Or a big bag of roasted beef lung tips, bone broth with no grains or preservatives, Hemp Honey in six flavors, or CBD? Here, humans might be tempted to have a taste as well.
Bill Truran, Sussex County Historian, was born and raised in nearby Franklin and remembers as a child when farmers brought their milk into town and bought food and supplies on Spring Street. As a kid, he sat at the bar in Woolworth's and ate ice cream. As an adult, he loved going to Spring Street at Christmas time; the colored lights and seeing everybody happy. Truran has a vision for the town's future. "I can see there's going to be a lot more people in Newton," he says, "and then Christmas can come back to town. That's how I'm waving the flag, by waving the flag of a cute town with streets that had horse and carriage parades, and with people living in Newton it creates an opportunity for Spring Street to be filled with people living and shopping. A lot of people are very excited about the beauty of Sussex County, and that includes Newton."
Last October, Truran had the thrill of a fair on Spring Street. Bands played in the blocked-off street; merchants sold their goods under tents. "There were a lot of good vibes," he says. "It was wonderful."
Thanks to Wendy Wyman, Dan Finkle, Bill Truran and Wayne McCabe, President, Sussex County Historical Society (www.sussexhistory.org). Reference material: Historic Newton Map and Guide.
Nearby accommodations and attractions
Wilbur's is the perfect destination on a drive through the New Jersey countryside. British foods and candy, Yankee candles, wind chimes, pet-themed gifts, preserves, much more. Charming location in barn complex between Newton and Blairstown.

735 Route 94, Newton 07860, 908/362-8833

One day you are likely to find yourself headed to New Jersey's northernmost corner in search of adventure.

The Byram lake is a good kayaking destination.
This story was first published: Spring, 2020