Despite the signs and rules, for generations, adventurous interlopers have been leaping from bridges and cliffs into Morris County reservoir waters, swimming from their shores and partying under the cover of dark and woods. A jump from the bridge over a Boonton Reservoir cove or from a steep rock face at Rockaway Township's Split Rock Reservoir answered a dare and served as an adolescent rite of passage. That left risk-averse admirers on the sidelines, admiring the view.
Not so much anymore. Around the state and in the Skylands region, reservoir restrictions are relaxing. You don't (and probably won't) get a completely open invite. But visitors now have boating and hiking access to Split Rock. The Pyramid Mountain Natural Historic Area offers "reservoir rambles" along the shores of picturesque Taylortown Reservoir in Montville. And the scenic Boonton Reservoir, a nearly eight-hundred-acre body of water squeezed between Boonton and Parsippany, appears to be on deck for limited public access, possibly opening up (if necessary approvals — including a review by the Homeland Security Department — fall in line) as early as 2020. "I expect this to be moving forward in the next two months," said Jersey City Mayor Stephen Fulop in a July 25th Facebook post about the plan to allow visitors.
---
A trio of Morris County reservoirs, each less than ten miles from the next, dot opposing sides of a triangle that frames sharply contrasting environments. Split Rock sits in one of Morris County's most remote regions; Taylortown in Montville's preserved mountains and woodlands, steps away from suburbia and Boonton near the busy intersection of Routes 287 and 80. An autumn visit to each or all promises ample leaf peeping vistas, woodland or urban hikes with water views and flashes of Revolutionary and Civil War history.
Split Rock opened up on a limited basis in 2004, allowing kayaks, canoes, and small craft with electric motors in from a boat launch on the east side of the dam. In 2015, the state purchased the reservoir, with Jersey City retaining the rights to the water. The longstanding no-swimming regulation, widely ignored, became more vigorously enforced after Rockaway Township officials dramatically blocked the parking lot in a move to get the state to step up patrols.
Split Rock's charm lies in its remote, almost hidden location. You can approach it from Rockaway Township via Hibernia Road or through Boonton Township via Split Rock Road. Either way, you begin on paved country roads, and end in a mile-long unpaved stretch that brings you to parking (on the Boonton side) and to a one-lane bridge (no stopping) with an unspoiled view down the length of the nearly six-hundred-acre body of water, toward Buck Mountain, a bald eagle nesting site.
The drive up Split Rock Road from Boonton zigzags past red barns, a little lake, then up a gentle rise up to the access area. Just before the unpaved stretch begins, don't miss the modest but intriguing native stone sculptures, winding walls and totems dotting a private property to your left. A tiny self-serve vegetable stand there invites you to take home a harvest treat, a dollar per item.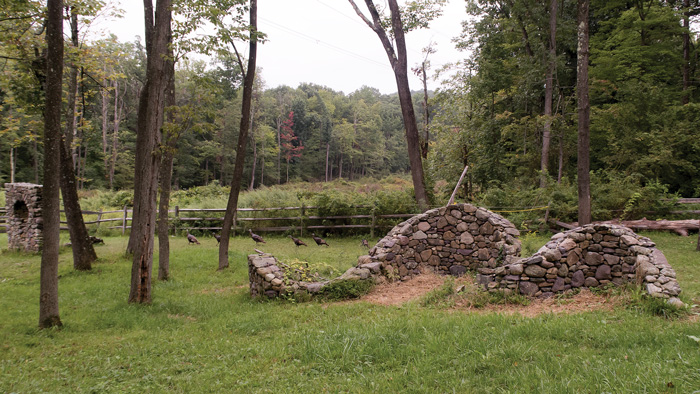 From the parking lot/boat launch area, you can head out on an eleven-mile loop (Split Rock Trail) around the water, through Farny State Park, which covers five thousand acres and its watershed lands. The Four Birds Trail, which connects to the Split Rock Trail, offers a somewhat shorter hike.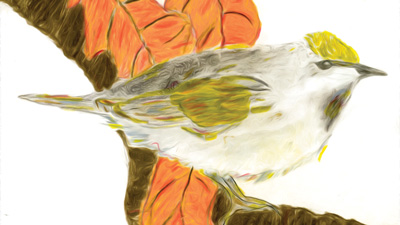 The area is home to red-shouldered hawks, northern goshawks (another raptor with striking white eyebrows and red eyes), and the very endangered, tiny golden winged warbler. Not far from Split Rock Road, accessible by trail, stand the towering Split Rock Furnace ruins — the remains of an iron forge where workers turned ore into iron during the Civil War and the village that housed them.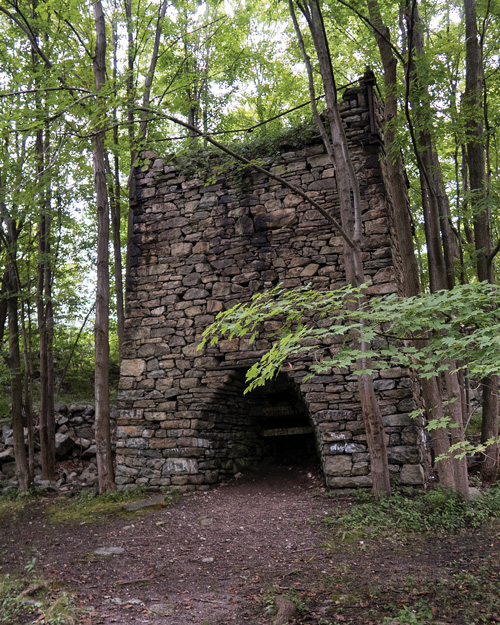 At the end of your day, a six-mile drive down Hibernia Road and South on Green Pond Road lands you at Luzzi's Hibernia Inn, a vintage roadhouse owned by the same family for almost forty years, that serves Italian specialties.
---
Another six miles downhill from the reservoir's Boonton side, just below Pyramid Mountain and its well-known landmark, Tripod Rock, lays Montville's Taylortown Reservoir; a sliver compared with the other two. This spot, long the source of water for Boonton and Boonton Township, has small-scale charm even from the road, with its forested shores' reflections almost touching each other across the water and a residential (though off limits) private peninsula. Hikers can start at the Pyramid Mountain visitors' center on Kinnelon Road, then head off on trails that loop around the water.
With its farmland heritage, Revolutionary War history (yes, George Washington slept here and military supplies travelled its byways), preserved parkland and over-the-top celebrity residents ("Real Housewives of New Jersey" and "The Cake Boss"), Montville has one foot in bucolic, the other in McMansion glitz.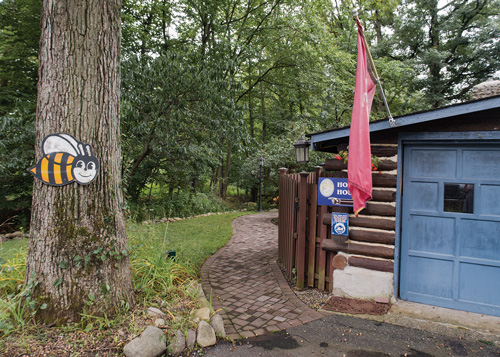 Sample its split personality after hiking by taking a few detours. Heading east on Taylortown Road, duck into a master beekeeper's shed, where you can buy local honey, beeswax candles and cosmetics. At Gooserock Farm purchases are on the honor system: let your self in and out; tally up and leave your check or cash in the envelope provided. Gooserock also offers you a glimpse of some quirky Depression-era stone and timber houses designed by Helen and Claude Habberstad, who left their distinctive architectural mark in several Morris County towns and lived for years in a home they designed down the road in nearby Boonton.
An entirely different experience awaits further down Taylortown. A turn onto the road marked "Pond View," takes you past stone pillars and into a residential enclave named "The Pond." This collection of massive (9,000 square-feet plus) houses, reflects how far parts of 21st century Montville have come from the town's farmland roots.
As you travel from The Pond toward Route 202 you can glimpse, just before the railroad bridge, down a lane marked "Private," three Victorian mansions, built by John H. Capstick. He commanded a flourishing turn-of-the-century dye business, whose buildings spread along the train tracks before fire destroyed the complex in 1914.
Once under the bridge, look for the Montville Township Museum, housed in a little brick schoolhouse, circa 1867, and open to the public every Saturday from 10am to 2pm.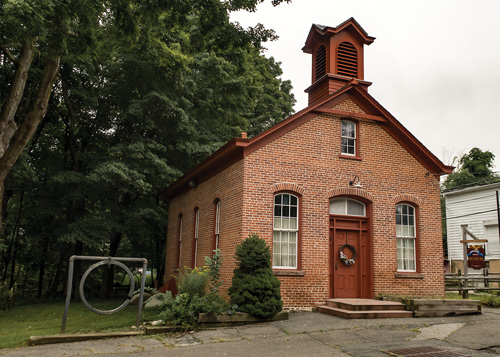 Taylortown Road dead ends at Route 202. North of Taylortown, an inn has stood on the corner of 202 and River Road since 1770. Today's Montville Inn (in a building that replaced the Mandeville after it burned) serves as a restaurant, not a residence. It's said that the Mandeville Inn gave Montville its name, through a pronunciation of "Mandeville" that made the "a" sound like "o." The inn served as a colonial post office for the surrounding territory, with all mail directed to "Mandeville."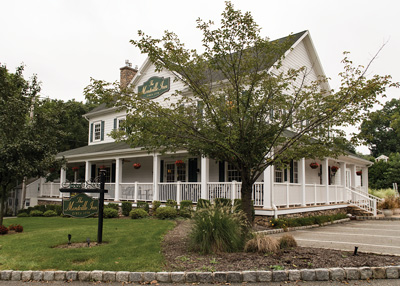 Across Route 202 (also known as "Main Road) an historic marker points out "Plane 9 East" part of a system of locks and planes that helped boats change elevation as they traveled along the Morris Canal. An engineering feat in its day that snaked through Montville, the Canal carried coal, iron and other goods from Pennsylvania to the Hudson. The Canal House, across the street from the inn still survives.
A few miles further up the road stands Rails Steakhouse, in Montville's Towaco section. There you can grab a drink, dine and listen to music in the restaurant that played a starring role in a number of Real Housewives of New Jersey episodes.
It was scientific, not TV stars that made their mark at the Boonton Reservoir, which played the leading role more than a century ago in the development of safe drinking water. The American Water Works Association designated the site "a historic landmark" in 1974. This is the story of a dissatisfied customer (Jersey City, which contended in a lawsuit that the Boonton Reservoir's water was impure) together with a forward thinking scientist, John Leal, and engineer, George Fuller. Their collaboration produced the first large scale chlorinated water supply in the country and saved the day by cleaning up the reservoir water and dramatically reducing typhoid infections in Jersey City. Their experiment — adding chlorine at to the water at a concentration that killed bacteria but didn't harm people — had precedents in the U.K. and Europe, but was the first of its kind the United States.
The Morris County Parks Commission has long been interested in opening this historic reservoir site and its natural terrain to the public. In recent months, in consultation with the New York-based Open Space Institute, it's taken concrete steps in that direction. The first phase of the plan focuses on assuring water quality and includes ecological assessment of potential watershed storm run off damage and improvements to prevent that. It also calls for stepping up security to a nearly round-the-clock county and local police presence. The plan would also involve improvements to an existing maintenance trail on the Parsippany end of the shoreline and open that to the public. The second phase envisions extending the trail around the entire reservoir.
The main goal, says Terrence Nolan, Senior Vice President, Conservation Transactions at the Institute, who presented the plan to the Jersey City council in September, is to "protect water quality and create meaningful and appropriate public access."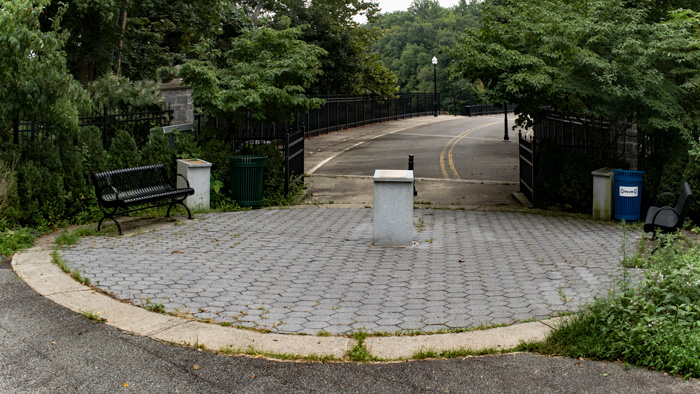 Until public access happens at the Boonton Reservoir, the best way to view its shores and an intriguing little island (said to be the site of a poorhouse before the waters flooded buildings on old Boonton Tract), is to head down Washington Street in Boonton, past the historic Greenwood cemetery and onto a pedestrian walkway by an 1895 truss bridge. Bring a picnic to this usually uncrowded platform and take in the reservoir view and fall scenery.
Or, if the weather turns chilly, take the short walk over the nearby modern bridge to the Reservoir Tavern, which has served pizza and Italian dishes to loyal locals and area politicians for generations. Heading in the other direction, try an easy walk to the hillside town of Boonton where you can duck into art galleries and antique shops, grab a homemade ice cream cone at "Scoop" or check out the newly renovated Boonton Opera House (yes, Boonton once had an opera house). To make a night of it, try the Boonton Station, a restaurant in a building that dates to 1904, just after the dam rose on the Rockaway River and created the reservoir. Then grab a high top table and have drinks at Maxfield's on Main, an old firehouse, one of Morris County's friendliest live music scenes.
Nearby accommodations and attractions
The Jacobus Vanderveer house is the only surviving building associated with the Pluckemin encampment.

1 River Rd W, Bedminster 07921, 908/212-7000 x611

Paths of green, fields of gold!

2121 Larger Cross Road, Bedminster

The Raptor Trust is one of the premier wild bird rehabilitation centers in the United States.

1452 White Bridge Road, Millington 07946, 908/647-2353

For the formative steps in a guide dog's youth, The Seeing Eye relies on a network of Puppy Raisers throughout New Jersey and eastern Pennsylvania who participate in a program that began in 1942 as a joint effort with 4-H Youth Development.

, ,

Family-operated since 1928, the nursery offers quality trees & shrubs, organic vegetable and herb plants, native plants, unique perennials and a wide range of natural and organic gardening products as well as locally-sourced items in the gift shop.

104 Glenwild Avenue, Bloomingdale 07403, 973/838-0174
This story was first published: Autumn, 2018