Warren County Vistas
Along the Vintage North Jersey Trail
Warren County boasts more preserved farms than any other county in New Jersey. The county's gentle hills are not only a haven for rural tradition and idyllic vistas, but also sanctuary for progressive ideas in agriculture. A portion of the western part of Warren County, along the Delaware and Musconetcong rivers and their tributaries, has been designated by the federal government as a wine grape-growing region. The soils and terrain of this part of the county, the Warren Hills American Viticultural Area (AVA), are most suitable for French-American hybrid grapes like Cayuga, Seyval Blanc, Chambourcin and Leon Millot. Take a leisurely ride from one Warren County winery to another and find out what happens with those grapes!
According to Bob Matarazzo, owner of Four Sisters Winery in Belvidere, the ability to grow French-American varietals allows him to produce superior Leon Millot and Seyval Blanc. The Frontenac grape is a favorite for blending with the winery's popular Warren Hills Red. Many of Four Sisters' blends bring the fruit forward, some with a crisp finish and balanced acidity.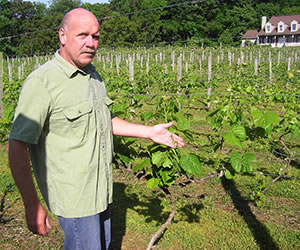 At Brook Hollow Winery in Columbia, owner Paul Ritter recently added five acres to his vineyards, which now host Noiret and Traminette, two grapes—one red and one white—developed at the New York State Agricultural Experimental Station at Cornell University, in Geneva, NY. Both hybrids, bred to flourish even in the cooler extremes of North Jersey's growing season, provide excellent fruit structure for the quality dry wines that Ritter produces.
Using sustainable and organic practices, Villa Milagro Vineyards grows vinifera, varieties of grapes that thrive in Europe and California. Unlike hybrids created specifically for challenging climates, vinifera struggle with the shorter number of growing days, cold winters and moist summers of the East Coast. Even so, Villa Milagro successfully grows seven of these varieties—including Chardonnay, Cabernet Sauvignon, Shiraz, Pinot Grigio, Cabernet Franc, Malbec and Sangiovese—from which it makes European style blends. The limestone soils at the winery are well drained, wicking away summer rains that threaten vine roots; and a gentle southern slope increases sunlight exposure in the vineyard, effectively extending the growing season.
---
You'll find more great wineries and events along the Vintage North Jersey wine trail.
Nearby accommodations and attractions
The UACNJ facilities in Jenny Jump State Forest, near Hope in Warren County, are 1,100 feet above sea level, one of the few dark sky locations left in the state.

, ,

, Bloomsbury

In 2019, the Historic Moravian Village of Hope celebrated 250 years since the Moravians first settled the hills along the Beaver Brook.

Formal Elizabethan herb garden, medicinal garden, herb plants, flowering perennials, dried flowers, gift shop.

205 Mt. Bethel Rd, Port Murray 07865, 908/852-5390

Warren County's Montana Mountain, Merrill Creek Reservoir, and the Pohatcong Valley is equally rewarding for students of history and devotees of the outdoors.

, ,
This story was first published: Spring, 2013