Simon Westfall purchased the land from the Earl of Perth a year before the American Revolution broke out in the spring of 1775. The farm survived the furies of Tory raids in nearby Port Jervis, NY, and in the early nineteenth century became a stop on the Underground Railroad for fugitive slaves. Succeeding generations of the Westfall family operated the farm, trading primarily with the emergent community in Port Jervis, until 1940 when Charles G. Mortimer, Sr. bought the property. Mortimer, who would achieve eminence as President of General Foods Corporation, modernized the farm and kindled a thriving dairy business, while enthusiasm for equine activity also inspired the installation of Morgan horses. One of the first breeds developed in the United States, the Morgans gradually took precedence, as fishing ponds and hayfields replaced cow pastures, refining the rough and tumble dairy into a stately horse farm. The Mortimer's' eldest son, Duke, later converted part of a barn into a professional theater where he offered a Dramatic Arts Workshop. It is Duke's son, Loren, and his wife Georgene who broke ground on grape vineyards in November, 2000, and Westfall Winery opened in Spring, 2001.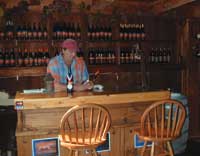 Loren and Georgene met while students at Ithaca College and spent time together visiting vineyards in the Finger Lakes Wine region, developing a passion for world-class wines, as well as for each other. Georgene grew up making wine with her family, and it was natural to continue with traditional knowledge well learned, combined with background in biology, geology and a PhD in Environmental Science. Meticulous agricultural practices contribute to the excellence at Westfall, resulting in a long line of award winning wines. Georgene prunes the acres of vines to the max for an intensely sweetened grape with more sugar—good for the wine and alcohol ratio—eleven to fourteen percent proof on average. Weeds are left in place, growing along the rows. "Weeds are our friends. We don't want too much vigorous growth (of vine foliage). We want to stress them out a little so we can have more energy going into the fruit." Montague's growing season is about forty days less than Cape May, so the Mortimers try to extend it by planting grapes on a hillside, lifting them out of frost pockets. The wines, which are produced in a renovated building that once housed dairy operations, include a selection of barrel aged red wines, old world style whites, and a variety of fresh and fruity country wines. If you live in New Jersey, you can buy these all online—and get free shipping—or find many in a growing list of retail locations. But you'd be missing out, becaues the Mortimers are big on hospitality.
There's usually something going on at Westfall: live music, a weekend summer barbecue, a special wine trail or event. This spring (2014), on select Sundays, you can join wine sommelier Alex Meloi at Camp Westfall, where participants will take a virtual journey through the world's greatest wine growing regions. Campers will learn through blind tastings, team challenges, and group activities in a relaxed program geared for wine drinkers of all levels; basic enough for true beginners but with lots of interest for the seasoned wine drinker. Go way beyond Cabernet and Pinot Grigio and uncork your summer adventure! Not that you need any of these enticements to pay a visit to Westfall. Bring your own picnic (you can even bring your dog!), stop at the tasting room and spend a beautiful day at the top of New Jersey.
Westfall Winery 141 Clove Road Montague, NJ 07827
Call 973-293-3428 or visit the Westfall Winery website.
Upcoming events at the winery
Nearby accommodations and attractions
, Sussex

Buy direct from the grower and save! Large selection of annuals, perennials, herbs, vegetables, hanging baskets, deck planters, succulents, tropicals and more. 10% off annuals for seniors on Tuesdays and everyday for Veterans and Master Gardeners. Fresh eggs daily.

47 Augusta Hill Rd, Augusta 07822, 973/948-0551
This story was first published: Spring, 2014