Skylands Visitor magazine and website has built relationships with readers from 29 years of publication and 23 years of internet presence.
The Skylands Visitor is a popular and well-established guide to the cultural and recreational attributes of Northwest New Jersey and nearby destinations in Pennsylvania and New York. Since 1990 we have developed a

publication and website

designed to deliver your message to a large and highly qualified audience.

People pick up or subscribe to our publication and come to our website to investigate exciting and unique

destinations.

Much of our audience consists of

repeat readers

who come back again and again to

make plans

for daytrips, weekend getaways and longer excursions.
Content and editorial highlights
Original, independently developed

feature articles

identify and describe the components and themes that define the

distinct personality of our region.

Each seasonal issue of the Skylands Visitor also includes an extensive calendar of events and activity guide highlighting

recreational and cultural destinations

in and around Northwest New Jersey.
Most of our written contributions, generated over nearly 29 years of publication, appear on our website. Stories are

categorized

generally into outdoors and recreation; nature and wildlife; farms and gardens; history and heritage; arts and culture; towns and tours. A few minutes on the site will give you an idea of what we publish. Here are examples from recent issues or check here for circulation and demographic information.
---
Outdoors and Recreation
Topics include dozens of hikes, canoe and kayak trips, camping and fishing ideas, scenic tours, parks and preserves. Complete index...


Some recent stories:


Back Road Bounty: An incredible bicycle-friendly network of quiet back roads linking together small towns and historic villages, repurposed rail trails creating pastoral off-road adventures, and miles of single track trail tracing through the rocky upland forests.
Skylands by Saddle: In a land crisscrossed by interstates, punctuated with traffic lights, and clogged with cars, it's easy to overlook how much northwestern New Jersey territory you can still cover on a horse.
Wallkill River: Follow the tiny but mighty river on its 88.3-mile journey north through eastern Sussex County into New York State.
Paulinskill Valley Trail: Hiking the 27-mile railtrail.
Islands of the Delaware: markers for the miles traversed on a float down the river, and for centuries of human history along its banks.
Blue Mountain Lake: A wilderness escape yields scant evidence of the ambitious development for which it was created.
---
Towns and tours
Scenic drives, follow a river, town and county profiles. Complete index...


Some recent stories:


Sparta, Ogdensburg and Franklin: A mining heritage corridor like no other in the world.
Big Skylands Country: Montana Mountain down through the Pohatcong Valley is rewarding for students of history and devotees of the outdoors.
Denville Detour: Jonathan's Woods, lakes, and area history.
Jockey Hollow in Bernardsville: Explore trails that crisscross through a National Park and a wildlife sanctuary.
Trails, Tracks and Taverns: Old roads and new trails in and around Hunterdon County's Jugtown Mountain.
---
History and Heritage
The themes and traditions that define our region from colonial times to current monuments and museums. Complete index...


Some recent stories:


Canal Days at Bird's Lock: Among the shreds of Morris Canal that have somehow avoided destruction is a quarter-mile watered stretch that leads to Lock 2 East in Wharton's Hugh Force Park.
Historic Barns: The west central part of New Jersey has the greatest diversity of barn types perhaps in the entire North American continent.
High Bridge and the Union Furnace: A story of the workers who helped shape the history and destiny of the United States.
Millstone Scenic Byway: Eight historic districts along the D&R Canal in southern Somerset County
The Blair Trail: Follow John I. Blair's life through Blairstown, Hope, Belvidere and Delaware.
Drakesville Historic Park: District just off busy Route 10 pays tribute to Morris County's pedigree of innovative pioneers.
---
Farms and gardens
Produce markets and pick-your-own, orchards, berry cultivators, equestrian centers, wineries, herb growers, honey producers, cheese makers, complete index...


Some recent stories:


Your Neighbor's Cow: Northwest New Jersey is now home to two dairy farmers who sell their milk directly to the consumer.
History You Can Taste: Garden State Heirloom Seed Museum
Women Farmers make up twenty-two percent of New Jersey's 15,936-plus farmers, and their rate is steadily increasing.
Home Gardening: Put away dozens of quarts of homegrown produce for consumption throughout the year.
Beekeepers are meteorologists, botanists and entomologists all at once.
Community Gardens: New Jersey's edibles emerge in pieces of land subdivided into individually tended parcels.
---
Nature and Wildlife
While you enjoy a wide range natural phenomena - watchable wildlife, bird species, wild flowers, whatever – don't miss the rest of the story. Complete index...


Some recent stories:


The Musconetcong River Valley: The river and its valley describe, for better or worse, the evolution of modern American culture in the advance of agriculture, transportation and industry.
Turtles require space to roam to do all the things creatures need to do - eat, breed, escape, shelter
St. Hubert's Giralda: Geraldine Dodge's solution for unhappy dogdom.

---
Arts and Culture
Events, fine arts, crafts, musicians, theater, museums, complete index...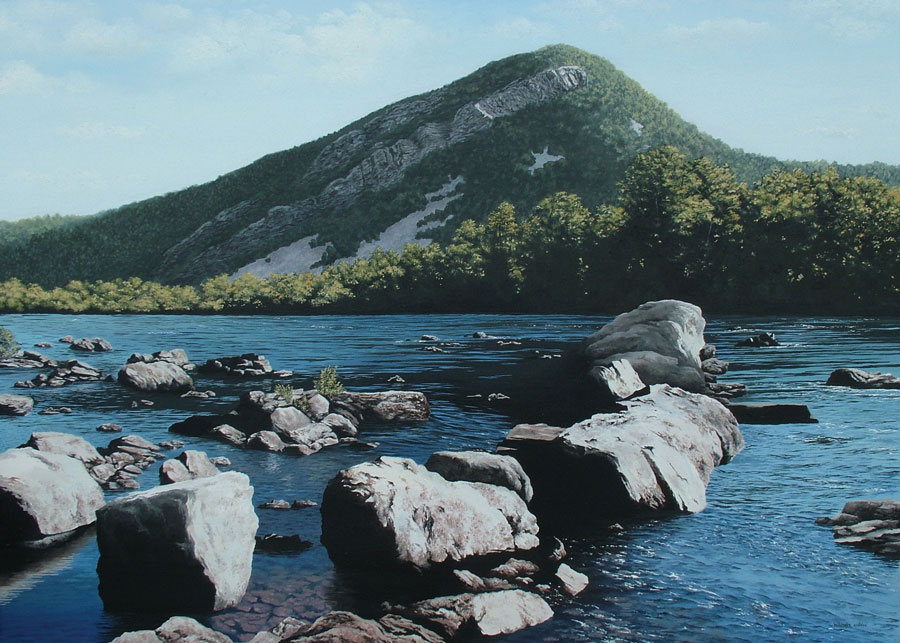 Some recent stories:


Delaware River Artists who portray the river and its environment in all its splendor.
How Sweet The Sound: Mark Simon's resonator guitars.
Summer Fairs: In spite of all the turbulence in our lives, or perhaps because of it, traditional fairs and festivals remain especially popular.
Shakespeare Theater magic as fine as any in the realm.
---
Attractions and Accommodations
Family attractions, events, farm visits, getaway accomdations, restaurants worth the trip, complete index...


Schuyler-Hamilton House: Alexander Hamilton courted Betsy Schuyler and the beautiful socialite in this historic Morristown home, rescued and maintained by the Daughters of the American Revolution.
Duke Farms: A park with a mission.
Macculloch Hall: Multiple threads of Skylands heritage.
National Hotel: Revived in Frenchtown.
---
Read the Spring, 2019 issue
Read the Autumn, 2018 issue
Read the Summer, 2018 issue
Read the Spring, 2018 issue
Click here to read in web browser.
---
Value
We are all about Northwest New Jersey!

Because we deliver a focused message to a large, targeted and qualified audience, the Skylands Visitor offers, dollar for dollar, a competitive, productive, and proven advertising vehicle. The integration between our publication and website is a powerful and cost effective marketing tool.
Find out more about our readers...
---
Testimonials
For the Kutztown Folk Festival we received 1034 coupon returns from Skylands Visitor. That was the best coupon return for any of the 22 magazines we advertise in. The next best coupon return for magazines was 356. That is quite amazing. You obviously have a very well-regarded magazine for people looking to go on excursions, etc. within the area of New Jersey you cover as well as outside into Pennsylvania. Thanks. -- Joe Byrne, Byrne Advertising & Design, Blandon, PA
---
Dollar for dollar, this publication has performed better than anything else I have ever tried, including local, regional and national magazines and newspapers of all shapes and sizes. Qualified customers, who would never have known that my shop existed, continually walk through my door as a result of my ad in the SKYLANDS VISITOR. These people include visitors to New Jersey from all around the country, as well as residents of the state whose curiosity about our little corner in Frenchtown has been stimulated. The important thing is that most of these people have come ready to spend money in my shop. -- Ron Kobli, Decoys and Wildlife Gallery
---
I see the "click-throughs" to various websites I maintain, and from your site, so I know what you are doing is working. That is important since I am always spending someone else's money and need to report back to them. -- Giulia Iannitelli, Innovative Marketing Designs
---
I just have to write and let you folks know that this site is excellent. It's well designed, very comprehensive, easy to navigate, creative, inclusive and visual. I stumbled across it six or so months ago, have bookmarked it, and keep coming back. My husband and I have taken so many trips, drives, adventures based on the info and maps on your site. So...often times we just complain. I wanted to let you know how good your site is and I wish every county/state had a website as good as skylands. If there are awards out there for best website - then I nominate NJskylands.com. Great work - love it....keep it up. You're heads above and far beyond any website out there.
---
I recently discovered this website and love it. Thank you for opening my eyes to some of the amazing places so close to home. I've lived here for 8 years and think I've seen more great nature in the last couple months than ever before. I look forward to discovering even more beautiful scenery as the seasons change. You all have done an excellent job with the website, maps and detail offered and I am happy to recommend this website and the places you list to my friends and family. With gratitude, Puja Minotti
---
We have lived in Clinton Township since 1964 and saw things in your beautiful magazine we never knew were close by.
---
Hi, We've been in touch before (one of these years I would enjoy writing a piece for you) and I had to send you this email right now. Skylands as magazine and weekly update is a joy! Descriptions of activities are tantalizing and geographically covers just enough territory to make any excursion probable and possible. Thank you.
---
NJSkylands: I have been aware of your magazine for a few years but have only been a subscriber for about a year now. It is a wonderful little magazine and always has interesting stories about a very spectacular area of New Jersey. I've used articles to follow the old DL & W lines from Hackettstown to Columbia and also through Washington. Have followed the L & HR line from Belvidere up around Johnsonburg & Allamuchy. Met the owner of the old L & HR station at Great Meadows one day; had pleasant conversation with him. Have not had the opportunity to hike any of the trails yet but hopefully this winter can some of that in. Lastly, am still very surprised that New York City and its burbs have not encroached on that area north of Phillipsburg and west of Hackettstown--just hard to believe so many farms and so much open land. These folks in NW New Jersey should feel very lucky, it is a lovely area and can compete scenery wise with any state in the union. I live just outside West Chester, PA in Chester County which is also a very nice area but Skylands beats it !
Best regards, Guy Lisowski
---
Hi - I was browsing around the www.njskylands.com website. There's such an enormous wealth of great info - its awesome!!! Just wanted to say thanks for a really cool website! Cheers - Andy V
---
We're getting too old to drive to New Jersey, and I hate being tempted by your e-mails. Please remove me from your mailing list. - RAC
---