Xtreme Creek
Mountain Creek Waterpark and Freeride Mountain Bike Park
They stopped making snow at Mountain Creek, but there is still a blizzard of events to satisfy both the families and adventurers at the Vernon facility this summer. Mountain Creek Waterpark is where winter's white snow turns to summer's white water. Thousands of families escape the heat on over two dozen exciting rides, slides and water attractions.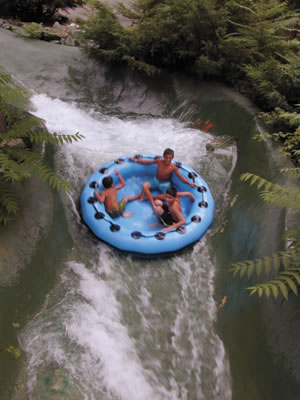 Tossin' and tumblin' at Mountain Creek Waterpark.
Photo by Mary Jasch.
Guests have it all - High Anxiety is a high-speed, extreme tubing water ride. The three and four-passenger tube ride begins with a steep four-story plummet through a dark tunnel. Riders drop into a huge funnel shaped enclosure and are gravity propelled to dizzying heights back and forth along the walls. Then there's the H2 OH-NO! Speed Slide that plummets 99 feet in seconds and the Colorado River Ride which boosts 1600 feet of pure white water adventure. If that's not enough, there'ss the daring Tarzan Swings, the only one of its kind in the region, which sends riders flying high amongst the tree tops followed by a free fall into a deep, refreshing mountain pool.
Half Pint Harbor offers great fun for young children. They splash in the Wading Pool and play at the Fishing Village - an interactive play fort complete with slides and spray fountains. They also visit the Lost Island River where children and parents float along a kid sized lazy river. Everyone can splash and play in the mammoth High Tide Wavepool which pumps 450,000 gallons of crystal clear mountain water into perfect sets of waves for a delightful day of surfing fun.
The entire waterpark is packed with one thing to do after another. There's so much going on, its guaranteed amusement for the whole family! Fantastic memories are waiting for you at Mountain Creek Waterpark this summer- safe, relaxing, family leisure time!
And that's not all; If you're part of a group of 15 or more, Mountain Creek Waterpark offers great group discounts.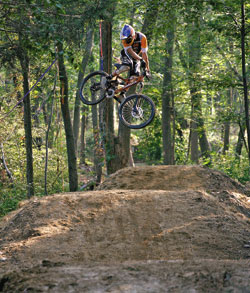 Diablo Freeride Park at Mountain Creek consists of nearly 40 feature filled freeride and downhill mountain bike trails. The high-speed gondola jets riders 1,040 feet to the summit in only 6 minutes, and it is quite common for riders to log over 30,000 vertical feet in a single day. Showpiece mountain bike trails such as "Dominion" "Exodus" and "Waterboy" among others, offer riders some of the most rewarding terrain found anywhere on the east coast.
This story was first published: Summer, 2000