The new rules changed the game in a big way, especially for microbreweries. For an annual fee as modest as $1,250, compared to hundreds-of-thousands for a standard liquor license, craft brewers had a fresh source of revenue; a way to ease the debt burden of a hefty investment in brewing technology and equipment. As the beer flows, so does the cash, and with this added cog in the business plan, a wave of new craft breweries has decorated the New Jersey countryside, often providing a disused building with a bright commercial future. There are now nearly seventy microbreweries in New Jersey, with another dozen or so permits pending. What could be better than making beer, and lots of people happy, for a living?
And what could be better than having all these new places to go? It's safe to say there's no shortage of beer fans. "I feel like a pioneer, but now is a good time to be a brewer," says Joe Fisher, who opened Hackettstown's Man Skirt Brewery in October, 2015, the first of three microbreweries now operating in Warren County. "There's a new law, and new generation who want more than Coors Light. These are more educated beer drinkers." Joe started out as a fan, then like most of his colleagues, graduated to a home brewing hobby that got out of hand. He started to win awards and found a hearty welcome at pop-up food events. After a year-long search for a location for his brewery, he finally won the former bank building at 144 Main Street at auction, and is well on the way to switching his full-time career, working on aesthetic improvements to the tap room and slowly expanding distribution around the state. "I enjoy European beers, so that's what I make," says Fisher. "I feel like if I do that it's going to come out better." Among the many fine English and German styles that he makes, his Pfefferbock seasonal Bock lager draws constant requests. "It's a traditional recipe with pepper and flaked rye added," explains Joe. "It tastes like eating a deli rye sandwich. It makes you really happy."
---
Bock? Lager? Seasonal? Pfeffer? Tastes great, but, like anything else, the more you know about something, the more you can appreciate it. Brewers follow a canon of traditions from all over the world, ranging from the Dark Ages to yesterday's brewing session. Bock beer refers to the strong malty concoction first made in Germany during the 14th Century, typically for winter (seasonal) consumption with the cold condition fermenting process that also originated around that time, known as lagering. The pepper (pfeffer) and rye flake are this specific brewer's signature.
Beer originates from milled grain (most commonly barley, but also oats, wheat, rye, millet or maize) that is partially germinated then dried (roasted). The resulting product (malt) is then steeped in water (mash) to convert starches into sugars. Add hops to flavor the strained liquid (wort), then add yeast to ferment. Pour and drink. Simple, huh? Brews are first divided into two great classes—ale or lager—according to the fermenting process. Within these classes are dozens of industry-accepted styles that refer to ethnic origin, color, bitterness, aroma, flavor, or alcohol content. Lightly roasted barley malts make pale lagers (which include many of the mass produced (Budweiser, Michelob, Busch, etc), or pale ales. (Classic English pub beer, also known as "bitter", is pale ale. Today's very popular IPA stands for India Pale Ale, preserved with extra hops to for the long journey from Britain to colonial India.) Similarly, a myriad traditions stem from golden and dark roasted, to the darkest roasts that make porters and stout ales. Each brewer adds his or her own artisanal recipes for modification.
If you're a novice, be prepared to explore a world of flavors described by terms like silky citrus, soft pinee, candy coated, tropical, hoppy, smokey, backbone. Your palate needs some schooling, and that's the other great thing about brewery taste rooms—you learn by doing!
---
If you're interested in the totality of possibilities in beer, Czig Meister Brewery is the place for you. Formally schooled at the renown Siebel Institute of Brewing Technology, Matt Czigler honed his professional skills at other breweries before opening his own in June, 2016, in a reclaimed 1920s era building just down the street from Man Skirt. Gangbusters would be the word for Matt's approach. Beyond the need to supply consistent product for a growing number of public outlets, Czigler realizes the value of his tasting bar. "Our big thing is, there's a beer out there for everybody," explains Matt. "So we show that through our variety. I don't want to nail myself down to one variety or style. Maybe down the road there will one or another kind that becomes more popular, but we'll keep producing as much variety as possible. People can come here and expect that there will always be something different." Czig Meister's tasting bar is an academy.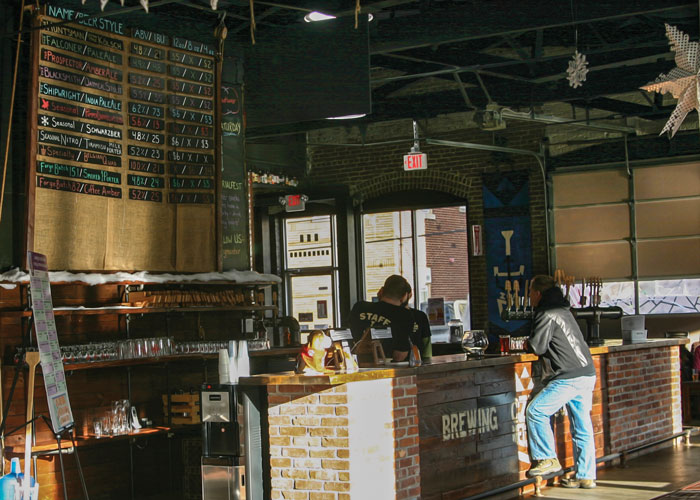 Czigler runs a pilot system in tandem with his main brewery, where he tries new ideas in four to six "forge batches" every week. These smaller twenty-gallon batches can then scale up to fifteen barrels (465 gallons) in the main system. His staff is required to brew something in the pilot system so they know what they're talking about at the tasting bar. "I want them to research the recipe as to the history and the basic idea, so that it's not just me telling them the recipe. We'll negotiate the recipe and come with something that's really theirs. The brews will be named after them and they'll be able to talk in depth to our tasters about how they were made." Thus far, working with twenty-six traditional styles, Czig Meister has gone through 140 variations. Tiramisu Milk Porter anyone?
---
The bottom line for any brewery is consistent production volume, and for Jersey Girl Brewing Company, that's front and center. Chuck Aaron, or his partner Mike Bigger, can usually be found serving up one of ten beers on tap in a cozy tasting lounge neatly tucked in a Mt. Olive industrial park. Just behind the back wall, the brewery's impressive thirty-barrel system churns out nine hundred gallon batches of brew, staggered to make sure that the enormous sixty and thirty barrel fermentation tanks are always full. Ales are ready in about two weeks, lagers can take up to eight. Although their current focus is on the huge demand for New England style IPA, Jersey Girl also runs a smaller "tippy" system where employees can also brew, trying new varieties to run by visitors in the lounge. "It's the opportunity to combine and mix all these ingredients to create these flavors that may or may not have been done before," says Aaron. "There are still new styles coming out as people get creative and try new things. Then there are those who are die-hard purists, where you have to stay to a recipe and can only include certain ingredients. You keep a tradition pure, but you also have new and creative styles. That's what makes this industry so fun right now."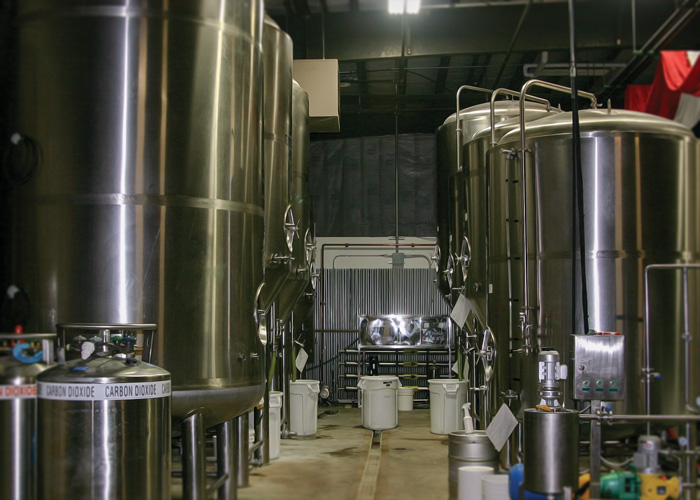 ---
Ingredients for brewing beer can come from all over the world, but many believe the localer, the better. Jay Mena subscribes to the farm to foam concept—he grows six varieties of hops on a 1½ acre parcel of land not far from the Buck Hill Brewery and Restaurant in Blairstown, which he and his partners opened in 2016. The brewpub will begin serving its own brews this spring, focusing on the long-standing traditions and rich history of American style beer. It is already common to see pairing notes and tasting profiles in Buck Hill's menus even on the guest taps, and diners can look forward to these recommendations extend to the Buck Hill Style, and the infusion of Mena's hops, at Warren County's first brewpub.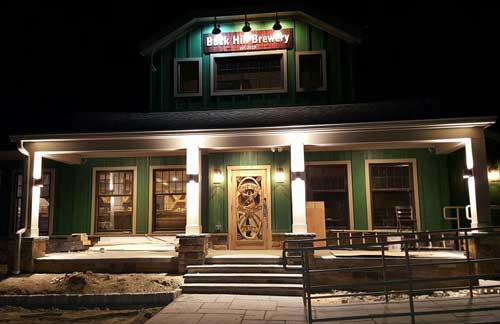 ---
Invertase Brewing Company
In October 2019, Steve Zolnay and his family opened the Invertase Brewing Company, just north of the "free bridge" in Phillipsburg (51 N. Broad St.). The timing was unfortunate, running straight into COVID after investing a good chunk of capital and energy into renovations at former childcare center on North Broad Street. But the Zolnays are a resourceful family of scientists. Steve is a biochemist and his son, Stephen, the brewmaster, is also a mechanical engineer who was able to cut and drill their own three-barrel brew system, equipment that can range to $250,000 when store-bought. He was also able to quickly fashion a canning line and a custom cold-box in order to facilitate a brisk "to-go" business during the pandemic lock-down. A son-in-law takes care of the finances, and Steve's wife, Karen, a micro-biologist, runs the sterility program, the yeast lab, events, social media and "everything else."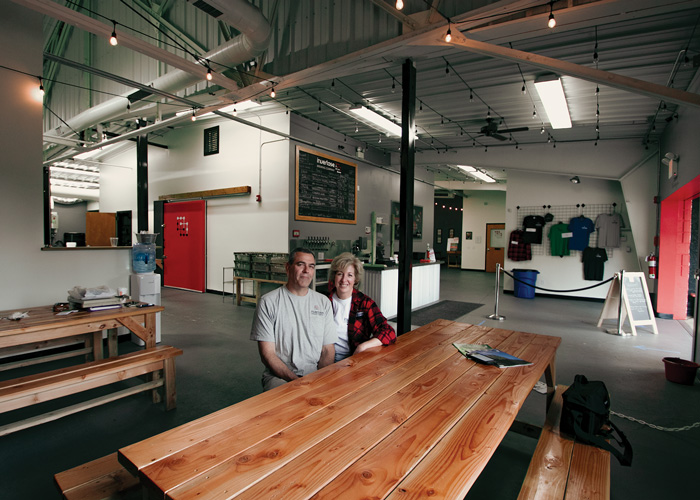 Invertase refers to an enzyme that is derived from yeast and breaks down sugars to help the fermentation process. In its natural state, invertase is what bees use to make honey from nectar. It's a clever name and sure beats "Broad Street Brewery", but don't let the bio-technical reference fool you. Invertase, the brewery, is all about family relaxation and beer that tastes great all the time. "Consistency is the thing," explains Zolnay. "Anybody can make an amazing beer, but can you make it again tomorrow?" From the day his son gave Steve a home brewing kit for Father's Day many years ago, to research visits to several hundred breweries around the country, to commercial brewing training in Vermont, the Zolnay family has learned a thing or two. You can taste it in any of the flagship four: New England IPA, American Pale Ale, Stout and a Tripel.
Large home-built picnic-style tables scatter about the cavernous building for casual conversation and tasting. There is often live music or a special activity like Trivia Night. "This space was a day care," says Steve. "Now it's an adult day care." Out back, the day care playground has been transformed into a spacious beer garden. Food trucks cater to Invertase patrons from the public lot that adjoins the property on one end. It's become a popular gathering spot for beer lovers from Phillipsburg, Warren County, and well beyond. A train track runs parallel to the back fence along the Delaware River. "A guy drives a freight train through here from Altoona," explains Zolnay. "He parked the train outside, jumped the fence and bought beer. Then he came back and bought more!"
Nearby accommodations and attractions
540 Warren Street, Phillipsburg 08865

In 2019, the Historic Moravian Village of Hope celebrated 250 years since the Moravians first settled the hills along the Beaver Brook.

Formal Elizabethan herb garden, medicinal garden, herb plants, flowering perennials, dried flowers, gift shop.

205 Mt. Bethel Rd, Port Murray 07865, 908/852-5390

Warren County's Montana Mountain, Merrill Creek Reservoir, and the Pohatcong Valley is equally rewarding for students of history and devotees of the outdoors.

, ,

A cooperative gallery featuring fine art, paintings, photography, pottery, stained glass, jewelry, fiber art, wood turned bowls, quilting, painted tiles, dioramas, and more by 35 talented local artists. Gifts and note cards for every occasion. Hours: Monday - Saturday, 10am-5pm; Closed Sundays.

23 Main Street, Blairstown 07825, 908/362-6865
This story was first published: Spring, 2017