Star Bright
United Astronomy Clubs of New Jersey (UACNJ) is a consortium of amateur clubs formed to coordinate and communicate ideas among thousands of individuals in and around the state who make astronomy their hobby. The UACNJ facilities in Jenny Jump State Forest, near Hope in Warren County, are 1,100 feet above sea level, one of the few dark sky locations left in the state. There are several observatories: the Greenwood Observatory with a sixteen-inch Newtonian telescope, the Ted Barker Observatory with an eight-inch solar telescope, and the Kevin Brady Observatory which houses a seven-inch Astro-Physics refractor. A 48" reflector telescope is just over the horizon.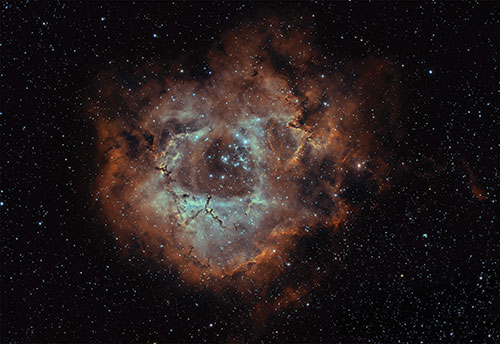 These photographs were taken at the UACNJ site in Jenny Jump State Forest, part of this year's handy calendar produced by the organization.
Above, the Rosette Nebula is approximately 130 light years in diameter and 5,000 light years from Earth. Young stars at the center excite the surrounding hydrogen gas and cause it to glow. Photographer: Gregg Waldron, MMAS

Below, craters of the moon, photographed from 238,855 miles away by Wolfgang Damm, NWJAA.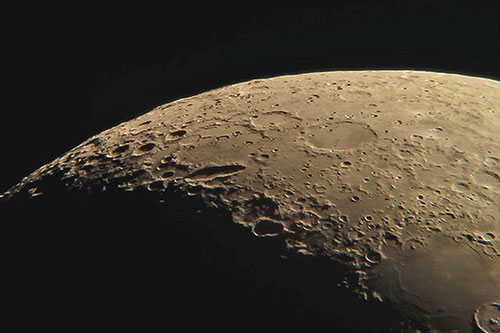 North West Jersey Amateur Astronomers club member Ken Taylor describes how he got involved. "At age 55, I borrowed a friend's telescope for a few nights. It was a simple telescope that can be purchased at WalMart. The first thing I did was look at the craters of the Moon. About a week later, I asked a friend who is a science teacher for some assistance. He showed me views of some deep space objects and we looked the rings of Saturn. After that, I was hooked on the hobby of astronomy. Knowing that I was going to need some direction and instruction, I looked on the Internet for an astronomy organization or club and discovered United Astronomy Clubs of NJ (UACNJ)."
Free lectures and observing are open to the public every Saturday evening from April through October at the Jenny Jump site. In 2012, over 1200 visitors attended these events, some who were camping in Jenny Jump State Forest for the weekend, and many more who, like Ken Taylor, have become regular spectators. This year's comets are a special added attraction to the normal spectacular array of things you can see from the moon to deep space. Says Taylor, "Viewing the Ring of Saturn, the colored bands and red spot on Jupiter are a normal occurrence at different times during the year. You can even see their moons. But planets are not the only objects visible. You can see, star clusters, double stars, galaxies, nebula and other deep sky objects during your visit, depending on the weather. Many deep sky objects like Andromeda Galaxy and our Milky Way galaxy are clearly visible at Jenny Jump by eye or through binoculars. So if you have a pair, bring them."
For program schedules and directions to the observatories check the United Astronomy Clubs of New Jersey website..
Nearby accommodations and attractions
NJ Audubon's thirty-fifth outpost is a model for blending environmental awareness, wildlife habitat, and agriculture.

1024 Anderson Road\r, Port Murray 07865, 908-366-7781

Warren County's Montana Mountain, Merrill Creek Reservoir, and the Pohatcong Valley is equally rewarding for students of history and devotees of the outdoors.

, ,

, , 908/537-2544

Consider Rutherfurd Hall as refuge and sanctuary in similar ways now, as it served a distinguished family a hundred years ago.

1686 Route 517, Allamuchy 07820, 908/852-1894
This story was first published: Spring, 2013