Long ago in the 1800s, small farms covered this land. Francis Stetson, a New York lawyer, bought them up and established Skylands Farm. Stetson hired landscape architect and founder of the American Society of Landscape Architects, Samuel Parsons, to design gardens and infrastructure. A hundred years later, investment banker, Clarence Lewis, bought the farm and hired esteemed landscape architects of the firm Vitale and Geiffert to redesign the property; and architect John Russell Pope to design a new manor made of native granite, the present Tudor-style Skylands Manor. Lewis found a new passion as plant aficionado and for decades collected exotic plants from afar as well as local wild roadside plants, resulting in an almost encyclopedic assemblage of flora. In the 1950s, he sold the estate to a Christian college, and in 1966, New Jersey bought 1,117 acres of the land. In 1984, ninety-six acres were designated as the official New Jersey State Botanical Garden, part of Ringwood State Park. A few years later, Skylands Manor was listed on both the New Jersey and National Registers of Historic Places.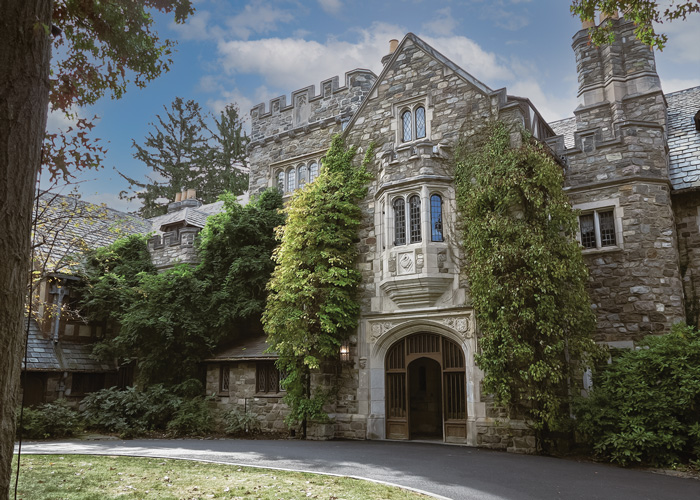 At the corner of Maple Avenue, lined with red oak, the state tree, we enter the Winter Garden, designed to offer a north view of greenery from Skylands Manor in winter. Some trees were chosen for distinctive attributes like the shiny, sun-struck bark of European beech that reflects the winter moonlight, and a weeping beech with its dried foliage resembling golden coins. Designed with function as well as aesthetic in mind, conifers block the wind. Around the west side of the manor house, a not-to-be-missed basswood tree blooms in spring, its fragrance sweet in the air. A ginkgo stands nearby with bark that is rough and tough like armor. McMullen says, "Its ancestors are seventy million years old and predate the dinosaurs. They survived the bombing of Hiroshima." Fairy tales have it that Robin Hood and his merry men hid behind strong English oak trees in Sherwood Forest, just like the one near the manor. This area was created as the west view from the house as it looks out toward a reservoir and the Ramapo Mountains.
Four all-season views from the house lead to gardens: the north Winter Garden, the West Lawn that leads to a view of the Ramapo Mountains, the south Terrace Gardens, and east Annual Garden that leads to the statue of Diana, Goddess of the Hunt.
Around back, the view to the south is of the historic Italianate Gardens, five terraces in a row. First the Octagonal Garden, which mimics the manor's eight-sided breakfast room, leads down to the Magnolia Walk showcasing a Beaux Arts mirror image of thirty sweetbay magnolia with a delicious scent that will take you to Fairytale Land in June. Don't miss it. It is a sensory garden in spring when the delicious scent of basswood blossoms filter groundward like perfume, and the sweetness of magnolia sifts through the air. This walk down the stepped gardens will take you to Dreamsville where antique terraces with fountains and cherubs and previously-unimagined beauties await. Step down to the Azalea Garden where spring-blooming rhododendrons, azaleas and daffodils flank a reflecting pool covered in water lilies in summer. Later, day lilies and annuals fill the Summer Garden terrace followed by the Tree Peony Terrace with flowering shrubs and peonies. To the left is the Lilac Garden with thirteen beds planted in the 1920s by Lewis. Over one hundred varieties and two hundred plants of lilacs begin flowering in late April. The best time to see them is around Mothers Day. Did you know that lilacs are in the olive family? If you want to learn how to grow and prune lilacs, become a NJBG Lilac Restoration Project Volunteer!
Back across Maple Avenue, step down to the Perennial Garden border where an explosion of color and fragrance stretches from spring through autumn. Stroll the aisle between two rows of a profusion of hardy perennials of all sizes, textures, colors and forms. Applause for the volunteers who maintain this labor-intensive, cottage-like garden! Trellises and arbors of roses, clematis, and silver fleece vine, and select flowering shrubs add more dimension to the experience. Slip on through to the other side to the Annual Garden, a formal layout with bedding flowers that change with the seasons and years. A sixteenth-century marble wellhead of cherubs and lions sits center stage filled with blossoms. It is part of the east vista from the manor to Diana, Goddess of the Hunt. Just outside the annuals, check out the Hummingbird and Butterfly Gardens.
Head for Diana through pink cherry trees on a straight axis from the manor and wellhead to the Crab Apple Allee in early May for a half-mile of spectacular pink flowering trees. In the Great Lawn next to it, the scale model Solar System Walk has signs of planets and a game. Be sure to first pick up a brochure in the Carriage House. The Crab Apple Allee separates formal from informal gardens such as the Hosta and Rhododendron Gardens, and the Moraine Garden, one of this writer's favorites. Built on a deposit of rocks left by the glaciers ten thousand years ago, it was created by Lewis with Alpine plants. Today it mimics those plants that grew after the glacier receded. Continue into woodland and the Wildflower Garden along a trail to the Bog Garden with frogs, bright Japanese primroses, native flame azaleas, wild spirea, Jack-in-the-pulpit and other wildflowers. Note the bald cypress with its knees sticking out above the soil. Legend has it that Lewis planted some Pine Barren look-alikes. Can you find them? See it in May.
New Jersey Botanical Garden is a place of peace, inspiration, education and wonder. Indulge yourself and visit NJBG every month. Take a Sunday afternoon walk with Jim McMullen. Dig in and share the passion!
Skylands Association, the non-profit organization benefitting the State Botanical Garden, provides the interpretive and educational support necessary for this remarkable garden. Over 250 volunteers are involved with garden maintenance and manor house restoration; as garden or manor house docents; as assistants at the visitors center and in the office; or at plant sales and the holiday open house. NJBG is open daily with free guided tours on Sundays and a schedule of special tours and events. The gardens are located at 2 Morris Rd in Ringwood. For more information call (973) 962-9534 or visit the website.
Upcoming Events
December 18 • FAMILY WINTER HIKE. An easy, child-friendly hike in the Garden's woodlands. Learn a bit about the plants and animals around you in a hike designed to fit the group. Wear sturdy shoes, meet at the Carriage House. 1pm. Free.
January 1 • FIRST DAY HIKE. Weather permitting, you can climb to the Mt. Defiance overlook on the Halifax trail and return, or choose our alternate hike without a climb. This annual event is a joint project of State Park staff and volunteers from the NJBG/Skylands Association and the New York-New Jersey Trail Conference. Wear sturdy shoes and weather appropriate clothes, small children may need to be carried. Meet at the Carriage House Visitor Center 1pm - 3pm. Free.
January 1 • FIRST DAY HIKE. Start your New Year right on a self-guided family friendly hike in the State Park woodlands at the NJ State Botanical Garden. Weather permitting; you can climb to the Mt. Defiance overlook and return or choose our alternate hike without a climb. 1pm. Free.
January 1 • SKYLANDS MANOR TOURS. NJBG volunteer docents lead visitors on a tour of the architecture and history of Skylands Manor. 11am - 3pm. $10 adults; $7 seniors.
January 15 • FAMILY WOODLAND HIKE. NJBG volunteer docents lead visitors on a tour of the architecture and history of Skylands Manor. 1pm. $10 adults; $7 seniors.
January 29 • AUDUBON: RETURN OF THE BALD EAGLE. Don Torino of the Bergen County Audubon Society offers an indoor presentation on the dramatic return of the Bald Eagle. 1pm. Free.
Nearby accommodations and attractions
, Sussex

Family friendly campground that focuses on live music for entertainment. Cozy "Kinda Camping" Rentals, rustic cabins, RV sites and tent sites. Open from early May to mid Oct. Heated pool, fishing & boating lake, playground, recreation barn, weekend planned events and activities.

68 Phillips Road, Newton 07860, 973/383-4026

Step Into Earth Science! Mining museum with underground mine tour and over 30 acres of indoor & outdoor displays and historical buildings. Recent additions include expanded fluorescent display at Thomas S. Warren Museum and the Million Dollar display at the Oreck Family Mineral Gallery. Gift shop with a collection of world wide minerals.

30 Plant St., Ogdensburg 07439, 973/209-7212

, Sussex

The Byram lake is a good kayaking destination.
This story was first published: Spring, 2022