The good, the bad and the enduring
Wild West City
Urban and nearby suburban summers are now reasonably bearable for most of the population with air conditioning, modern medicine and better sanitation. In the nineteenth century, however, those who could afford to do so fled the metropolitan areas of New York, Newark and Jersey City for the cool green mountains and pristine lakes of northwestern New Jersey. In time, a host of summer resorts and amusements sprouted up to serve weary city dwellers seeking relief and recreation. Following the Second World War, the lake country's many summer bungalows were "winterized" and the region began its conversion to a year-round residential area. But improved roads and automobiles, coupled with a booming economy, inspired some entrepreneurs to seek new ways to attract a local as well as metropolitan tourist trade. It was in this climate that Wild West City came into being. A group of investors banded together, purchased a sizable tract of land in Byram Township, just above Netcong and started construction of a replica western town, even flying off to study Dodge City, Kansas, which was used as a model. The project started in the fall of 1956, and, by the following spring, the site opened.
The fortunes of the site waned a little in the first few years. Just why is unclear, as things western, particularly on television, were at peak popularity. In 1964, Wild West city was acquired by Michael Stabile, of Nutley, and his wife Mary. The couple originally planned only to upgrade the operation and then sell it as a short-term investment. But, with the involvement of their children, it literally became the family business.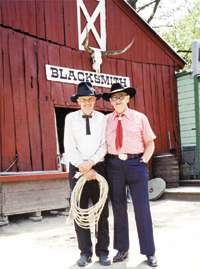 Mike Stabile Jr. and musician Bill Green
have appeared regularly at Wild West City
since the 1960s.
Mike Stabile was a determined army veteran, and both he and Mary possessed an ability to manage as well as to deal with the "hands-on" work. Within a few years, Wild West City featured live-action shows, a working stage coach, numerous shops, exhibits and a whole series of special programs with guest performers. The best part was that it was live. Long before the "living history" movement of costumed interpreters presenting replicated period activities in historical settings, the Stabile family offered the public a day of real galloping horses, cowboys and lawmen, actors taking genuine risks in their performances; a visual and sensory experience. Hundreds of thousands of people, particularly children, over the many years since, have carried away indelible images of America's western frontier after a visit to the site's wide and gritty main street.
Today, Wild West City stands as one of the last examples of post-war tourist culture in the Skylands region, and perhaps the most unchanged. Each season the site presents its program developed in the mid and late 1960s with the same vitality as if it were for the very first time. Twenty-two continuous live shows are presented each day; the stage runs approximately every fifteen minutes. The 1950s miniature train "Old 97" still makes its regular trips through "Arapaho Territory", and the Earps, Doc Holliday, along with a score of banditos, good guys and bad guys, still square off in recreations of the West's most famous episodes. The buildings which line the street contain various shops and museums, each with a character all its own where there is the informal feeling that the visitor has just stumbled upon a relative's attic full of past time treasures. At the "Golden Nugget Saloon" is a full service bar. Food is available here, as well as at the "Silver Dollar" down the street. There is a candy shop, a general store, a collection of Native American artifacts, a working blacksmith shop, pony corral rides for young guests, and a petting zoo. Non-denominational chapel services are conducted each Sunday morning at 10:40am.
In 1997, the site launched a new frontier education program for schools and special groups. This was the first alteration of the regular street schedule in over 30 years. School classes are treated to narrative programs about the historical cowboy as well as the western lawman, their clothing, gear and their horses. Selected topics, exploring the California Gold Rush, telegraphy (featuring a working 1880s model), horsemanship and horse lore, are offered by special arrangement. Chic Stourch, of Blairstown, regularly provides an interpretation of the 1830s "mountain men", the free trappers who explored the early West. Joan Morris, of Mount Arlington, teaches domestic skills of pioneer women at her camp located adjacent to the park's entrance. And then there is Robert "Pony Bob" Erven, who first appeared on the street of Wild West City around 1961, a veteran of the now-defunct "Cowboy City" in Asbury Park. "Pony Bob" led a now legendary wagon train from St. Louis to New York City during the 1964 World's Fair. An accomplished horseman, farrier and teamster, as well as a youthful, vigorous man, he drives the Wild West City stagecoach and can sometimes be found upon a horse at full gallop, vaulting into the saddle to bring in the mail for the local version of the Pony Express.
Special events, programs and performances are offered each weekend, including trick riders like Cowboy Joe Phillips, who appeared on the Ed Sullivan show and at Radio City Music Hall; Joe Walsh, the Guiness Book of World Records champion quick-draw artist, as well as Native American dancers and recreated encampments of Civil War soldiers and frontiersmen.
After a lifetime of hard work, Mike Stabile passed away in 1993. The family tradition continues as Mike Stabile, Jr. has taken the reins as the president of the corporation, with the assistance of his sister Mary. Mike Jr. literally grew up as a Wild West City cowboy and has appeared daily from his teenage years in the 1960s to the present. An expert rider, stage driver and performer, Mike continues to thrill audiences every afternoon with feats of skill using bullwhips and lariats. In addition to his western skills, Mike is well-known as an expert mechanic, serving the site as manager, repairman, carpenter, heavy equipment operator and much more. His sister Mary is similarly accomplished, balancing her career as a local attorney with her duties at Wild West, her two young children often at her side, along with husband Ron Benson, originally of Netcong, who started his career here as a cowboy and continues to assist the theme park as horse buyer and part time teamster.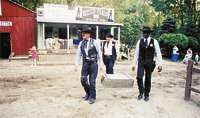 The mustached face of town marshal Rick McPeek is well-known to a generation of Wild West City fans. Rick has trod the dusty main street as cowboy, marshal and street manager for twenty-five years. Sussex County born and raised, Rick's father was a prominent local veterinarian who befriended Mike Stabile, Sr. The two men, along with family and staff, produced a series of voice-over tapes used for the daily performances. Though "Doc" McPeek passed away in 1975, Rick rides out each morning to the sound of his father's voice over the speaker system.
There is much family history in the family theme park and the close ties of kinship and friendship among the staff surely translate into the good will that has been generated to the public over the years.
Wild West City shows and activities have in their very essence, an ageless theme: the triumph of good over evil. Perhaps our most basic commonly-held trait as Americans is the optimism that the good guys will ultimately triumph if they stand their ground; that despite defeats, tragedies and injustices, our story is full of brave people from all backgrounds, sometimes even pitted against one another.
Wild West City reminds us that a sense of justice and fair play can be learned in an environment of good old-fashioned entertainment. The big lake resorts may be gone, and the times have changed, but Wild West City's cowboys still ride, spirited and free, just as we, young and old, happy and careworn, want them to, always.
Wild West City is open weekends, late spring through Columbus Day and daily from June 21 through Labor Day. The park opens at 10:30 am, shows begin at approximately 11am and run until 6pm. The site is easily accessible from Exit 25 off Route 80 west, then three miles north ) 100right at the third traffic light after the exit) to Lackawanna Drive in Byram Township. Please call 973-347-8900 for further information. Or go to website
Andy is a veteran staff member and administrator for numerous local attractions, museums and parks. He serves occasionally as blacksmith at Wild West City.
Nearby accommodations and attractions
The Byram lake is a good kayaking destination.

Wilbur's is the perfect destination on a drive through the New Jersey countryside. British foods and candy, Yankee candles, wind chimes, pet-themed gifts, preserves, much more. Charming location in barn complex between Newton and Blairstown.

735 Route 94, Newton 07860, 908/362-8833

Thousands of photos and artifacts document the lake's long and illustrious history. Open every Sunday through June, 12-4pm, October thru May. Free admission, parking.

323 Lakeside Blvd., Hopatcong State Park, Hopatcong 07843, 973/398-2616
This story was first published: Summer, 1999