From Rt. 206 N, take a right onto Plains Road and stop at the Farmers Market located on the Sussex County Farm and Horse Show Fairgrounds on Saturdays from 9 to 2. Local farmers sell their just-picked fruit and vegetables (great for grilling) and just-baked goodies plus locally grown and woven, exquisitely soft alpaca socks to keep your feet warm on cool nights. The Fairgrounds booms with festivals and other events during the summer, including the New Jersey State Fair that runs in early August. The fair, once known as the Sussex County Farm and Horse Show, originated in Branchville in 1940 and remained there until 1979. A half mile or so up Rt. 206 on the left in the parking lot of Our Lady Queen of Peace Church, a happening flea market and craft fair is worth a look-see the last Saturday of every month thru October from 8 to 3. Locals sell their eclectic wares gathered from old farms and other discoveries.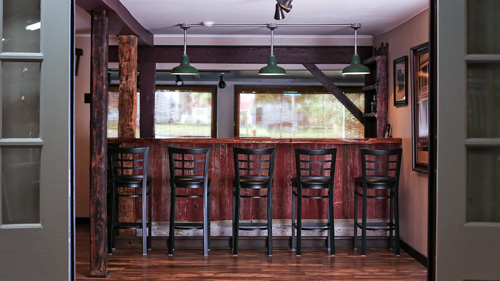 Then swing into the Borough of Branchville on Broad Street. If your old enough, it feels like driving down Memory Lane; the well-groomed older homes and properties are tended with care and pride. On the left, on the corner of Broad and Milk Streets, the Milk Street Distillery, at five months old is the newest distillery in the state. Located in an 1892 feed and grain store, it is lovingly converted and owned and operated by two Sussex County brothers, Mike and Gordon Geerhart, who looked to get out of a lengthy history of construction. When they learned that the laws on distilleries were relaxed, "We quit our jobs, mortgaged our houses, and went full bore on this," says Mike. "We're hoping that craft distilling booms like craft beer." Be sure to ask for a tour. Even the equipment is beautiful, like works of art. Their specialties—Black Vulture Vodka, Wooden Leg Rum and Dam Break Rye—are all made from locally grown grains. "What we have now is just to get us to the brown liquor we like so much. The townspeople have been really open to the idea and have bent over backwards for us. It's really, really cool," says Mike. Visitors can relax and enjoy in the tasting room, or buy a bottle to go, but BYOF. (Bring Your Own Food.)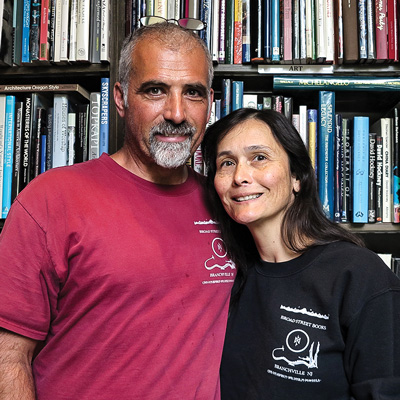 A few blocks up the road at a five-road junction, The Branchville Grill is great for breakfast and lunch. Phyllis Hatzimihali bought the decades-old grill three years ago. She moved to the borough six years ago. "I love Branchville," she says. Across the way on the corner at 1 Mill Street, Broad Street Books is housed in the old First National Bank of Branchville building. Owned by Ethan and Sue-Ni DiStefano, the used bookstore has become a global success. The DiStefanos have lived in Branchville for twenty years and for twelve years ran the business from the basement of their Broad Street home, where the first Post Master of Branchville once lived. Business has boomed so much that, aside from their retail store, they own storage of an additional 45,000 books. How did it happen? "First we earned the respect of our peers in the book-selling industry," says Sue-Ni, "with blood, sweat and tears." It was only then that they bought the bank building. Today, Broad Street Books is followed on social media by other great bookstores in the world. Sue-Ni says they will remain in Branchville because "We have the best community around. We have a slice of Norman Rockwell here."
Up the street, two long-time holdouts do business as usual: Wayne Orr and Joe Accetta. Orr has owned Orr's Clothes for Country Living for more than thirty years, though the store, previously known as Isaac Silverman's, has been in existence since 1898. In the 1930s, people from the Midwest came to New York to build the George Washington Bridge. At such great heights they were wind-whipped and cold, so their employers made the trek to Silverman's to buy wind-resistant Carhartt clothing made from tent material. "In those days, clothing was for a purpose. Today, we don't have a purpose. We have style," says Orr, who grew up on a nearby farm, started work there as a stock boy at 15 years old. He left in 1971 to work at Met Life to earn more money and in '76 he returned and bought the store. Silverman's had been a clothing "department store" with inventory that ran the gamut until the economy went bust in the '90s. "I figured out we had to go special because there are only certain people who can use us," he says. Today, the store carries work and casual clothes. "I've always worked for the family. I went out and raised a little hell once in a while," Orr mused. "We are a Mom and Pop. People went away from that but they're trying to come back to it."
Johnny's Barber Shop is an old-fashioned barbershop that opened over 100 years ago. Joe Accetta, who bought the business in 1962, keeps it that way and gears it to the male of the species, though he will cut a lady's bangs. Don't call. There's no phone. Just drop in to say hi Tuesday thru Saturday and get a good cut for $13.
---
The Sussex Branch Trail, a Rail-to-Trail multi-use path, appears to secretly end in Branchville. If you want to go for a short, easy and beautiful walk or bike ride in Nature, this is the place to go. The 1.3-mile (one way) path begins on Mill Street. From Rt. 206N turn right into town and soon make a left onto Mill Street. Just before a metal bridge, look for a narrow dirt footpath that leads into the woods on the left. The path runs alongside Dry Brook, crosses the highway and continues south to Augusta Hill Road where you get a nice view of the Paulins Kill. The trail was built in the late 1840s as the narrow gauge, mule-drawn Sussex Mine Railroad to haul iron ore on the Morris Canal from Andover mines to Waterloo Village. Completed in 1869, it was abandoned a century later. The 18-mile trail starts in Allamuchy Mountain State Park and ends in Branchville. On this stretch you'll walk along a stream, and pass homes and backyards and walk under sun and shade adorned by wild flowers. Take the kids.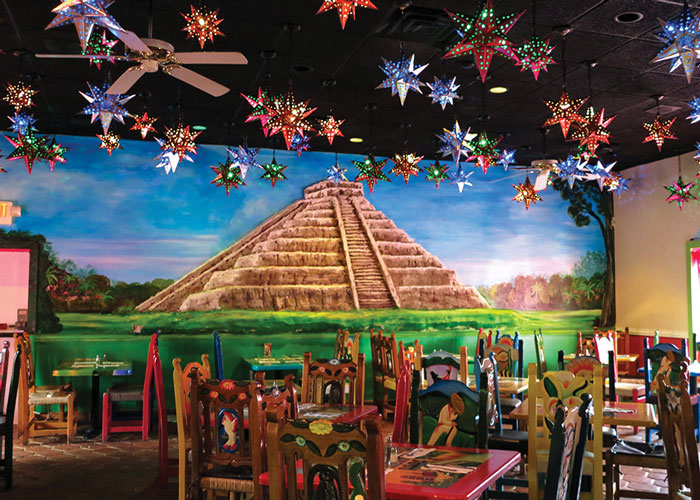 Heading North from Branchville, there are eateries galore. One is Riviera Maya, with real Mexican food owned by Jesus Morales and his wife Martha from Juodalajora, Jalisco, Mexico. There the food is made from scratch every day and authentic dishes are frequently added to the menu. Their success has led to opening another full-service and two quick-serve restaurants. . "I love that our customer base is local," says Jesus. "We've grown. We'd like to thank all of our customers." The restaurant offers a robust take out and delivery selection.
Drive off that lunch and turn right alongside Dale's Market onto East Shore Culver Road for a spin around Culver Lake. Although the lake is private, a public golf course, restaurant and bar is open and with a tranquil view. The drive eventually borders Stokes State Forest, where there are trails galore to enjoy. To check them out or just drive to Sunrise Mountain, turn right as the road bends sharply to the left. Or, if coming from Rt. 206N, turn right onto Upper North Shore Road, then left onto narrow Sunrise Mountain Road. To walk the Appalachian Trail (AT), an Historic National Scenic Trail, park in the Culver's Gap Parking Lot and catch the trail there or, for a short walk through ferns, sunny grasses, rock outcrops and wondrous views of Culver Lake and the Pocono Plateau, walk across Rt. 206 and take the one-mile, gold & brown-blazed Acropolis Trail uphill to the AT that seems a world away. Or, continue on Sunrise Mountain Road till you bear right to a parking lot. A gravel path under red oak and hickory trees leads up stone slab and rock steps to great views of the landscape below. Walk a bit of the AT here. Picnic tables are here and also at a viewpoint overlooking the Delaware River Valley and Pennsylvania on the road below. Otherwise, between parking lot and mountaintop, four blazed trails are yours for the walking. A short trek on the steep, green-blazed Tower Trail to the right will take you to the Culvers Lookout Tower for excellent views. Or simply ride through the forest to Rt. 206 for a taste of serenity. Wild flowers bloom on the roadsides and lady fern covers the ground. Stokes State Forest has much more to offer, including camping so you can do it all.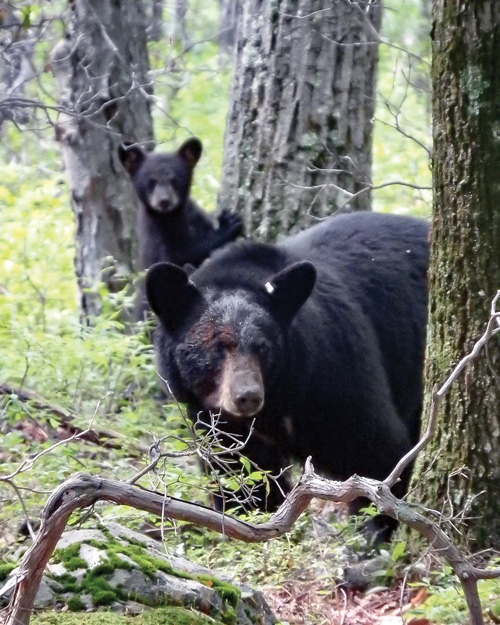 If birding is your thing, go to the 2,906-acre Bear Swamp Wildlife Management Area across the highway from Branchville. It includes Lake Owassa Bear Swamp Natural Heritage Priority Site, so designated for its rare wetland community and imperiled species of birds and plants. It is also part of the Delaware Valley Water Gap Macrosite Important Bird and Biodiversity Area. According to the NJDEP, Fish and Wildlife, "The globally significant Bear Swamp WMA is part of the Kittatinny Forest and provides breeding habitat for bobcats and several raptor species including state-endangered Bald Eagles, Red-shouldered Hawks and Northern Goshawks, state-threatened Barred Owls and state-special concern Sharp-shinned Hawks and Broad-winged Hawks." As always, check for ticks. The NJDEP advises this is bear habitat so review the rules for bear etiquette, visit on Sundays when there is no hunting, and bring a compass or GPS as trails are unmarked. Directions: 973-383-0918.
No matter where you're heading northbound, take some time to visit Branchville Borough and its surrounding natural and cultural gems. You'll be glad you slowed down for discovery with a step back in time or a walk on a pretty country path or experiencing a very modern distillery and interesting book store. Smell the flowers.
Area Camping
Harmony Ridge Campground. 23 Risdon Drive, Branchville . 973/948-4941
Kymer's Camping Resort. 69 Kymer Rd., Branchville. 800/526-2267
Nearby accommodations and attractions
Located in Sussex County near the Kittatinny Mountains the camping resort offers park model, cabin and luxury tent rentals as well as trailer or tent campsites with water, electric and cable TV hookups on 200 scenic acres.

69 Kymer Rd., Branchville 07826, 800/526-2267

Thousands of photos and artifacts document the lake's long and illustrious history. Open every Sunday through June, 12-4pm, October thru May. Free admission, parking.

323 Lakeside Blvd., Hopatcong State Park, Hopatcong 07843, 973/398-2616

Step Into Earth Science! Mining museum with underground mine tour and over 30 acres of indoor & outdoor displays and historical buildings. Recent additions include expanded fluorescent display at Thomas S. Warren Museum and the Million Dollar display at the Oreck Family Mineral Gallery. Gift shop with a collection of world wide minerals.

30 Plant St., Ogdensburg 07439, 973/209-7212

Wilbur's is the perfect destination on a drive through the New Jersey countryside. British foods and candy, Yankee candles, wind chimes, pet-themed gifts, preserves, much more. Charming location in barn complex between Newton and Blairstown.

735 Route 94, Newton 07860, 908/362-8833

There's always something fun happening at the Sussex County Fairgrounds. Visit our web site for a full year of family fun, right in your own backyard.

27 Plains Road, Augusta 07822, 973/948-5500
This story was first published: Summer, 2017