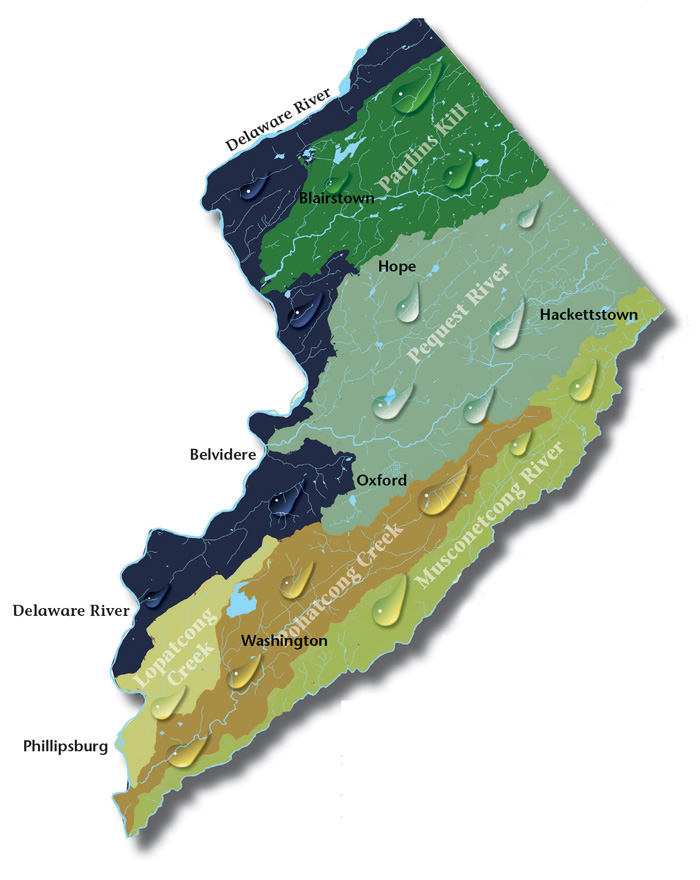 The rugged Kittatinny Ridge along the Delaware River on Warren County's northwestern edge gives way to rolling hills and gentle farmland where a soluble layer of limestone allowed the formation of the Paulins Kill Valley to south and east. A glacier's terminus a few miles further south meant the birth of Great Meadows and the Pequest River. The Valley and Ridge geologic boundary with the Highlands is defined by a change in the underlying rocks. In Warren County it starts around Jenny Jump Mountain and continues southwest at the foot of Scotts and Marble Mountains to the Delaware. The Musconetcong River corridor defines Warren County's southwestern reach into the Highlands.
Geologic record helps understand the human history and impacts of settlement and lifestyles in each of Warren's watersheds, which take on regional characteristics of their own, connecting communities by a shared vital resource. The intrinsic appeal of their landscapes is enhanced by a heaping portion of openly accessible recreation facilities, either publicly owned or privately managed with the visitor in mind. Unspoiled and lovely countryside, tranquil mountains, rivers, lakes, and farmland make a perfect haven for outdoor and nature lovers. A wealth of pristine parkland, extensive trail systems for hiking and biking, river paddling, hot-air ballooning, horseback riding, golf, and exciting events will satisfy every member of your family. Follow the rivers In Warren County!
Paulins Kill Valley
The Paulins Kill is New Jersey's third-largest tributary of the Delaware River, and its watershed covers a total area of 177 square miles. The river flows north from its source near Newton in Sussex County, and then turns southwest toward the Warren County townships of Frelinghuysen, Hardwick, Blairstown, and Knowlton. More...
Pequest Watershed
The Pequest River begins in Sussex County and flows thirty-two miles to where it meets the Delaware in Belvidere, Warren's county seat. The Pequest starts just south of Newton and ends in Belvidere where it empties into the Delaware River. In Warren County, it passes near Allamuchy State Park, Jenny Jump State Forest, Pequest Wildlife Management Area, and the Beaver Brook Wildlife Management Area. The watershed includes a wealth of remnants from Warren County's agricultural and industrial heritage. More...
Lopatcong Creek
Lopatcong Creek pours down the Scotts Mountain Ridge in Harmony Township towards its appointment with the Delaware River twelve miles southwest at Phillipsburg. More...
Pohatcong Creek
Following Pohatcong Mountain, another of the many Appalachian ridges that run through Warren County, the Pohatcong Watershed lies parallel and between those of the Musconetcong River to the south and the Pequest to the north. More...
Musconetcong Valley
Forming the southern Warren County border, the big river runs forty-two-and-a-half miles through a wide valley flanked on the northwest by the Allamuchy and Pohatcong mountains, and Schooley's and Musconetcong mountains to the southeast in Morris and Hunterdon counties, twisting and turning over the ruins of our past. More...
Watershed Organizations

Watersheds are in the mainstream of thinking about climate and the environment because they represent a suitable scale at which to address the systemic destruction accompanied by the industrial era. Watersheds are the repairable components that can be effected by local attitudes, action, activities, and legislation. There is a growing collection of organizations tasked with the restoration and conservation of the critical resource that links all living things… one watershed at a time. Much like the watersheds themselves, various partnerships of local organizations share the flow of resources, expertise and information about this great accumulation of raindrops!

| | |
| --- | --- |
| | The Musconetcong Watershed Association is the lead organization coordinating the Highlands Coalition, Trout Unlimited, the Delaware Watershed Initiative and others to promote water quality and recreation in the Delaware River watershed. |
| | Representing a diverse network of organizations and individuals to protect, enhance and restore the New Jersey Highlands, the coalition organizes a vibrant series of informational events, recreational activities and legislative initiatives. |
| | The Ridge & Valley chapter has focused on the Lopatcong Creek as its home water. |
| | Unites more than fifty organizations and countless home and landowners working to protect forests and farms, and clean up streams. |
This story was first published: Spring, 2022