Events and Activities in Northwest New Jersey
All events are subject to change or cancellation. Please click or call ahead to confirm.
November
Tuesday, 24; North Branch
THAT PLAY: A SOLO MACBETH. A wild and frightening 90 minute adaptation of Shakespeare's play. 12 & 7. Rt. 28 and Lamington Road.
Friday, 27; Mendham
WALK OFF THE FEAST. Naturalist Janis Slutsky will lead a gentle three-mile guided hike. 10am. $10. 339 Pleasant Valley Road.
Friday, 27-28; Port Murray
HOLIDAY GREENHOUSE TOUR. Welcome in the holidays and dispel the winter doldrums by joining Cyrus Hyde for an informative lecture-tour of his collection of herbs from around the world. This is a wonderful way to learn about the rare and unusual, as well as familiar herbs. Reservations are required. 11am and 2 pm. Free. 205 Mt. Bethel Rd.
Friday, 27-29; Clinton
DICKENS' DAYS. Annual holiday extravaganza along Main Street featuring horse-drawn carriage rides, carolers and music and street performers.
Clinton Guild
Friday, 27-29; Flemington
AFTER THANKSGIVING SALE. Don't miss the biggest sale of the year, with exceptional holiday savings and extended shopping hours. Plan Ahead! Select stores open as early as 6pm on Thu, Nov 27 Thanksgiving Day. 1 Church Street .
Friday, 27-29; Morristown
ROCK AND MINERAL WEEKEND. Visit the mineral, gem, and fossil displays throughout the Museum. Members of the Morris Museum Mineralogical Society will be on hand to identify your mystery rocks and minerals. Families will be able to examine fossils, learn about fluorescent minerals, and listen to engaging presentations on various topics about geology and the Earth. Other activities include a sand box scavenger hunt and mineral magic show. Morris Museum, 6 Normandy Heights Rd..
Morris Museum Mineralogical Society; 973/971-3706
Saturday, 28-29; Layton
WINTER OPEN HOUSE. In-store demonstrations and winter treats. Visit the Peters Valley Gallery this holiday season for wonderful handcrafted items sure to please everyone on your gift list. 10am - 6pm. Craft Store and Gallery, 19 Kuhn Road (Rt. 615).
Peters Valley Crafts Center; 973/948-5202
Weekends; November 28 - December 6; Bedminster
COLONIAL CHRISTMAS. Tours of the circa 1772 Dutch Colonial home, which is decorated for the holidays by celebrated New Jersey floral designers; holiday decorating workshops for the whole family; holiday shopping with boutique vendors and artisans. $10. Vanderveer House, 955 US Highway 202/206.
Sunday, 29; Morristown
MOOSELTOE. 1:30 & 4:30pm. 100 South Street.
Mayo Performing Arts Center; 973/539-8008
Monday, 30; Port Murray
CHRISTMAS EVERGREEN WREATH. Create your own fresh evergreen 16 wreath using various types of pine and holly.Reservations required. $36. 205 Mt. Bethel Rd.
December
Tuesday, 1; Morristown
ALONE TOGETHER: RIO CLEMENTE AND CARRIE JACKSON. Jazz Showcase 8pm. $18/ $15 advance. 6 Normandy Heights Rd..
Morris Museum Bickford Theater; 973/971-3706
Friday, 4; Morristown
CHRISTMAS FROM DUBLIN WITH THE THREE IRISH TENORS. 8pm. 100 South Street.
Mayo Performing Arts Center; 973/539-8008
Friday, 4-5; Ringwood
VICTORIAN CHRISTMAS CONCERT. 7 - 9pm. $30. Ringwood State Park, 1304 Sloatsburg Road.
Woman's Club of West Milford; 973/853-7258
Friday, 4-13; Morristown
GINGERBREAD WONDERLAND. What started as a small display of gingerbread houses has now become an incredible 10-day exhibit of over 200 edible structures. Holiday shopping is easy at the Gingerbread Wonderland Craft Show, Dec. 5-6 & 12-13, now in its sixth year. You'll find local crafters offering beautiful hand-made and affordable gifts perfect for yourself or that special person on your list. 9:30am - 5pm. $2 per person gains entry to both the Craft Show and Gingerbread Wonderland.. 353 East Hanover Ave..
Saturday, 5; Blairstown
HOLIDAY OPEN HOUSE. Open house for personalized holiday shopping featuring unique gifts and art, including a huge inventory of paintings, photographs, jewelry, fine woodworking, wooden toys, pottery, stain glass, quilting, handmade ornaments, cards and more. Meet the artists all day. 10am - 5pm. 23 Main Street.
Saturday, 5; Blairstown
JINGLE ON MAIN. Featuring over thirty crafters, vendors, businesses and organizations. Free activities for children, a visit from Santa, the official tree-lighting ceremony and carols. 12 - 5pm. Main Street.
Saturday, 5; Chester
FESTIVAL OF TREES. Trees are sponsored and/or decorated by individuals, families, businesses and organizations, and are offered for silent auction during the week-long event. Special activities are planned throughout the week to include Santa, Caroling, Sing A-long and Story Time. $8. Barn at Highland Ridge Park (across from Black River Middle School) 100 North Rd.
Senior Resource Center;
Saturday, 5; Parsippany
HOLIDAY SOIREE. This special after-hours party will feature live music and light refreshments, and the rare opportunity to visit the Log House and Holiday Shop in the evening. 5:30 - 8:30pm. Free with RSVP. 2352 Route 10 West.
Saturday, 5; Port Murray
HOLIDAY CENTERPIECE. Using holly and various types of fresh greens, create a delightful centerpiece for your holiday table. 1:30 - 3:30pm. $36. 205 Mt. Bethel Rd.
Saturday, 5; Succasunna
CELEBRATE CHRISTMAS WITH CHRIS WESTFALL. 7:30pm. $20. Investors Bank Theater, 72 Eyland Ave.
Roxbury Arts Alliance; 908/619-1738
Saturday, 5; Washington
CRAFTS IN THE WARREN TECH. Over 140 quality crafters will line the halls and corridors, and fill the cafeteria and gymnasium of the school, offering a wide assortment of products—from the everyday to the more unique and unexpected. This is a juried craft fair, and all crafters and artisans are carefully reviewed and selected for the affordable and distinct products they sell. Shoppers will find familiar pieces such as handmade soy candles, body fragrances and natural soaps, holiday décor, unusual ornaments, jewelry, handmade sweaters, purses, handbags and other wearables. More unique offerings include framed art and photographs, vintage posters, handmade dolls and outfits, lighting fixtures, pet supplies, metal sculptures and wood carvings, homemade sauces and salad dressings, culinary treats and stylish kitchen accessories. All proceeds benefit Warren Tech students and will fund scholarships, academic, sports and cultural programs. 9am - 4pm. 1500 Route 57.
Saturday, 5-6; Columbia
ART SHOW. Art from Lakota Wolf Preserve and Jeff Echevarria will be on display and for sale. 12 - 5pm. 594 State Highway 94.
Saturday, 5-6; Hope
HOPE CHRISTMAS CRAFT MARKET. Juried craft show & sale. 10 - 5. $4. Hope School.
Hope Recreation Commission; 908/459-5127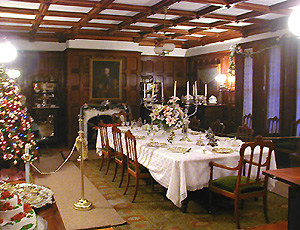 Saturday, 5-6; Ringwood
VICTORIAN CHRISTMAS AT RINGWOOD MANOR. Relive Victorian times and enjoy a festive celebration. 11am - 5. $8. 134 Sloatsburg Road.
North Jersey Highlands Historical Society; 973/962-2240
Saturday, 5-6; Sparta
LAKE MOHAWK GERMAN CHRISTMAS MARKET. Shop a fabulous selection of quality merchants or stroll the boardwalk enjoying mulled Gluhwein, German beer & brats. Proceeds benefit local charities. 10am - 9pm. Free. White Deer Plaza, 21 Boardwalk.
Lake Mohawk German Christmas Market; 973/462-5152
Sunday, 6; Morristown
HOLLY WALK 2015. Enjoy five Morris County historic sites decorated for the holidays. One ticket, one day. Special surprises and gift shops open with unique items. Participating sites will include the Morris County Historical Society at Acorn Hall, The Ford Mansion at Morristown National Historical Park, Macculloch Hall Historical Museum, The Schuyler-Hamilton House and the Stickley Museum at Craftsman Farms. Each site will offer something special for visitors.Free parking available at all sites. 12 - 5pm. $25 pre-sale. 6 Court Street.
Tuesday, 8; Newton
HOLIDAY SOCIAL AND NOT-SO-SILENT AUCTION. Refreshments will be served and the event is free and open to the public. 7 - 9pm. 1 West Nelson Street.
Skylands Group, NJ Chapter of the Sierra Club;
Friday, 11; North Branch
THE GREAT RUSSIAN NUTCRACKER. A Christmas tradition and visual feast that creates lifelong memories for the whole family. 4 & 8pm. Rt. 28 and Lamington Road.
Friday, 11-12; Parsippany
CANDLELIGHT TOUR. Explore early 20th century holiday traditions and Gustav Stickley's own ideas about the season on special after-hours guided Candlelight Tours of the decorated Log House. 5:30 - 7:30pm. $5 Member; $12 Non-Member. 2352 Route 10 West.
Friday, 11-13; Morristown
NEW JERSEY BALLET'S NUTCRACKER. 100 South Street.
Mayo Performing Arts Center; 973/539-8008
Friday, 11-13; Morristown
HOLIDAY CRAFTMORRISTOWN. Handmade gifts. $9. Morristown Armory.
ArtRider; 845/331-7900
Saturday, 12; Bernardsville
QUILLING CREATIONS. Designs to create are snowflakes, flowers and animals. Cost includes quilling tool and paper you get to keep. Please bring scissors and tweezers. 1 - 3:30pm. 11 Hardscrabble Road .
Scherman-Hoffman Wildlife Sanctuary; 908/766-5787
Saturday, 12; Parsippany
HOLIDAY OPEN HOUSE. Stroll the Log House and North Cottage at your own pace, as the Stickley Museum suspends guided tours for the day. Spotlight talks given by our docent staff throughout the day will highlight aspects of the Stickley-era holiday traditions. 12 - 4pm. 10 Adults; $7 Seniors/Students; $4 Children. 2352 Route 10 West.
Saturday, 12; Port Murray
EVERGREEN CHRISTMAS TREE. Create a long-lasting festive tree for your holiday table using fresh boxwood, holly and assorted winter greens. You will then decorate with pine cones, stars, ribbon and other novelties. Reservations required. $42. 205 Mt. Bethel Rd.
Saturday, 12-13; Ringwood
VICTORIAN CHRISTMAS AT RINGWOOD MANOR. Relive Victorian times and enjoy a festive celebration. 11am - 5. $8. 134 Sloatsburg Road.
North Jersey Highlands Historical Society; 973/962-2240
Sunday, 13; Delaware
CHRISTMAS IN THE COUNTRY. Music, refreshments and tree lighting at Ramsaysburg Homestead Historic Site. 1 - 4pm. Route 46 and Ramseyburg Road.
Sunday, 13; Mountain Lakes
MESSIAH SING-ALONG. 2pm. $10. St. Peter's Episcopal Church, 215 Boulevard.
Masterwork Chorus; 973/692-6051
Sunday, 13; North Branch
A CHRISTMAS CAROL. This adaptation is rich with ensemble music, alive with color and movement and is created to tell this great and enduring tale in a manner that all ages will enjoy. 2pm. Rt. 28 and Lamington Road.
Tuesday, 15; North Branch
IT'S A WONDERFUL LIFE. It's Christmas Eve in 1945, and only a handful of WVL Radio's actors have braved the blizzard to perform that evening's broadcast of It's a Wonderful Life and keep the station afloat. 2 & 7pm. Rt. 28 and Lamington Road.
Thursday, 17; North Branch
ROBIN SPIELBERG HOLIDAY CONCERT. This Steinway Artist has been winning the hearts of listeners around the world with her compelling melodies and sensitive technique. 12 & 7pm. $25. Rt. 28 and Lamington Road.
Friday, 18; North Branch
A CHRISTMAS GATHERING. A taste of the extraordinary Christmas and Wrens Day events, which have been held, in communities both urban and rural, across Ireland for hundreds of years. 8pm. Rt. 28 and Lamington Road.
Saturday, 19; Basking Ridge
HANDEL'S MESSIAH. 7:30pm. $30-$75. Ridge Performing Arts Center, 268 South Finley Avenue.
Masterwork Chorus; 973/692-6051
Thursday, 31; Morristown
FIRST NIGHT MORRIS. New Jersey's biggest and brightest alcohol-free New Year's Eve celebration of the arts features over eighty performances - representing dance, drama, music and visual arts at venues in and around Morristown. Enjoy live performances, exhibits, activities and demonstrations ranging from popular to classical, homegrown to international. Plus there will be two rounds of fireworks, one at 9:15pm and the other at midnight! 4:45pm - midnight. $20 before December 27.
First Night Morris; 973-455-0708
---
Ongoing Theater and Concerts
November 19-November 22 • TAMMY FAYE'S FINAL AUDITION. A funny, entertaining, and surprisingly moving look at the real life behind an unreal celebrity.
Edith Kutz Theater of the Lackland Center, 715 Grand Ave.. ; 908/979-0900
October 14-November 21 • THE DIARY OF ANNE FRANK.
F.M. Kirby Shakespeare Theatre 36 Madison Avenue. ; 973/408-3807
Ongoing Programs and Events
Mondays, Oct. 5 - Nov. 23 • SEEDLINGS. Each week features a different theme based on what is growing in the gardens.10am. $75 for 7 classes.
353 East Hanover Ave.. ; 973/326-7601
Pequest Trout Hatchery and Natural Resource Education Center, Oxford
Weekends • A series of programs about the natural world around us for young and old alike. Preregistration is usually required. Topics range from a child's first introduction to nature to seminars for expert fly fishers.
605 Pequest Rd.; 908/637-4125