Events and Activities in Northwest New Jersey
All events are subject to change or cancellation. Please click or call ahead to confirm.
November
Having family and friends for Thanksgiving weekend? Wondering what to do with them come Friday while the turkey soup simmers? Here are a couple ideas...
Friday, 28-29; Port Murray
CHRISTMAS OPEN HOUSE. Special demonstrations, greenhouse tour, complimentary hot mulled cider and cookies. 9am - 5pm. 205 Mt. Bethel Rd.
Friday, 28- Dec. 7; Clinton
FESTIVAL OF TREES. Donated, decorated trees on view in the mill with holiday music/entertainment. Weekends. 10 - 4pm. $5. Red Mill, 56 Main St..
Friday, 28-30; Clinton
DICKENS' DAYS. Annual holiday extravaganza along Main Street featuring horse-drawn carriage rides, carolers and music and street performers
Clinton Guild;
Saturday, 29; North Branch
SHADOWS OF THE 60S. A tribute to Motown super groups: The Four Tops, Temptations & Supremes. 8pm. Rt. 28 and Lamington Road.
Saturday, 29-30; Layton
PETERS VALLEY STORE & GALLERY OPEN HOUSE. In-store demonstrations and winter treats as well as two floors full of handmade items for everyone on your holiday list. 10am - 6pm. Free. 19 Kuhn Road.
Peters Valley Store & Gallery; 973/948-5202
Weekends; November 29 - December 7; Bedminster
COLONIAL CHRISTMAS. Holiday shoppers, history buffs and visitors of all ages can celebrate Christmas past and present, when Bedminster's historic Jacobus Vanderveer House & Museum opens its wreath-clad Dutch doors for the 12th annual Colonial Christmas show house and tour. More than 20 vendors and artisans, carefully selected for the event, will offer an array of home and holiday accessories. Visitors will also enjoy tours of the circa 1772 home, Colonial-inspired holiday decorations, Colonial re-enactors, and Santa visits. Vanderveer House, 955 US Highway 202/206.
Sunday, 30; Allamuchy
TWO TENORS FROM PHILLY. Rutherfurd Hall, 1686 Route 517 (Mountain Villa School).
Sunday, 30; Morristown
MOOSELTOE. Enchanting holiday "moosical" for ages 4-10 11am, 1:30 & 4pm. 100 South Street.
Mayo Performing Arts Center; 973/539-8008
December
Wednesday, 3;
HAPPY HOLIDAYS BUS TRIP TO LONGWOOD GARDENS & WINTERTHUR. Winterthur Yuletide: guided tour, Costumes of Downton Abbey exhibit. Wander on your own at Longwood Gardens Christmas. Lots of shopping! Info & to register: website or email. $77.
Thursday, 4; Harmony
FATHER CHRISTMAS AT THE FARMSTEADDECEMBER 4, 20145PM UNTIL 7PM. An event for children of all ages at VanNest-Hoff-Vannatta Farmstead. 5 - 7pm. 3026 Belvidere Road (Rt. 519).
Harmony Historic Commission; 908/454-7470
Friday, 5; Blairstown
CHERYL WHEELER & PATTY LARKIN. 8:30pm. $30. 30 Main Street.
Historic Blairstown Theatre; 908/362-1399
Friday, 5; Clinton
CHRISTMAS PARADE. Main Street.
Clinton Guild; 908/735-8614
Friday, 5; Morristown
DAVE KOZ & FRIENDS. 8pm. 100 South Street.
Mayo Performing Arts Center; 973/539-8008
Friday, 5-14; Morristown
GINGERBREAD WONDERLAND. What started as a small display of gingerbread houses has now become an incredible 10-day exhibit of over 200 edible structures. 9:30am - 5pm. 353 East Hanover Ave..
Saturday, 6; Allamuchy
MERRY MAKING PARTY. The Hall will be all decked out for the holidays, with Santa and his Elf. Bring your camera! 11:30am - 2:30pm. $1. Rutherfurd Hall, 1686 Route 517.
Saturday, 6; Blairstown
HOLIDAY OPEN HOUSE. Open house for personalized holiday shopping featuring unique gifts and art, including a huge inventory of paintings, photographs, jewelry, fine woodworking, wooden toys, pottery, stain glass, quilting, handmade ornaments, cards and more. Meet the artists all day. 10am - 5pm. 23 Main Street.
Saturday, 6; Chester
SCULPTED ICE WORKS. Ice carvers from ICE WORKS capture the magic of the season with dazzling sculpted ice displays right in Downtown Chester! 11am - 4pm. Free. Routes 206 & 24/513.
Saturday, 6; Morristown
CELTIC THUNDER: SYMPHONY. Irish vocal group, backed by a symphony, performs traditional carols and cherished contemporary favorites 7:30pm. 100 South Street.
Mayo Performing Arts Center; 973/539-8008
Saturday, 6; Port Murray
HOLIDAY CENTERPIECE. Using holly and various types of fresh greens, create a delightful centerpiece for your holiday table. 2 - 4pm. $34. 205 Mt. Bethel Rd.
Saturday, 6; Washington
CRAFTS IN THE WARREN TECH 2012. The area's finest crafters & artisans come together at this one-day juried event to display their unique handmade items. 9am - 4pm. 1500 Route 57.
Warren County Technical School PTA; 908/835-1417
Saturday, 6-7; Hackettstown
HOLIDAY OPEN HOUSE. Horse and Carriage rides through the farm, warm apple cider and holiday treats. 1 - 6pm. 178 Airport Rd.
Saturday, 6-7; Hope
HOPE CHRISTMAS CRAFT MARKET. Juried craft show & sale. 10 - 5. $4. Hope School.
Hope Recreation Commission; 908/459-5127
Saturday, 6-7; Sparta
LAKE MOHAWK GERMAN CHRISTMAS MARKET. Enjoy a fabulous selection of quality merchants, authentic food, and live entertainment, including Santa visits. The Bavarian village architecture and local shoppes make the perfect setting. New this year will be authentic German Wood Vendor Huts lining the boardwalk. Proceeds benefit local charities. 10am - 9pm. Free. White Deer Plaza, 21 Boardwalk.
Lake Mohawk German Christmas Market; 973/600-8762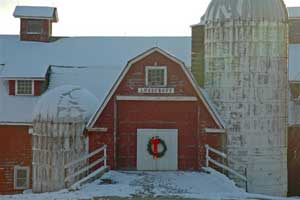 Saturday, 6-7; Wantage
HOLIDAY BENEFIT AT LUSSCROFT FARM. Explore the Turner Mansion & Manager's Dwelling, festively decorated and filled with vendors, farmers, a bake sale, and a gift shop. $5 photos with Santa & Mrs. Claus, & Oliver the Goose! Proceeds for ongoing restoration efforts at this historic farm. 10am - 4pm. $5, under 17 Free. 50 Neilson Road.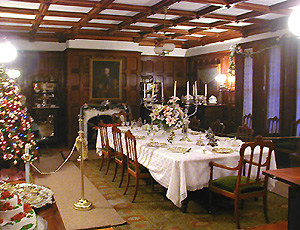 Weekends, 6-14; Ringwood
VICTORIAN CHRISTMAS AT RINGWOOD MANOR. 11am - 5. $8 adults; $6 seniors; $5 children. 134 Sloatsburg Road.
North Jersey Highlands Historical Society; 973/962-2240
Sunday, 7; Chester
CHRISTMAS TREE LIGHTING. Santa visits, refreshments 5pm. Free. Routes 206 & 24/513.
Sunday, 7; Lebanon
DUTCH CHRISTMAS. Sint Nikolaas Day. 1 - 4pm. Free. 114 Dreahook Road.
Sunday, 7; Morristown
HOLIDAY CONCERT. The Harmonium Outreach Chorus will perform international holiday songs. 4:30pm. 45 Macculloch Avenue.
Macculloch Hall Historical Museum; 973/538-2404
Sunday, 7; North Branch
AN IRISH CHRISTMAS. Eileen Ivers and Immigrant Soul 4pm. Rt. 28 and Lamington Road.
Wednesday, 10; Hackettstown
WILLIAMSBURG WREATH CLASS. Participants decorate mixed greens wreath with natural items such as pinecones, berries, dried fruit, seed pods and more….this wreath will look great for the holidays and last through the winter months. Seating is limited and reservations are required. 6:30pm. 178 Airport Rd.
Thursday, 11; Clinton
CANDLELIGHT NIGHT. Luminaries line the streets, horse-drawn carriages, and late-night shopping. 6 - 9. Main Street.
Clinton Guild; 908/735-8614
Friday, 12; North Branch
THE GREAT RUSSIAN NUTCRACKER. Moscow Ballet 4 & 8pm. Rt. 28 and Lamington Road.
Friday, 12-14; Morristown
NEW JERSEY BALLET'S NUTCRACKER. 100 South Street.
Mayo Performing Arts Center; 973/539-8008
Friday, 12-14; Morristown
HOLIDAY CRAFTMORRISTOWN. Handmade gifts. $9. Morristown Armory.
ArtRider; 845/331-7900
Saturday, 13-14; Morristown
CHORAL CONCERT. "O Mystical Journey" is a collage of settings of three of the Great O Antiphons plus otherworldly compositions by Hallock, Pärt, Willan, Bruckner, Gretchaninoff, Chilcott, Tavener and others. Guest artists Kris Lamb on flute and Joshua Stafford on organ. Sat., 8pm; Sun., 3pm $20 - $30. St. Peter's Episcopal Church - sanctuary, 121 South Street at Miller Road.
Harmonium Choral Society; 973/538-6969
Sunday, 14; Delaware
CHRISTMAS IN THE COUNTRY. Santa, music, refreshments and tree lighting at Ramsaysburg Homestead Historic Site. 1 - 4pm. Route 46 and Ramseyburg Road.
Sunday, 14; North Branch
A CHRISTMAS CAROL. Moscow Ballet 2pm. Rt. 28 and Lamington Road.
Tuesday, 16; North Branch
TUESDAYS WITH STORIES: THE NIGHT BEFORE CHRISTMAS CAROL. This performance will take you to the night in 1843 when Charles Dickens dreamed up his idea for the famous ghostly tale. 12 & 7. Rt. 28 and Lamington Road.
Thursday, 18; North Branch
DAVE LEONHARDT TRIO. A Jazzy Christmas 7pm. $25. Rt. 28 and Lamington Road.
Friday, 19-21; Hackettstown
THE NUTCRACKER. The New Jersey Civic Youth Ballet Sitnik Theatre of the Lackland Center, 715 Grand Ave..
Saturday, 20; North Branch
FROSTY. Can Frosty the snowman help Billy find his real family in time for Christmas? Sampler Series: Recommended 4+ 1 & 3:30pm. $10. Rt. 28 and Lamington Road.
Sunday, 28; Allamuchy
HARRY ALLEN QUINTET. Performance spotlights the outstanding talent of 13 year old trumpet prodigy Geoff Gallante. $22.50 Advance - $27.50 Door. 1686 Route 517.
Wednesday, 31; Morristown
FIRST NIGHT MORRIS. New Jersey's biggest and brightest alcohol-free New Year's Eve celebration of the arts features over eighty performances - representing dance, drama, music and visual arts at venues in and around Morristown. Enjoy live performances, exhibits, activities and demonstrations ranging from popular to classical, homegrown to international. Plus there will be two rounds of fireworks, one at 9pm and the other at midnight! 7pm - midnight. $20 before December 27.
First Night Morris; 973-455-0708
---
Ongoing Theater and Concerts
November 28-December 14 • PETER PAN, THE MUSICAL. Based on J.M. Barrie's classic tale and featuring an unforgettable score by Morris "Moose" Charlap and Jule Styne with lyrics by Carolyn Leigh and Betty Comden and Adolph Green, PETER PAN is one of the most beloved family favorites of all time.8pm.
Sitnik Theater of the Lackland Center, 715 Grand Ave.. ; 908/979-0900
December 3-December 28 • MUCH ADO ABOUT NOTHING.
F.M. Kirby Shakespeare Theatre 36 Madison Avenue. ; 973/408-3807
Morris Museum Bickford Theater, Morristown
November 20-December 7 • SOCIAL SECURITY. Broadway comedy is about a couple of Upper East Side art dealers.
6 Normandy Heights Rd.. ; 973/971-3706
December 6-December 21 • HOLIDAY PLANETARIUM SHOWS. The Alien Who Stole Christmas, Saturday and Sunday, December 6 & 7, 13 & 14, 20 & 21, 2 p.m. Discover the stars visible in the winter sky. Then follow Santa on a trip through the solar system after he is kidnapped by a friendly alien. The kids on the other planets also need presents. (Recommended for ages 6-10)
Winter Wonder Lights, Saturday and Sunday, December 6 & 7, 13 & 14, 20 & 21, 3 p.m. Listen to such holiday tunes as "Wizards in Winter," "Rockin' around the Christmas Tree," and "Dominick the Donkey" while lasers draw pictures on the dome overhead. (Recommended for ages 6-adult)
December Skies, Saturdays, December 6, 13, 20, 4 p.m. Discover the stars and constellations visible in tonight's sky.
Tickets cost $7 for one show or $13 for two shows on the same day. Reservations are strongly suggested for all Planetarium shows. For additional information, call 908-231-8805 or visit www.raritanval.edu/planetarium.$7/ $13 for 2 shows.
Route 28 & Lamington Road. ; 908/231-8805
Ongoing Programs and Events
Weekends November 15 - December 21 • TWELVE DAYS OF GIVEAWAYS. Special "holiday helpers" will be strolling throughout Chester randomly giving away HCBA member-affiliated gift certificates and other prizes to unsuspecting shoppers. No purchase necessary. Winners will be posted weekly on the HCBA website and facebook page.Free.
Routes 206 & 24/513. ; 908/897-2900
Pequest Trout Hatchery and Natural Resource Education Center, Oxford
Weekends • A series of programs about the natural world around us for young and old alike. Preregistration is usually required. Topics range from a child's first introduction to nature to seminars for expert fly fishers.
605 Pequest Rd.; 908/637-4125
Ongoing Tours and Exhibits
November 1 - 30 • FEATURED ART OF THE MONTH. Vicki Diamond, Leana Moonspinner.
Color is the first thing you notice about the quilted and felted fiber art pieces made by M Leana MoonSpinner. She has a unique ability to combine colors to remind you of a sunny autumn day or make you want to wrap up in a cozy quilt on a cold winter night. Her light summery placemats make your table look like a picnic. Next you notice the amazing variety of styles. There are a multitude of pieced and appliqued quilts. Traditional designs mingle with modern; whimsical with sophisticated.
Over the years Vicki Diamond has worked in a variety of artistic mediums, including wood, cement, encaustic, oil, alabaster, gourds, straw, and stone. However, after acquiring a llama, three alpacas, an angora rabbit, and two angora goats, she has turned in the past few years to creating with fiber, primarily by felting. Wet felting is an ancient craft that utilizes lubrication, agitation, and moisture to shrink and bond the fibers of wool together. Vicki washes, dyes, hand cards, then drum cards the fibers herself before felting them over silk or cotton into unique scarves and shifts. She also makes needle felted wall tapestries from the fiber and has a line of upcycled clothing.
23 Main Street. ; 908/362-6865
Morristown National Historical Park, Morristown
Ongoing • TOURS OF WASHINGTON'S HEADQUARTERS AT THE FORD MANSION. The Washington's Headquarters Museum includes includes three exhibit galleries, a 30-minute introductory video, Tours of the furnished house will be made available at 10 and 11am and at 1, 2, 3 and 4pm. Adults (Age 16 and up): $4.00, cash or check only, Children: Free
30 Washington Place; 973/539-2016 x210