March 21 - 28
Go Vernal!
OMG IDBI, it's SPRING! 2G2BT, LOFL! For more info,
VOWS!
---
Rare Herps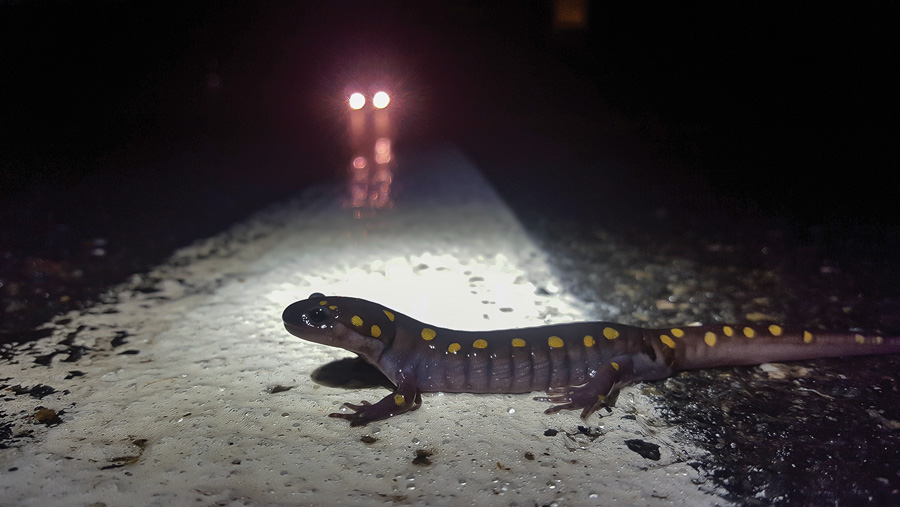 When the first early spring rains come, thousands of salamanders, frogs and toads emerge from their winter slumber to make short stealthy migrations through the forest to breed and lay their eggs in vernal pools. The journey is often treacherous. (Photo: MacKenzie Hall)
As the season eases into milder temperatures at the onset of spring, all manner of creatures stretch their bodies and move more freely, searching for food and mates while they patrol their home turfs. Among these creatures are some of the most rare, interesting, and beautiful animals in the Garden State. Though they often go unnoticed or are misunderstood, reptiles and amphibians are vital to the balance of our fragile ecosystems—and some of them are in
pretty big trouble.
---
Timberdoodle time
Whaddya think? Wanna go see some male woodcocks show off for females by creating loud, nasal "peent" calls and performing dazzling aerial displays struts, calls, and launch into the air for a spiraling, zigzagging flight? Go take a walk, it's spring!
Thursday, March 21 ( 5 - 7pm); Woodcock Watch will begin with a presentation by volunteer educator Alan Rennie, followed by a guided hike to woodcock singing fields. The event is free, with an option to donate to Raritan Headwaters Association. Fairview Farm, 2121 Larger Cross Road, Far Hills. 908/234-1852
Monday, March 25 (7 - 8pm) American Woodcocks also inhabit Hunterdon County Parks and have one of the most fascinating courtship behaviors of any New Jersey bird. $3. Tower Hill, 944 Mountain View Road, Asbury. 908/782-1158 to pre-register.
---
On Top of Old Morris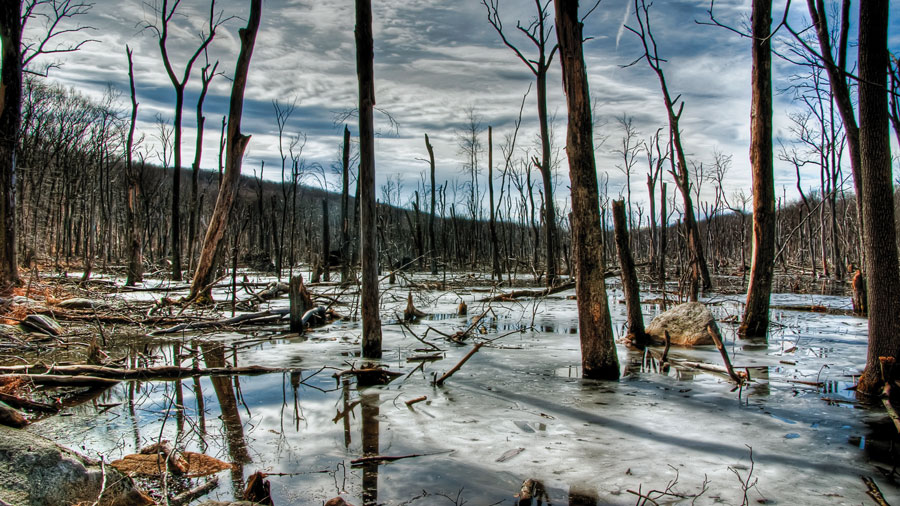 On the southeast side of the park, a broad and colorless swamp is eerily populated by a host of beaver cut and half fallen, decaying trees. (C. J. Kern)
Rising beyond the eastern shore of the Rockaway River, in Boonton Township, stands
the Tourne
, a modest mountain known for its rocky terrain and spectacular New York skyline views. Add a
wildflower trail,
a big-time bog, and miles of historic river valley, and you've got a prime spring adventure.
More...
---
Fertile Ground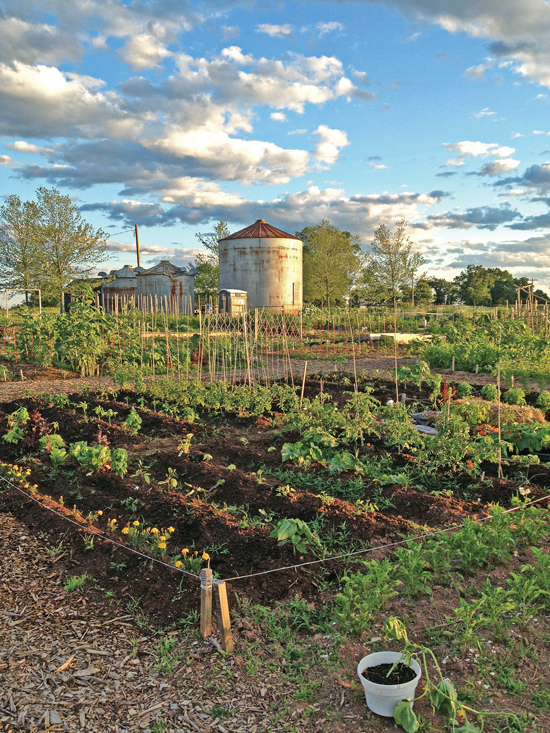 Community garden at Duke Farms
Who can think of an argument for
not
having a garden? It's not easy to do, but you still might have a good reason for not growing your own. Perhaps the deer have finally gotten the best of you. You might not have enough room in your yard, or maybe you have no yard at all. But even if any of these apply to your personal situation, most likely, in the best of all worlds,
you'd like to
have a garden in your backyard. Gardens are good!
If you're considering a backyard alternative, take a look at a
community garden.
For most, there are waiting lists, but there's always a chance you can find a spot if you start looking now!
More...
---
Bare Truth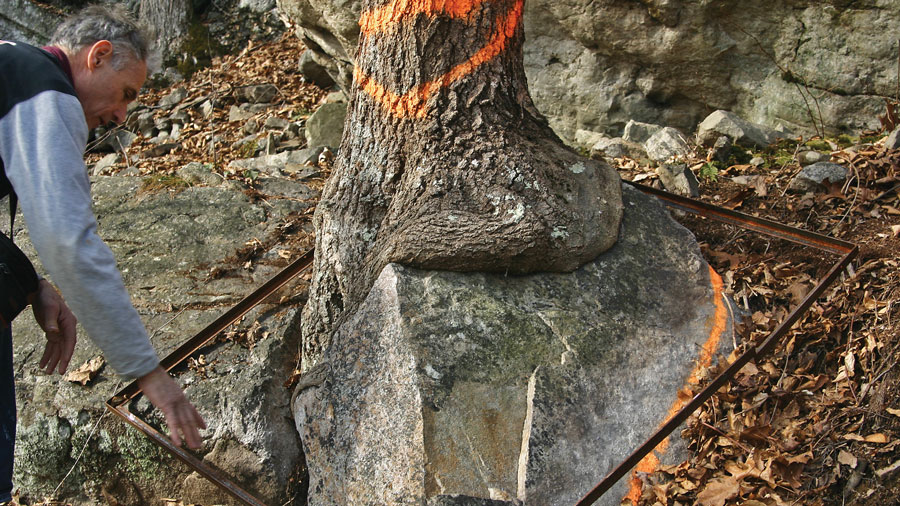 Robert Lobe conceptualizes a sculpture in his "forest studio".
It won't be long until leaves are in full bloom. Hit the woods while the trees are bare and there's still time to look around -- you'll see things you might miss otherwise. For an artist walking in the woods along the
Kittatinny Ridge
, the earth gushes a torrent of shapes and forms, angles and curves, textures and light, all vibrantly alive, yet frozen in a rhythm of life far different than our own.
Read more
about Robert Lobe's sculpture from remote forest models
at Harmony Ridge...
---
Go With The Flow!
Does thunder chase the sap back into the ground? What makes the sap rise? Why don't you "stir the pot" when the sap is being cooked down? What is a "sugarbush"? Find the answers!
The sap is running hard and fast. In fact it will be difficult to avoid if you're out and about this month! Get over to the Delaware Water Gap NRA where
Millbrook Village
will demonstrate 19th century style maple sugaring on Saturday, March 9. 10am - 3pm, 908/841-9531.
OR
you can visit
Hunterdon County's
Maple Sugar Living History Program Open House
on Saturday at the Echo Hill facility located at
42 Lilac Drive in Flemington.
Tours run from 9am - 2pm, 908/782-1158.
OR
get your maple fix as the sap runs this weekend at
Somerset Environmental Education Center
in Basking Ridge.
OR
you find them tapping the tap
March 23-24
at the Sugarin' Open House at
Lusscroft Farm
in Wantage where you can buy the fresh syrup after you watch its creation.
50 Neilson Road
, 973/262-4732.
---
Spring Babies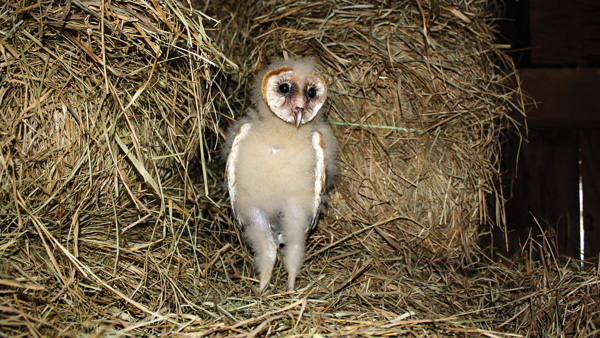 A barn owl chick poses in a hay loft after being rehabilitated at the Mercer Wildlife Center and before being returned to the nest box. (Photo: MacKenzie Hall)
Multiplication is the order of the season, and snow or no snow, the show must go on! Look and listen for the signs of spring and making babies!! Let your senses soak up the season — its fleeting beauty, warmth, scents, and most of all the peace and rejuvenation in its experience.
More...
---
Schooley's Elusive Spirit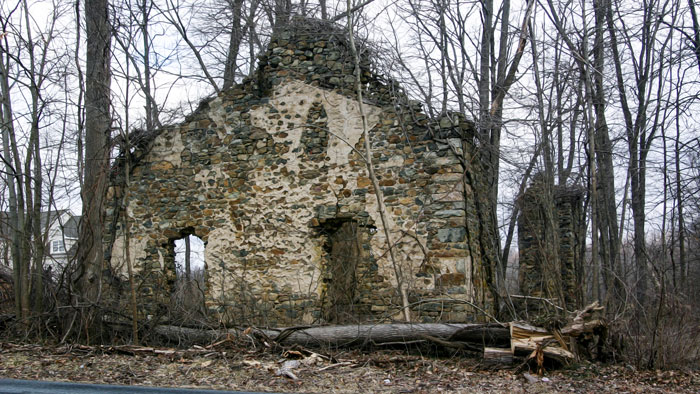 Mysteries of the woods
Running northeast for twenty miles from Glen Gardner to Lake Hopatcong,
Schooley's Mountain's
steep sides rise to a broad top between the Musconetcong River and, for most of its length, the South Branch of the Raritan. The mountain presents a dichotomy of striking scenes from the past, interspersed with groups of modern homes and stores. Heavily traveled periphery highways are connected by a web of narrow rural roads that still meander as they did when "horse power" meant just that. The mountain's southern portion holds routes worthy of exploring, hamlets for artists to ponder, and natural areas for hikers, all shrouded in tantalizing lore that begs a historian's query.
Read on...
---
Ready and Willing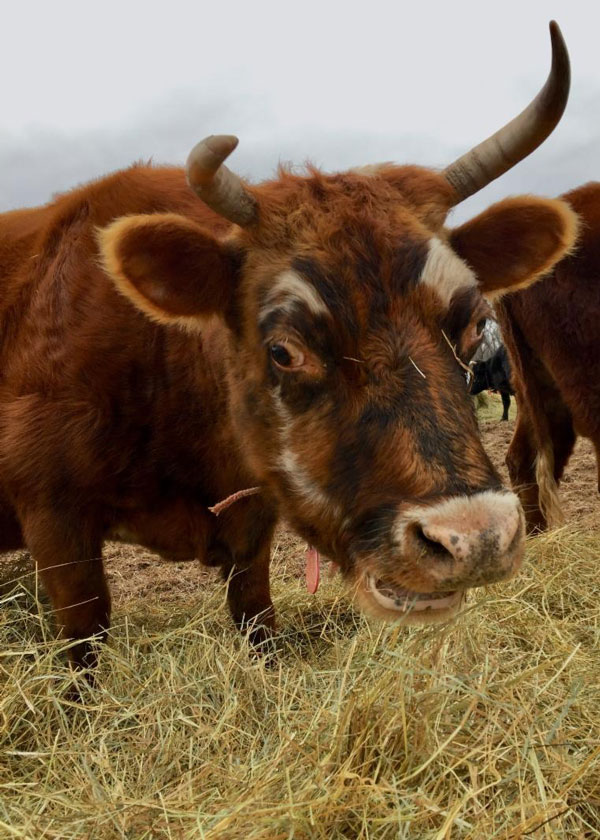 Rarin' to go, just waiting for spring! Photo courtesy Bobolink Dairy and Bakeyard. Check their Instagram for beasts of the Hunterdon prairie!
Sputtering spurts of winter enveloped with warmer days, and the maple sap is flowing!
Spring is only one month away!
The weeks ahead will be packed with events, so keep an eye on our
calendar
and watch out for our virtual efforts to keep you informed. Forge ahead and face the music!
---
A Silk Purse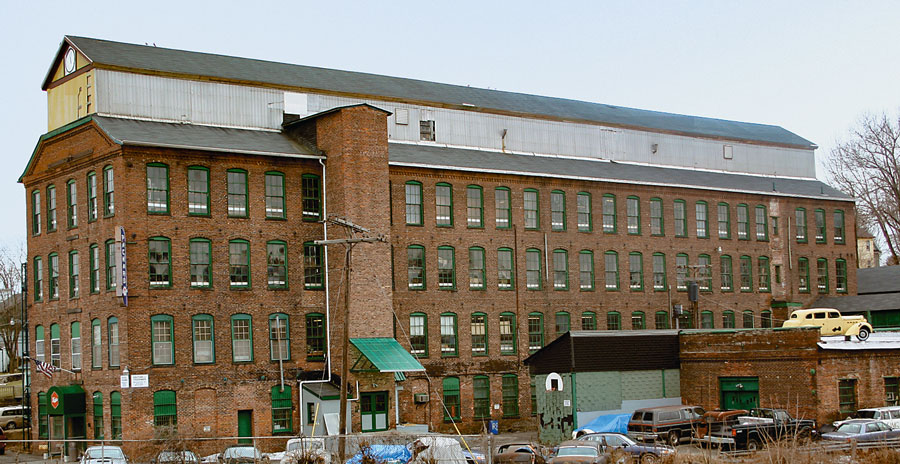 The four-story plant built by Pelgram and Meyer on Monroe and Lincoln Streets in Boonton employed 500 people until it shut in 1927. It is now home to Kanter Auto Products.
For over two centuries a prolific iron industry wielded huge influence over the development of many Morris County communities. In particular, the forges, furnaces, and mines of Dover, Wharton and Boonton, all located along the banks of the
Rockaway River,
were intimately connected from the early 1700s through the heady times of the Morris Canal and the subsequent railroads. There are sites to see;
take a look around!
---
Along the Western Front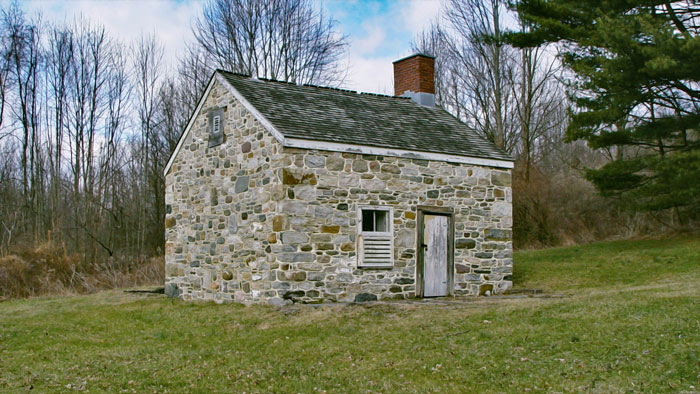 This small stone building is believed to be the ruins of Fort Carmer, one of a line of forts from the French and Indian War.
Two decades before the American Revolution, the Royal Province of New Jersey prepared itself for the culmination of seventy years of bickering between the French and the English colonists. During the French and Indian War, the government was forced to take measures to protect New Jersey's northwestern frontier along the Delaware River from the increasing threat of marauding Indians, allies of the French armies. A line of forts and blockhouses were commissioned from Belvidere, in Warren County, through what is now the
Delaware Water Gap National Recreation Area,
to Port Jervis, New York, with soldiers patrolling between them. Get out your hiking shoes, pump up your bike tires, or warm up the car and
trace this line of forts!
---
Learning Lenape
For Archaic peoples, rock shelters, consisting of natural overangs or hillside depressions, were temporary stopovers that offered protection from the rain and snow. In winter they might have been closed in with windbreaks made from skins or brush.
The native people of northwestern New Jersey had no written history. In fact, they had no writing except for the use of pictographs, some of which were carved on stone. Much of what we do know about New Jersey's prehistory is a result of work done by archaeologists, or from early accounts by explorers and travelers, along with journals kept by missionaries and settlers in the 1600s and early 1700s. For over 12,000 years the Lenape and their ancestors occupied northwestern New Jersey, successfully adapting to climatic changes in their environment. But, after a little more than a century following European colonization, only a few Indians remained. Arrowheads, stone axes, pottery and other objects are still occasionally found in a farmer's field or along a riverbank, but only a rough sketch of a robust culture remains; we know nothing of the human deeds and dramas that occurred.
More...
---
Foggy Mountain Breakdowns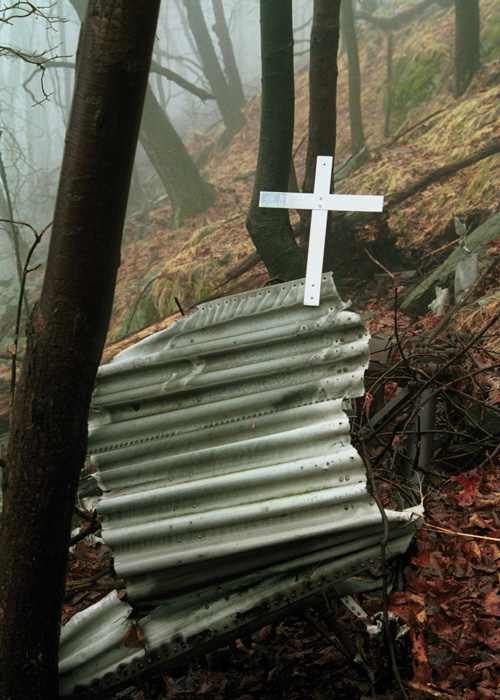 Although there may have been as many as ten plane crashes along the Kittatinny Ridge in Sussex and Warren Counties, few people are aware of them. Due to the very rugged nature of the area's mountainous terrain, some of the wreckages have never been completely salvaged, and pieces still lie there. For example, the scant remains of an old airframe, possibly from an early Army biplane trainer, rest close to the Appalachian Trail near the top of the mountain, overgrown with brush. Without modern instruments, the ridge could be treacherous for aviators.
Read more!!
---
Life of Wiley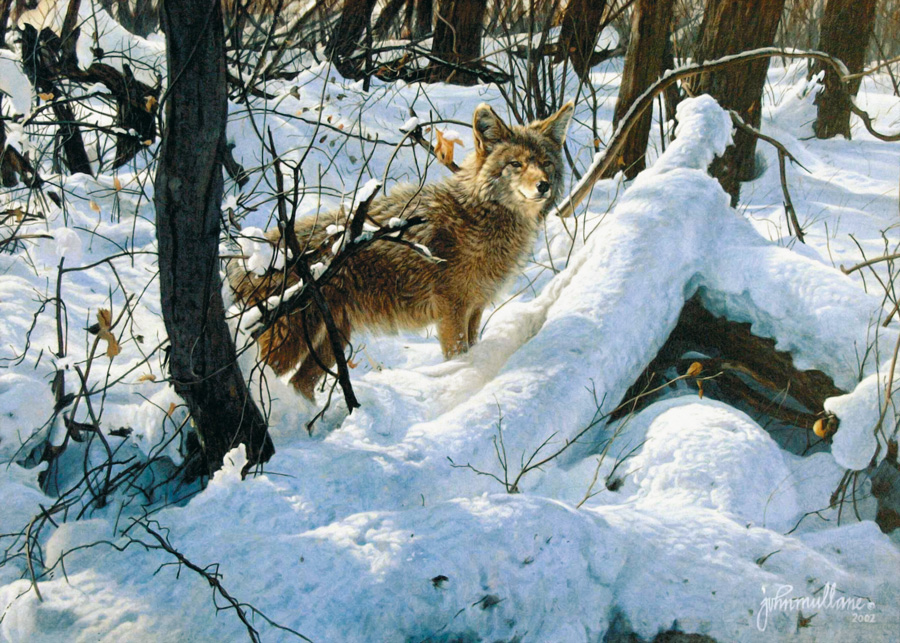 Coyote in Winter. Painting by John Mullane.
If rarely seen, the coyote is frequently heard. In the winter, during the January to March breeding times, listen for nocturnal howls when coyote are at their most vocal. They are happy to tell other coyotes, and the world, their location.
Stop and listen.
They'll fall silent all too soon.
---
Close Encounters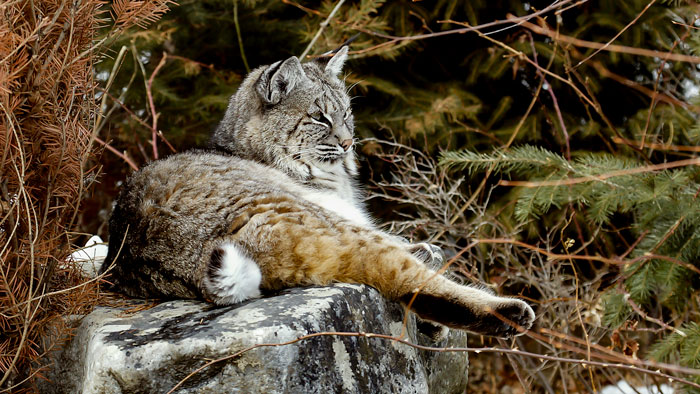 Photo by Dan Bacon
Should you traverse any stretch of woods this winter, or even your backyard, alert eyes are usually rewarded.
Bobcats
thrive in habitats that merge open lands and forests. The most remote areas in northern New Jersey offer prime bobcat habitat. Many tracts of land still contain large areas of contiguous forest, and the bobcats introduced more than thirty years ago have apparently settled in. Bobcats are protected under the New Jersey Endangered Species Act. Hunters are not the problem, or not a significant one. But fragmentation, caused by development and traffic, seem to have constrained the local populations. Keep your eyes open and you might
get lucky!
---
---